What's IotD?

The interesting, amazing, or mind-boggling images of our days.
xoxoxoBruce Thursday Dec 17 11:42 PM

December 18th, 2015: Gwaltney's Pet Ham

It's Friday and I know you're hungry so here's a Smithfield ham.

......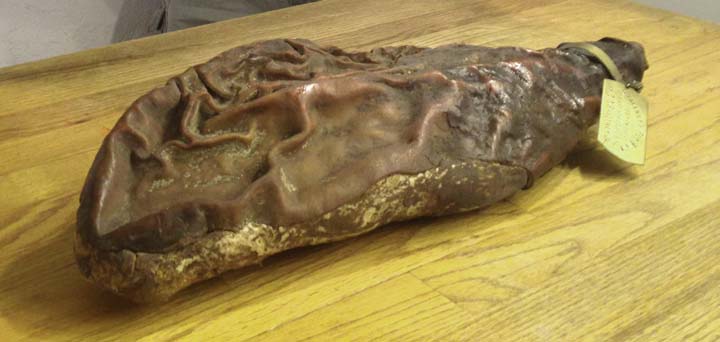 'Smatter, lose your appetite? You don't like 113 year old ham?

This ham and a single peanut are on loan from the Isle of Wight Museum, to be scanned at Virginia Commonwealth University, so they can 3-D print replicas for teaching, and hands on displays.



Quote:

The ham is the crown jewel in the Isle of Wight Museum collection and has achieved national fame in the years since it was first cured and hung from a rafter in one of P.D. Gwaltney Jr.'s packing houses in 1902. P.D. Gwaltney, Jr., founded the pork processing company with his father P.D. Gwaltney, Sr., in 1880 and soon Gwaltney hams became a household name. Junior was instrumental in the passage of the 1926 act of the Virginia General Assembly which defined Smithfield hams as a product raised only in specific parts of Virginia and North Carolina and makes imposter hams liable to fines.

I think those hams are too salty, but devotees can be pretty rabid at times, so I just don't say anything and order something else when I'm there.



Quote:

That one 1902 ham was overlooked as the company expanded and became increasingly successful. When it was finally rediscovered in 1922, P.D. Gwaltney, Jr., adopted it as a company mascot and pet. By 1924 Gwaltney had it in an iron safe which he opened daily to show off his prize superannuated ham to visitors and guests. He then had a brass collar inscribed "Gwaltney's Pet Ham" and a leash made for the ham and took it on the road to conventions and county fairs an example of how effective and safe the Gwaltney curing process was. He insured it against fire and theft for $1,000, upping it to $5,000 in 1932. The ham has been featured in Ripley's "Believe It or Not" cartoon three times — in 1929, 1932 and 2003 — and gets yearly birthday parties where "Hammy Birthday" is sung by an adoring populace. The museum also has a webcam appropriately named HamCam pointed at Gwaltney's pet for those who can't get their ancient ham fix in person.

Um, adoring populace? See what I mean... you can't talk to a man, with a shotgun in his hands.



Quote:

The Isle of Wight Museum's greatest star is billed as the world's oldest cured ham (there's a Chicago ham 10 years older than the Gwaltney ham hanging in a butcher's shop window in Oxford, England) and is reputedly still edible. Edible and delectable are not synonymous, obviously. The fat in dry cured meat oxidizes before its tenth birthday taking much of the flavor with it. Then as it diffuses throughout the ham, it gives it a rancid odor and taste. Eventually it gets rock hard and darkens. The oldest commercially available hams are aged for eight years.

OK, I agree, let's go out for breakfast.



Oh, the peanut they're scanning...


Quote:

As for the peanut, it can't compete with the ham for fame, but it's older and is tied both to the Smithfield ham tradition and to the Gwaltney family's personal history. Before getting into the pork business, P.D. Gwaltney, Sr., had been in the peanut business in Tidewater, Virginia. He built the first industrial peanut cleaning plants and was known as the Peanut King before Amedeo Obici took the crown with his Planters Peanut Company in the early 20th century. Processing peanuts and processing hams were connected businesses at the time. In fact, when the 1926 act was passed, one of the definitions of a Smithfield ham was that the hogs were peanut-fed. This requirement was eliminated in 1966.

The peanut requirement was a weapon against the enemy, citing tradition and exclusive methodology... until it became a burden, then was unceremoniously chucked in favor of the bottom line over tradition.

link

---
Your reply here?

The Cellar Image of the Day is just a section of a larger web community: a bunch of interesting folks talking about everything. Add your two cents to IotD by joining the Cellar.