xoxoxoBruce Thursday Dec 17 01:36 AM

December 17th, 2015: Men Jacking in Chicago

Chicago was a quagmire, built on mud 4 ft higher than Lake Michigan, and the Chicago river. They tried to grade the streets. Fail. They tried to cover them with planks. Fail. Then the 1854 Cholera epidemic killed 5% of the population, so 95% were mad as hell and not going to take it any more. The Sewerage Commission of 1855 hired experts who said build a storm sewer, but you can't bury it, it has to be built at street level then buried. But the buildings? Jack 'em.

......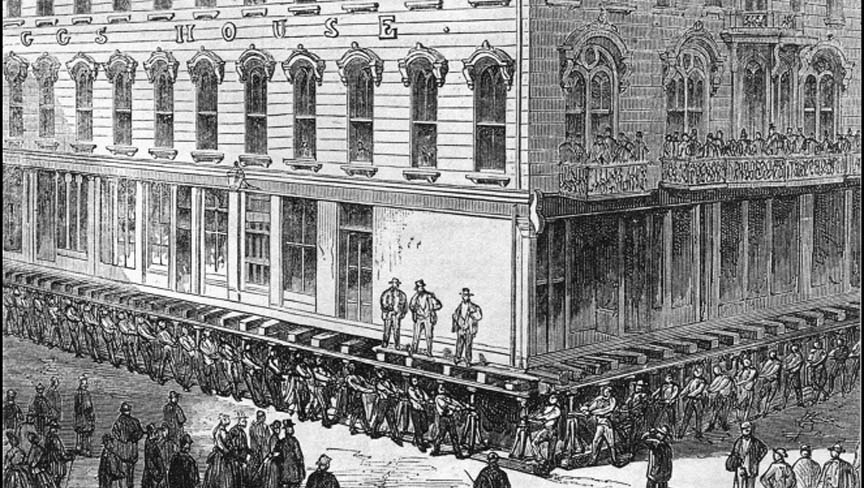 They hired a new guy in town named George Pullman(later of railroad fame), to figure out how, and supervise, jacking the whole city between 4 and 14 ft. The smaller buildings were dragged out of town with horses. Thousands of men using thousands of screw jacks and cribbing, jacked the big ones, built new foundations, built the storm sewers, and filled the streets in. Horses and hand tools, no heavy equipment.

......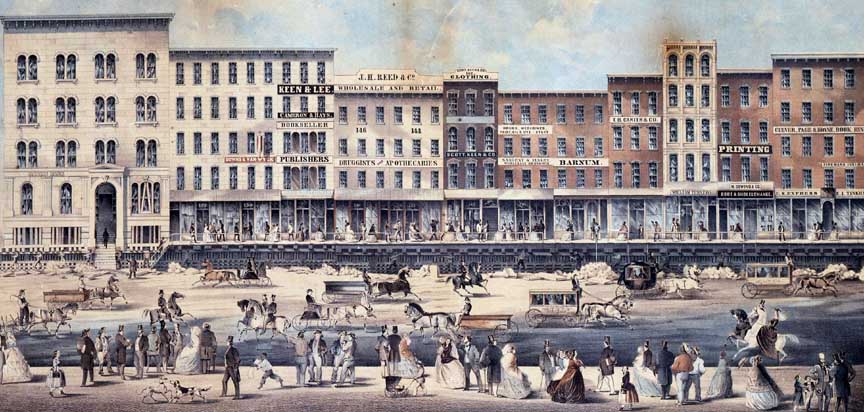 Amazingly life went on, although I'll bet it wasn't quite as bucolic as this Currier & Ives print, especially in bad weather. I don't know how long this reinventing Chicago took, but five years later there was a Civil War pulling men and materiel away, then fifteen years later was the Great Chicago fire. Bummer.


I didn't see any mention of sanitary sewers? OK, another site says they were used as combination sewers, dumped into the river which dumped into the lake. Then in 1885 the sewage reached the water intakes in the lake, Cholera, 11~13% poof gone, 87~89% mad as hell again. So they dug a channel from the Chicago river, to the Des Plaines River now sending the flow(sewage) out of the lake to the Illinois River, and Mississippi river. That's how they moved the WW II submarines built next to, and tested in the lake, down to New Orleans.

link

---

Griff Thursday Dec 17 06:53 AM

Remember when we used to do stuff?

---

DanaC Thursday Dec 17 07:50 AM

I have to say I was expecting something very different from the thread title...

---

glatt Thursday Dec 17 10:41 AM

I had never heard of this. It's incredible. Jacking up entire blocks of a city!

---

xoxoxoBruce Thursday Dec 17 10:52 AM

---

ukamikanasi Thursday Dec 17 11:50 AM

That's wild.

Here in Seattle, a similar problem was solved by raising the sidewalks and roads up to the 2nd story of buildings and the first floors became subterranean.

---

Clodfobble Thursday Dec 17 01:33 PM

Wow. Jacking up an entire building? That'll work up an appetite.

---

Gravdigr Thursday Dec 17 03:24 PM

From the link:



Quote:

A popular story of the time had it that a passerby came upon a man whose head and shoulders protruded from the muck in the middle of the street. "Can I help?" asked the passerby. "No, thank you," replied the man. "I have a fine horse under me."

Wonder who said that first? That fellow in Chicago, or, Del Gue from "Jeremiah Johnson"?

---

xoxoxoBruce Thursday Dec 17 05:32 PM

I've seen it attributed to Mark Twain too.

---

Gravdigr Thursday Dec 17 06:23 PM

Quote:

Originally Posted by

DanaC

I have to say I was expecting something very different from the thread title...

"Jacking Men In Chicago"........That would cost Sheldon a good bit of cash.

He'd have been on a plane after reading just the thread title...




I kid Shel occasionally, but, I think he's a genuine good egg for putting up with it.



---
Your reply here?

The Cellar Image of the Day is just a section of a larger web community: a bunch of interesting folks talking about everything. Add your two cents to IotD by joining the Cellar.