xoxoxoBruce Wednesday Dec 9 11:49 PM

December 10th, 2015: White Fur

White furred critters are in the minority just because they are too easy to spot by hungry predators. Very tough to hide in natures greens and browns, except the Ptarmigan and bunnies that hang out on snow. Of course the Polar Bears, White Tigers, and Spirit Bears are up near the top of the food chain so white won't get them eaten, but makes it harder for them to eat.

......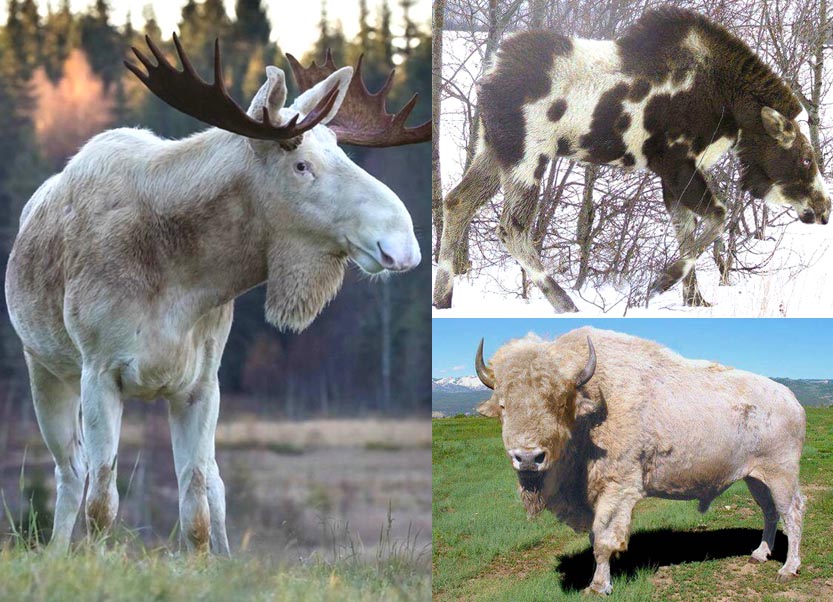 Then there are albinos that crop up in all the species. Through genetic defects albinos fail to produce coloration, which is why their eyes, nose, lips, look pink. They have the same problems as naturally white furred critters, plus the Sun will overheat their bodies, burn their skin, and blind them.

......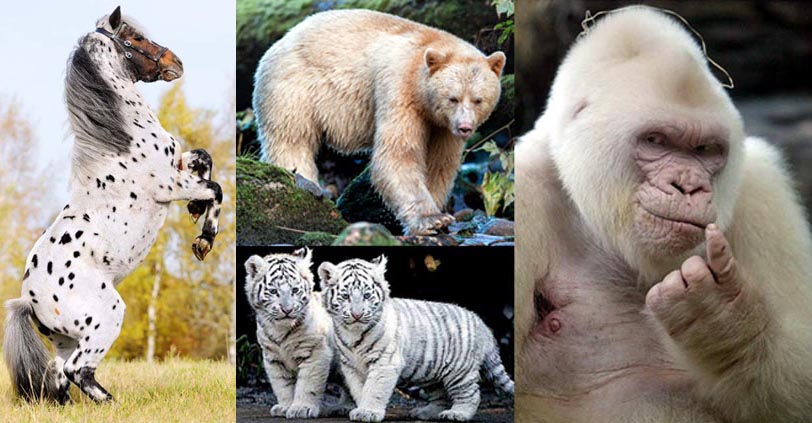 Lastly there's another genetic defect called Leucism. This causes partial loss of color so the fur is white, pale, or patchy, but the eyes, nose, mouth is normal. I hadn't heard of Leucism, I was always interested in the coloration of calves and colts compared to their parents, but thought it was just the way nature mixed up parts of the coding from each parent, and it was a crap shoot. I didn't know many of the two-tones came from Leucism.

I guess I wasn't that far off, it's nature's crap shoot, just some smart guy/gal figured out the hows/whys, and put a label on it.
But white mice are an abomination and must die.

---

Snakeadelic Thursday Dec 10 10:50 AM

As someone who has researched zoology and biology for about 40 years as a hobby, I gotta chime in. That rearing horse? NOT albino or leucistic. True albinism is not known in horses--the blue-eyed all-whites are either homozygous for the cream dilution gene or from a Dominant White bloodline, tho' most of the DW lines currently known do not alter eye color. That spotted pattern is the result of two gene complexes, Leopard and Pattern, and a frozen Ice Age horse hide found in the taiga tested positive for LP so it's been around a LONG time. Note that the horse (it's either a mini, a German-bred Shetland pony, or a Danish Knabstrupper pony) has dark eyes and skin. The all-white moose does look like it could be an albino--that eye looks dark but could be dilated and have a pale blue iris. Since all true antlers are bone, no color dilution will affect their colors. I haven't read up on any theories about "piebald" moose and whitetail deer.

Leucistic animals do NOT have normally-colored skin or eyes in most cases. They will often have blue eyes and pale-brown or grayish skin instead of an albino's vivid pink. Quoth Wikipedia: "Unlike albinism, it (leucism) is caused by a reduction in multiple types of pigment, not just melanin." Affected animals come in 2 varieties: pied, which is more common in birds and produces patches of all-white feathering randomly, and faded--which I'd bet is what the bison is. I've personally seen a leucistic black-billed magpie here in MT (tho' I was not able to get a photo). I thought it was a white shopping bag blowing in the wind until I saw the tail feathers and noticed that the areas that should have been black were instead a soft cream-tan almost identical to that bison's forehead. Snowflake, the gorilla shown in the collage, was an albino although updated information says DNA testing proved him to be the likely result of an uncle-to-niece breeding in the wild.

As for the bear, again quoth Wikipedia: "The U. a. kermodei subspecies ranges from Princess Royal Island to Prince Rupert, British Columbia on the coast, and inland toward Hazelton, British Columbia." Approximately 10% of U. a. kermodei are born white and their color does not change through their lives.

quote: But white mice are an abomination and must die.
ALL domesticated mice are abominations. I've never cared for their attitude, particularly the like of one I bred myself many many moons ago while raising snake food and fancy color pet store stock. One escaped, and when caught he not only bit me (despite being in the pet store tank!) but I watched him set his lower jaw and then force his mouth as far open as he could--thankfully I had him re-tanked (snake food tank for jerks who bite!) before he could chomp down.

If you do further research on white and "tabby" (hypo-melanistic) tigers, you'll quickly find it's an ethics-charged minefield out there. I remember the original Nat Geo article about the white tigers of Bengal--sorry, "dances wif bunniez" crowd, but no they are not originally Siberian--and it mentioned some things glossed over now. Things like the tigers only survived due to being fed by the locals, and how many serious defects were ignored in the first few inbred generations. There are estimated to be around 30 "tabby" tigers, 2 of which I was lucky enough to see for myself at a small traveling circus many years ago, and unethical breeding was pretty much necessary to produce them.

---

sexobon Friday Dec 11 12:08 AM

---

tombstone Sunday Dec 13 06:26 AM

Albino Humans

My late husband was an albino. He had blue eyes, like me. He was legally blind. Some albinos have red eyes. The genetics clinic at UCLA said that with no known history of albinism in my family, the chances of our having an albino child were one in 200. Our son had blond hair, like me, and brown eyes, like the Native American side of his father's family. He now has two sons, one with dark brown eyes like himself, and one with hazel eyes. No albinism has shown up so far.

---

Sundae Sunday Dec 13 06:42 AM

My politics teacher was albino.
He too had blue eyes. He wasn't registered blind, but was extremely short-sighted and had to wear very thick, tinted glasses.

He mentioned it at the beginning of the year to each new class, just to get it out of the way.
Of course this was years ago now, so it could be that he simply used the easiest term for people to understand.

---

Gravdigr Sunday Dec 13 07:52 PM

All this talk of albinism, and eye color had me thinking of something I couldn't quite put my finger on.

It was this.



Quote:

What's the matter, Bunny Eyes?

Complete with the most porny-looking Burt Reynolds ever.

Very famous stunt scene. Dar Robinson was awesome.

---

xoxoxoBruce Sunday Dec 13 08:00 PM

That's not hard, all he had to do is let go.

---

Gravdigr Monday Dec 14 11:36 AM

He had to let go, alright...

He had to push away from the building, stay in character, and land on the airbag, and he couldn't look down, or back. That takes a a bit of talent. I can't remember if he wasn't supposed to draw the gun at all, or, if he was just supposed to squeeze off one round. Anyway, he drew the gun and got off all six shots on the way down.

Dar Robinson was a Hollywood stuntman for 19 years. He never so much as broke a bone.

---

xoxoxoBruce Monday Dec 14 01:41 PM

Oh, you meant do the stunt and survive.


Now that make it much harder, with all the planning and equipment. There's still a good chance of getting hurt bad enough to haunt you for the rest of your life, if not put you out of work permanently.

---
Your reply here?

The Cellar Image of the Day is just a section of a larger web community: a bunch of interesting folks talking about everything. Add your two cents to IotD by joining the Cellar.