xoxoxoBruce Saturday Dec 5 01:07 AM

December 5th, 2015: Blacksmiths

Blacksmiths are rare as hen's teeth used to be. The trade split, with farriers taking the horse shoeing, farm implements have interchangeable parts, and edged weapon/armor making becoming a specialty. Of course much of what they made is now store bought, except high end decorative wrought iron trim or restoration hardware. It makes me happy to see a few have persisted in the dirty, deafening, difficult art, and I have great respect for them.

........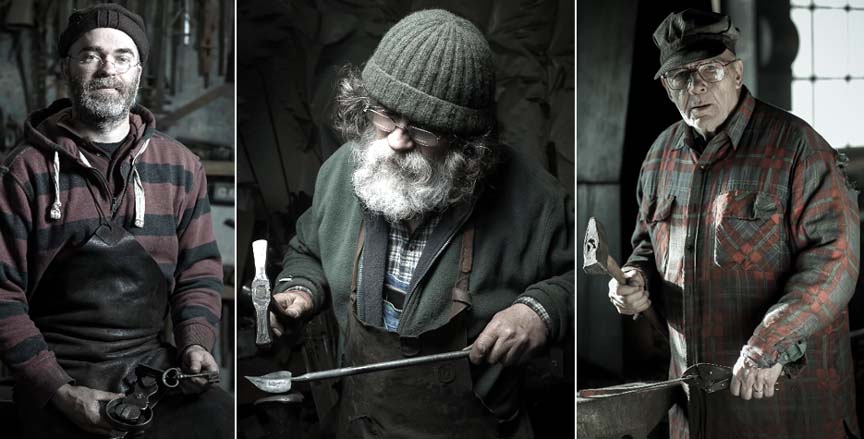 This is a small sampling of what they can do with hot iron and a hammer.

......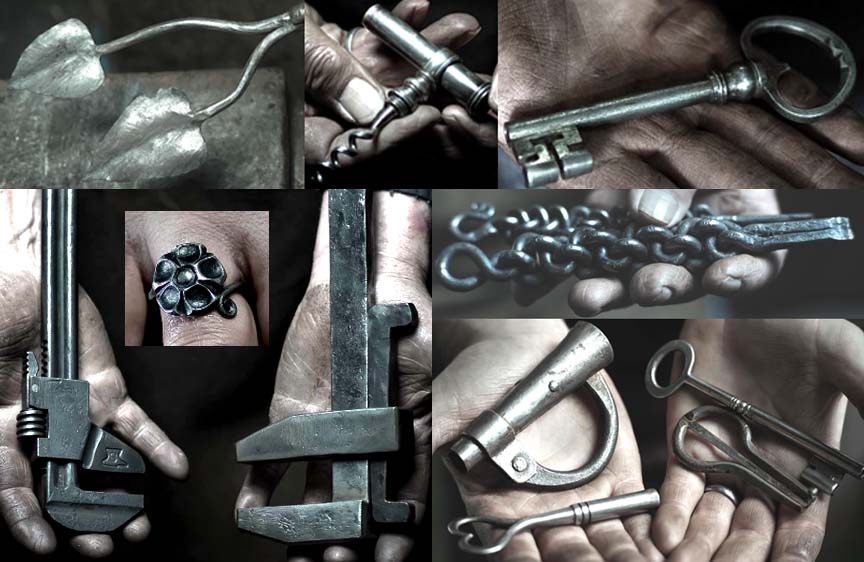 These and more pictures were taken by a Canadian photographer Dan Bannister, very dark, kind of noir.

---

DanaC Saturday Dec 5 04:16 AM

The guy in the midle looks like one of my neighbours.

---

Griff Saturday Dec 5 09:12 AM

want to

---

Spexxvet Saturday Dec 5 09:20 AM

My cousin. He's crazy, and not in the good way.
http://rechasmiths.webs.com/

---

Griff Saturday Dec 5 09:35 AM

Some of his crazy looks good though.

---

Diaphone Jim Saturday Dec 5 12:10 PM

Long sleeves.
I've never seen a wedge-held wrench, but its function is instantly clear.

---

xoxoxoBruce Saturday Dec 5 01:06 PM Fall down and worship your god like cousin overlord.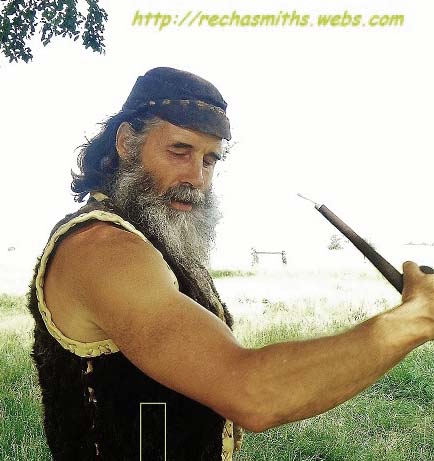 And don't even think about not paying your bill.

Quote:
Originally Posted by
Diaphone Jim

Long sleeves.
I've never seen a wedge-held wrench, but its function is instantly clear.

I noticed that Jim. When you think about it, it doesn't take a lot to keep that jaw from moving, most of the wrenching force is handled by the design.

---

xoxoxoBruce Sunday Dec 6 01:27 PM

Oh that, just a little iron embellishment to the balcony railing.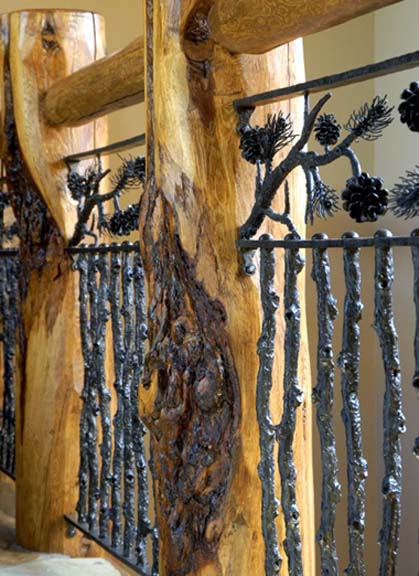 ---

glatt Sunday Dec 6 01:42 PM

fantastic

---

Griff Sunday Dec 6 03:26 PM

dang

---

fargon Sunday Dec 6 03:50 PM

I like it.

---

Snakeadelic Thursday Dec 10 09:58 AM

https://www.youtube.com/watch?v=mmEz-IGxtsg

The man in the wheelchair passed away in 2013 after a minimum 5-year battle with colon cancer. At assorted times in my sordid youth, he was my landlord, my boss, my 2nd husband's business partner, and one hell of a fine "sifu". He was also a steelsmith for nearly 30 years, specializing in weaponry. I was just one of the guys (residents on his land could number anywhere from 6-14 adults, tho there were never any resident children either time I lived there) around his shop and I have one whopping nasty scar to prove it where a 34-inch unsharpened broadsword blade caught on the buffing wheel and nearly took off my left index finger. (photo of scar, not fresh injury, available on request...)

As for Dragon Dronet, you may not recognize his name but you've seen him AND his work. He started Renegade Effects Group in Burbank many, many years ago; one of his first prop projects was a resin cast of a primitive idol--the final casting, covered in gold leaf, is part of the beginning sequence of Raiders of the Lost Ark. He brought the resin cast to a Norwescon one year, along with an Alien egg he built/helped build for the second movie, and the photo Patrick Swayze stole off the wall in To Wong Foo, Thanks For Everything, Julie Newmar. I offered to buy an 8-pound box of polymer clay and turn it into anything he wanted in trade, but the photo was on loan from a friend of his. That same day I picked up a weird piece of plastic as he was loading the display and asked what the heck it was.

"That's the codpiece from Locutus of Borg, actually." Thankfully, after having worked at the front reception desk of a gay newspaper in Seattle for 6 months, it takes a lot more than something once parked in Patrick Stewart's groinal region to stand my hair on end!



In the Marky Mark Planet of the Apes remake, one of the gorillas strongly featured in the trailers turns to the camera to snarl "BOW to him!" That's Dragon, and he made the costume himself. In the original 1982 Conan, when the unchain Ahnold from the wheel and take him to the pit, he faces down another fighter until sunset and ends up killing him in the first fight. That's Dragon age like 20. Dragon also built the Mr. Freeze costume for that horrible, horrible Batman movie. He learned armor craft from a man named Terry English, known to many as Royal Armourer to Her Majesty the Queen of England. Known to others as a stunt driver and world-class fencer (swordfights, not stolen watches). Mr. English worked, at the time, in a shop that had stood on the same foundation since the 1600s and still had working tools from the 1700s. Few photos of his shop exist, and motion filming is not allowed inside without special dispensation from the Queen.

Functional metalworkers (as opposed to jewelers) are invariably insane in some way or another, most of them fairly fun. I used to know a bunch of them on the medieval re-creation circuit in the Pacific NorthWet. I still have 2 of the 3 blades I ever asked for from Mr. Roe's shop. One's a Japanese tanto no one else wanted because the hilt that fits my hand perfectly was too short for any of the customers who looked at it. The other, which sees a lot of use some years, is a leaf-blade drop-point skinning knife made out of an old circular saw blade. When hunting's good around here, I have lots of friends during deer season...amazing to me how many hunters don't know how to skin a deer!

---

Undertoad Thursday Dec 10 08:08 PM

That's a whopper of a post, Snake! Your telling of the history of Mr. Dronet is excellent. Deserves a solid read.

It makes you pause to consider how much talent goes into a film -- we mainly lavish our attention on the actors. Art design, set design, costume design, props...! That idol is one of the most iconic props in film history.

(I imagine "Wilson" is #1...?)

Sounds like it must have been wonderful to know him.

---

Sundae Friday Dec 11 06:16 AM

Quote:

Originally Posted by

Snakeadelic

As for Dragon Dronet, you may not recognize his name but you've seen him AND his work.

Cynical old me. I immediately thought, "No. I have not seen him or his work."
But this is the Cellar and I respect you, Snake so I read on and of course you were 100% correct.

Blimey.

Fantastic post, thank you.

---

Griff Friday Dec 11 07:33 AM

wss

---

glatt Friday Dec 11 08:45 AM

I was in a hurry when I first saw Snake's post, so I didn't read it. Thanks for pointing it out, UT.

---
Your reply here?

The Cellar Image of the Day is just a section of a larger web community: a bunch of interesting folks talking about everything. Add your two cents to IotD by joining the Cellar.