What's IotD?

The interesting, amazing, or mind-boggling images of our days.
xoxoxoBruce Thursday Dec 3 12:30 AM

December 3rd, 2015: Shiner Cow Shoes

Huh? Moonshiner's cow track imitating shoes. Not really shoes because they tie on like roller skates of the era.

..........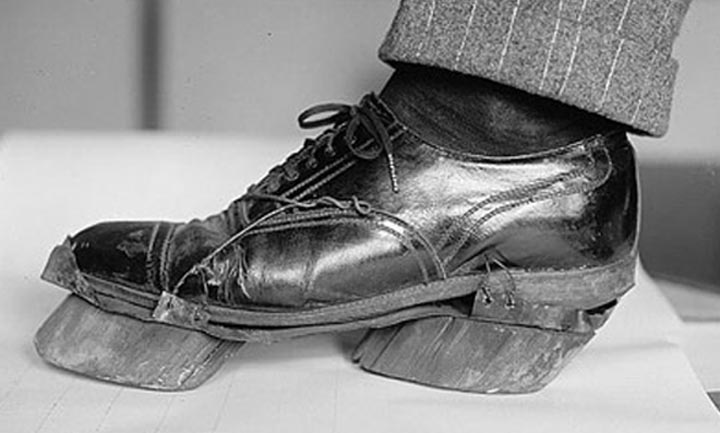 Quote:

A new method of evading prohibition agents was revealed here today by A.L. Allen, state prohibition enforcement director, who displayed what he called a "cow shoe" as the latest thing front the haunts of moonshiners.

The cow shoe is a strip of metal to which is tacked a wooden block carved to resemble the hoof of a cow, which may be strapped to the human foot. A man shod with a pair of them would leave a trail resembling that of a cow.

.............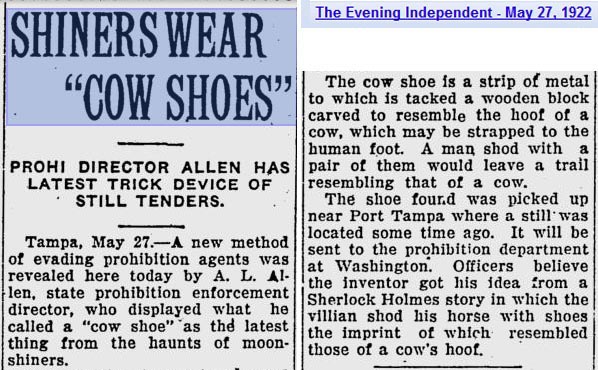 [EDITORIAL] This is in 1922, and the Government's War on Alcohol is in full swing. Of course not against the rich Brandy and Champagne crowd, the law, subsequently the War, has loopholes for them. The wrath of the Feds falls on the lower classes, with no loopholes, drinking moonshine. Gee, that sound's familiar??

Anyway the Cow Shoe was found in an area where a still had been found, some time before. What, they busted a still and then some time later somebody finds this cow shoe. What ties the two together? How do they know it wasn't just a practical joke on a friend? Could they not have been used to track mud through a house and blame the cow for a chuckle, as well as leave cow prints in the soil by Oliver North's grandfather?

But since the War on Alcohol is raging, the cow shoe gets sent from Tampa, FL, half way down America's penis, to TahDah(French horns) the top, to Supreme Leader's Lair, Washington, DC. There the cow shoe is touted as a breakthrough in battling those wily, black hearted, home wrecking, 'Shiners. A picture(likely 8x10 with a paragraph on the back) and descriptions of the use of the dastardly tool goes out to all agents. Keep an eye out for anyone wearing, or even possessing, a burka cow shoes. They even waxed poetic about the idea was inspired by Sherlock Holmes, implying shiners are too stupid to think of something on their own, and subtly positioning the Feds with Holmes. [/EDITORIAL]

---

lumberjim Thursday Dec 3 01:04 AM



---

glatt Thursday Dec 3 08:34 AM

It was actually a brilliant ploy by the moonshiners to get the feds to go around in circles following real cow tracks.

---

xoxoxoBruce Thursday Dec 3 08:47 AM

Excellent thought, Dr Watson, excellent.

---
Your reply here?

The Cellar Image of the Day is just a section of a larger web community: a bunch of interesting folks talking about everything. Add your two cents to IotD by joining the Cellar.