xoxoxoBruce Tuesday Dec 1 11:41 PM

December 2nd, 2015: Hen's Teeth

My uncle used the expression, "rare as hen's teeth", which is damn rare… or it was.
Science say the chicken's great, great, many more greats, grandmother, was a dinosaur called Archaeopteryx.

............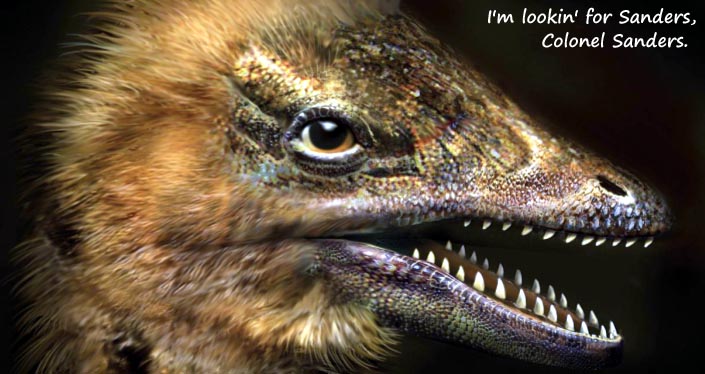 BBC says Bhart-Anjan Bhullar of Yale and Arhat Abzhanov of Harvard, figured out which genes make the beak.
They then denied an embryo the proteins they need to build a beak.
Shazam, the embryo skull tries to revert back to a previous beakless incarnation.

.............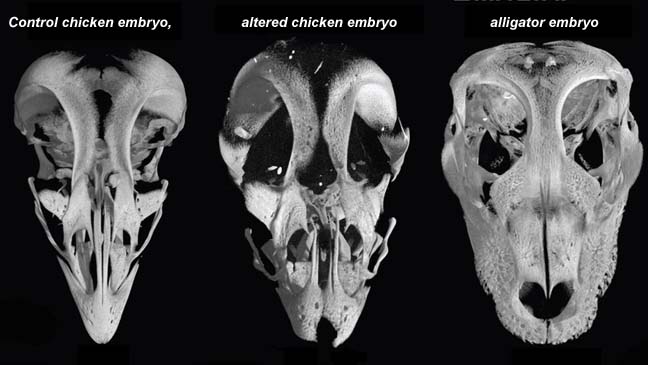 Quote:

For now Bhullar has no plans, or ethical approval, to hatch the snouted chickens.
But he believes they would have been able to survive "just fine".
"These weren't drastic modifications," says Bhullar. "They are far less weird than many breeds of chicken
developed by chicken hobbyists and breeders."
"The rest of the animal looked OK, but one needs to think about this carefully from an ethical point of view."

I wonder if they can grow wings that beat you skinny?

---

busterb Wednesday Dec 2 06:29 AM

Is it just me? Or the names of the 2 dudes just make me wonder where in hell money for research is going. To quote someone "damnifino."

---

lumberjim Wednesday Dec 2 07:08 AM

You assume this is American money

---

xoxoxoBruce Wednesday Dec 2 07:34 AM

Bhullar is Assistant Professor and Assistant Curator, Geology & Geophysics at Yale.
Abzhano is an Associate Professor at Harvard.

---

glatt Wednesday Dec 2 08:34 AM

As far as tinkering with DNA goes to make these bizarre things, that genie is out of the bottle. Human don't have a very good track record of ignoring knowledge and leaving well enough alone. Even if major scientific bodies decide that this sort of stuff is unethical, somebody somewhere in the world is going to do it. My bet is on China. They think eating tiger penises will make you powerful. They will make a chicken with teeth in a heartbeat if they want to. They will make dinosaurs if they want to.

Hell, even the US federal government just ruled last month that it's cool to feed genetically modified salmon to people without telling them what it is they are eating.

---

xoxoxoBruce Wednesday Dec 2 01:01 PM


Quote:

They will make dinosaurs if they want to.

Good idea, I've seen pictures of several abandoned amusement parks in China.
Like this one for instance...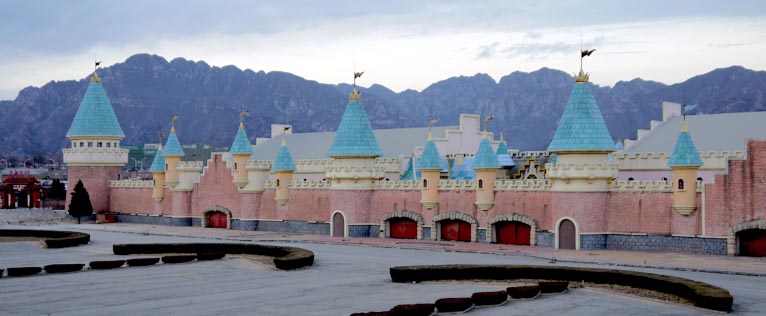 Look at those walls, they could plunk a couple Dinos in there and that parking lot would be full up. What could go wrong?

---

Snakeadelic Thursday Dec 10 09:36 AM

A couple of years back, I found a few articles about a mutant rooster hatched on a family farm. Everything about him was chicken-normal except for one thing: he's BALD. Uglier than one of those bald cats (breed is called Sphynx or Canadian Sphynx)! Beak is normal, legs are normal, not even feather follicles in his skin. I'm wondering if the meat industry bought him yet--think of the money they'd save for executive bonuses if they didn't have to pluck chickens raised for food!

That said, the lack of feathers gave him an expression strongly reminiscent of a shoebill stork. The shoebill is one of those birds that makes me say "THAT is where dinosaurs went." http://artisanlane.com/wp/the-cartoo...king-shoebill/ DO NOT search "shoebill eating" unless you're prepared to see one eat a LIVE DUCK. Whole. "Cartoonish" my (unladylike word here).

---

Griff Saturday Dec 12 09:32 AM

What a cool looking creature!

---

Gravdigr Saturday Dec 12 12:33 PM

Or, a guy called Tiger.

But, not for the same reason.

---
Your reply here?

The Cellar Image of the Day is just a section of a larger web community: a bunch of interesting folks talking about everything. Add your two cents to IotD by joining the Cellar.