xoxoxoBruce Wednesday Nov 18 12:04 AM

November 18th, 2015: The Future of Car Buying

OK, you're hanging out with friends, the gathering breaks up, but you have to piss like a racist. Coming back from the loo to find everyone's gone, and there you are without a ride home. No problem, just wander over to the car vending machine, drop in a coin, and your new car will be down in a jiffy...
...if you're near Nashville.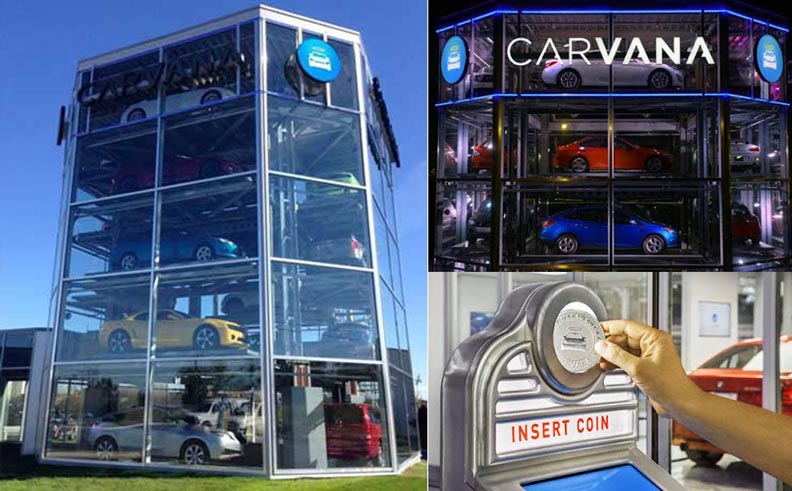 Because you're smart enough to know it can't be that simple, you say, "What?". There's a couple of details, there are a number of similar looking, usually bigger, car storage buildings, but this is the only coin operated car vending one in the world. Another detail is payment, and insurance, which the government and banks get a little picky about.
In truth, it's a gimmick, something car dealers are famous for. The old saw, first you gotta get there attention, is well heeded in any business.



Quote:

This new way of buying a car is supposed to save you money. "By virtue of cutting out all the middle men and getting rid of all the costs we save customers about $1500 to $2000 for every car they purchase," said Garcia. That's because the entire purchasing process is done online instead of a dealership. Garcia said it's simple.
"They can pick from nearly 2000 cars in inventory and buy the car in as little as 20 minutes," he said. "When I say buy the car, I mean they can get approved for financing, select financing, sign contracts, select a warranty and get a trade in value."

You'll probably spend another 20 minutes just signing all the papers.
But this was interesting...


Quote:

And if they don't like something about it, Garcia said there's a seven day return policy. "Whatever it is no questions asked," he said. "Six days later we will call you to remind you, you only have one day left on your return policy. You can return it, swap it off for another car or just wash your hands of the transaction and say maybe I'll come back next time."

Really, just like that, cancel the loan, insurance, all the paperwork, give your trade back untouched, no charge?
What if it has 5000 miles and mud on it? I'd read the fine print first.

---

Undertoad Wednesday Nov 18 08:16 AM

So now the finance manager has to call me personally to wish me a happy birthday on the phone I don't take calls on?

---

xoxoxoBruce Wednesday Nov 18 10:38 AM

Huh?

---

Undertoad Wednesday Nov 18 11:45 AM

I was trying to bait LJ... his sales manager called me yesterday to wish me a happy birthday. (Although I don't take calls I don't recognize.) I feel it's going overboard for a dealership, but then we never really know what works do we? If it's an extra two grand for your vehicle, but the dealership has a bunch of touchy-feely things that make you feel good about it all,...

---

lumberjim Wednesday Nov 18 12:17 PM

You're not saying you paid 2 grand too much for your Roge are you?

---

Undertoad Wednesday Nov 18 01:47 PM

No that's the original post, pointing out that the cost of doing business "the old way" with a showroom and salesdukes, is an additional $1500-2000 per vehicle

...but under that plan there is still a finance person... there will always be a finance person...

---

Gravdigr Wednesday Nov 18 02:50 PM

They better have one helluva change machine.

---

xoxoxoBruce Wednesday Nov 18 03:13 PM

Quote:

Originally Posted by

Undertoad

I was trying to bait LJ... his sales manager called me yesterday to wish me a happy birthday. (Although I don't take calls I don't recognize.)

I figured it was pointed at him, just couldn't figure why.

I got a call yesterday from NY 917-675-3126, according to the caller Id. Like you, I don't answer if I don't know who's calling. Crap, the blue light starts flashing they left a voice mail. It's usually just a stray sound on the line that triggers a recording but I have to call and delete it to stop the light. But lo and behold there's a message saying it's a courtesy call to inform me the IRS is filing suit against me, and to call the number to receive a case file number. I know this is bullshit, so I Google that number. It must be a new scam because I only got 79 hits, most of them wanting to sell me information about the location. The valid links said people who called were given a case number then asked personal information like name, address, etc, but not credit card number, so they must be compiling a call list to sell. This can't be legal, maybe that's why only 79 hits.

---

Gravdigr Wednesday Nov 18 03:18 PM

It's happened at House Gravdigr (the fake IRS investigation) at least a dozen times this year.

We don't have caller id on the landline, but, we rarely answer the phone during the day, unless the answering machine proves its someone we know. These fuckers always leave a message.

---

xoxoxoBruce Wednesday Nov 18 03:21 PM

The leadups to elections are the worst, that's when all the politicians call me like I'm their oldest and dearest friend.



Oh, I've discovered when I buy things online and they require a phone number, if I enter the wrong number, the sales calls drop off dramatically. Can't be a totally bullshit number, they usually flag the wrong area code, so something close.

---

lumberjim Wednesday Nov 18 10:06 PM

A lady at work got that same call yesterday, Bruce.

I don't know how well that gimmick would work for car sales... Many people enjoy negotiating a deal, and still want to even after they are given rock bottom pricing from true car or zag. We make our money in the Finance office and the service department.

Our average new car profit is (200)... That's negative 200. Average back end is 500 ish.

Used cars average front is 1100, 1500 in the back. Overall, we average 300-400 front and 800 back.

Front end means profit on the price of the car... Back is finance reserve, warranty, gap, tire, key, dent, lojack, etc. It is crucial that you have good finance people that can both ensure compliance, and generate profit. It's a lot of pressure, and the boss pays close attention to us, but we are the highest compensated managers in the place. The Finance managers touch every deal, interact with every customer, and are the last line of defense in protecting the dealer from exposure to litigation for unfair business practices, liability, and contract funding issues. The CFPB is getting more and more powerful, and they generate lots of money for the government. Honda recently got soaked for charging minorities more interest.

You have to be very careful to begin negotiations in the same place for every customer. You have to self audit and have policy in place to ensure that it is being adhered to. At present, the CFPB has pervue over lenders. The FCC has hand over dealers. The grip is tightening.

I'm not allowed to pad payment quotes, or discount interest rates in exchange for product sales.

---

xoxoxoBruce Wednesday Nov 18 11:27 PM

My buddy has bought several dodge pickups over 8 or so years, not sure what dealership. They've been telling him all along they sell the trucks at cost, because Dodge pays them $500 per truck to put them on the lot, regardless of how long it takes to sell. Sounds like bullshit to me, unless the dealer's paying for them all up front without financing, I don't see how that's possible.

---

lumberjim Thursday Nov 19 01:16 AM

Cost may mean invoice. Dealers get hold back, which is typically 3% of msrp before shipping. Ostensibly, hold back is to cover floor plan interest for 3 months in inventory.... So yeah.

---

Gravdigr Thursday Nov 19 05:44 PM



Post #11 was an interesting one.

---

lumberjim Thursday Nov 19 05:55 PM

no spell check on my phone.... Purr View.... What your cat sees

---

Gravdigr Thursday Nov 19 05:56 PM

Hah!

---

xoxoxoBruce Thursday Nov 19 06:46 PM

---

Gravdigr Thursday Nov 19 06:52 PM

I know he gives us the business pretty regularly.



---
Your reply here?

The Cellar Image of the Day is just a section of a larger web community: a bunch of interesting folks talking about everything. Add your two cents to IotD by joining the Cellar.