xoxoxoBruce Saturday Nov 14 02:03 AM

November 14th, 2015: Tut Tut Tutsie Hello

4 score and 13 years,(plus 10 days) ago, George Herbert, the 5th Earl of Carnarvon, and his expert minion Howard Carter, brought forth a new mummy, conceived in Egypt, and dedicated to the proposition, when it comes to burials, it's good to be the King.

Carter stared digging holes in Egypt in 1907, on Herbert's dime. By 1922 Herbert was pissed and gave Carter notice, this season you be finding, or you be gone... without a letter of recommendation. Well, Carter really dug digging in Egypt, so he really dug hard, and worthy of a Hollywood movie at the eleventh hour found a... he didn't know. But it was buried and the door was sealed, although he thought it may have been broken into at least once. I don't know why, look it up for homework... and write two single space pages.

Anyway, since his digging he dug was hanging by a thread, he told His Lordship to come on down. Everyone present and accounted for, that's Herbert and Carter 'cause the natives that did the work don't count, they open the door and saw the antechamber to the tomb of the fabled Boy King Tutankhamun.
This is a colorized photograph of what they saw.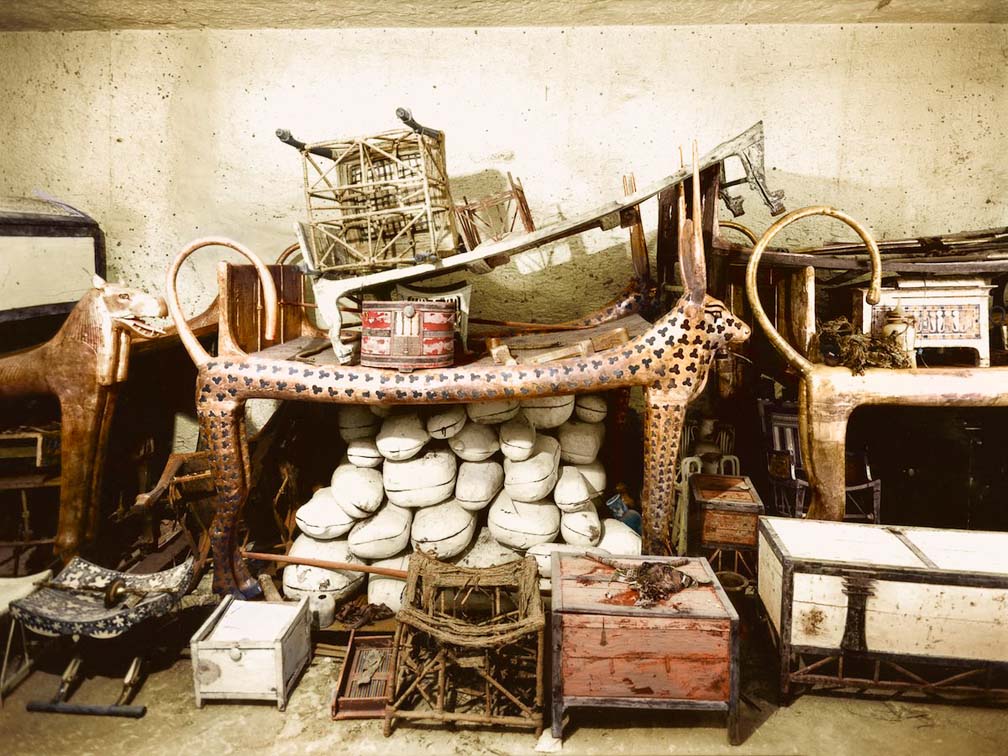 I thought it looked kind of messy, but they(Herbert & Cater) were pretty happy to have found what looked like an intact load of booty they could pillage. They(the natives) still had work to do before they(Herbert & Carter) got to the burial chamber where the mummy had been waiting patiently for 3300 years. As anxious as they(everyone) were to see more, everything was tagged with a number, photographed in situ, then cleaned and cataloged before they(Herbert & Carter) stole it.
Retronaut has a bunch of large colorized pictures.

I went to see some of the spoils in DC when it toured. My buddy had borrowed my van to haul 3 bikes to Daytona so I had his Corvette which unlike my van fit in the Smithsonian parking garage under the Air and Space Museum. Waited in line 11 hours, got rushed through the exhibit, the parking garage was closed and locked up, snuck in the back, jack, and thre.. uh persuaded the guard to open the fucking gate or... well that's another story.

Anyway, I might have been a little grumpy at that point, but looking at the loot, the jewelry that made up a large part of it looked good. But local artisan good, not crown jewels good. I had to keep reminding myself this shit was over 3 thousand years old and hand crafted with the tools of the time.

---

Lamplighter Saturday Nov 14 09:43 AM

Excellent post, xoB !

---

infinite monkey Saturday Nov 14 11:33 AM

That's way better than Capone's vault!

---

Gravdigr Saturday Nov 14 05:10 PM

At least there was something in this one.

---

orthodoc Saturday Nov 14 08:01 PM

Thanks, xoB! Fantastic penultimate post. What on earth will you do for #50,000?

I don't think you think in those terms. You just dig up very cool stuff, add a personal touch, and we are the lucky ones you share it with. Many thanks, and may you continue to post in good health!

You could publish collections of your stuff and get paid for it, you know.

---

xoxoxoBruce Saturday Nov 14 09:54 PM

Thanks Lamp, Ortho, I see a lot of shit and occasionally IOtD worthy, at least in my opinion worthy. UT said when he was doing every day it would take him a half hour average for each. It takes me a little longer because I'm a one finger typist, if I use two it takes longer to edit, so it's a wash. My old key board, if I hit two keys at once it would only take the first to connect, but this keyboard prints both. Sometimes auto-correct jumps in and changes the word without my noticing because I'm looking at the keyboard, so I have to preview and read carefully a couple times to catch shit, then too often forget to submit.

I enjoy doing it, but every day for years at a time can be grueling. That nagging in the back of my head that it's got to be done and I don't have anything saved.

Recently someone who commented regularly emailed me with a suggestion for an IOtD along with a couple links and a short personal story. I PMed them that they should post it, since they had all the info and knew what the post should convey. I said don't worry about screwing it up because it wasn't a big deal and we could fix it.
They haven't been back since they read the PM.

---

infinite monkey Saturday Nov 14 10:02 PM

Aww. Whut?

---

Snakeadelic Thursday Dec 10 08:45 AM

Read an interesting Tut trivia bit not long ago!

In many of his regalia & jewelry pieces, a pale yellow, translucent stone shows up alongside the turquoise and gold. These particular stones are called "Libyan desert glass" and have long been believed to be created by meteoric impacts, mostly in the Sahara.

Recently, someone noticed that a fleck of something black was inside one of the desert glass cabochons. Upon testing (I'm not sure what kind, those details not being important enough for the blurb I found) apparently the black fleck matches up to the chemical composition of a comet, not a meteorite, meteor, or asteroid.

I was going to put something flippant about "I got shiny rocks like you wouldn't believe" on the Nov. 4th image (Fireworks Fantasy, the $2M bra) but I can't find it in the threads after I log in, so I'll be flippant here instead.

I rockhound. I have "common" opal--which isn't common but is called so because it lacks the play-of-color fire typical of Australian opals--from eastern Oregon and several southwestern Montana sites. No, I don't have Montana agate, because it comes from the Yellowstone River drainage system and the western border of that is 300 miles east of me. I have MUCH rarer bottle-green botryoidal (bubbly-looking) agate from here in MT. I have rhyolite, most with landscape patterns, and the same in jasper, mostly from eastern Oregon. I have beach jasper and friends from the northern Oregon coast, and piles of bivalve fossils from Moolack (moo-lock) Beach State Park, the next beach north of Agate Beach, Oregon. Half or more of what I've pulled out of the river a mile or so north of my apartment hasn't been identified yet.

Also, I now have a short but fun story, illustrated in 5 photos, that might do well on the other image thread. Anyone I need to submit it to first?

---

BigV Saturday Dec 12 11:16 AM

No.

However, posts here are limited to four attached images per post.

---

xoxoxoBruce Sunday Dec 13 12:47 PM

But images can be combined before posting to beat the number limit, if the result doesn't exceed the size limit per picture. I've found the quality of the image can be knocked down considerably without affecting how it looks on the screen. People will email pictures straight out of their phone that are 4 or 5 megabytes, which I can reduce to less than 100 bytes without degrading how they look on the monitor.

---

BigV Wednesday Dec 23 11:18 AM

100 megabytes, probably, but not 100 bytes

---

xoxoxoBruce Wednesday Dec 23 12:04 PM

You're right not bytes, I meant KB, Like this picture at 62.4 KB. The OP picture is 158KB, because it so big.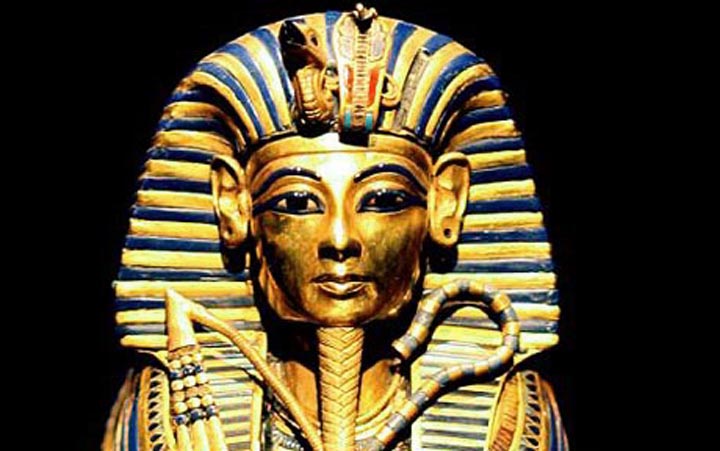 ---
Your reply here?

The Cellar Image of the Day is just a section of a larger web community: a bunch of interesting folks talking about everything. Add your two cents to IotD by joining the Cellar.