xoxoxoBruce Sunday Nov 8 01:24 AM

November 8th, 2015: Fire Trees

Not to be confused with a burning bush, a fire tree is a tall tree used as a lookout perch for spotting fires.


Quote:

In many forest areas in the United States, Canada and Australia, there are fire lookout towers manned by persons called the "fire lookout" whose duty is to lookout for signs of wildfires in the wilderness, and report them so they can be quickly suppressed. A fire lookout tower is usually a small cabin located on the summit of a mountain or other high vantage point like a tall tree or a tower. In the early days, trees were often used as lookouts. There were plenty of tall trees around and all you had to do was attach a ladder to an existing tree. Sometimes, instead of a ladder metal rungs were pegged into the tree trunks to form a spiraling ladder up to a treehouse cabin high up in the canopy. The cabins were often equipped with telephones, fire finder tables, seats and guy wires. A tent or shelter at the bottom of the tree provided accommodation.

You think your commute sucks, try climbing a fire tree first thing in the morning.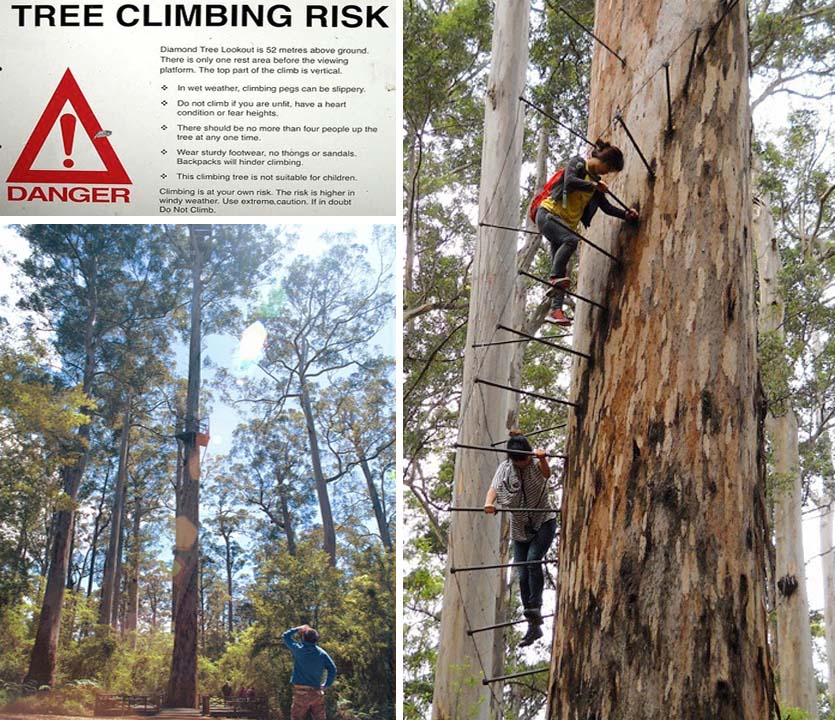 Quote:

Lookouts trees were widely used in the early 20th century in the Kaibab National Forest of northern Arizona, and Washington, USA, and in Jarrah and Karri Forests in Western Australia. In the US, they were used until the 1960s after which they were replaced by steel or wooden towers. Many fire lookout trees fell into disuse and disappeared. Surviving ones have been placed on the National Register of Historic Places.

The current tallest fire tree is the Dave Evans Bicentennial Tree in Australia, outfitted in 1988. The OMG-I-can-see-forever platform is 75m(246 ft) off the ground, which is a pretty long blood-curdling scream, or if you're macho, a lot of muttered oh shits. There are 165 spikes driven into the tree for climbing. If they went straight up the tree they would be about 18 in(46cm) apart. But spiraling the tree the spacing has to be greater by at least a couple inches. I think coming down (not the easy way), would be even tougher with no hand rail. Not my cuppa.

link
---

sandypossum Thursday Nov 12 12:09 AM

I went to one of those Western Australian fire trees. I think it was the Diamond Tree. My other half went up without a worry, having no problem with heights. He said the hard part was not going up, but coming back down, and the hardest part was coming back through the trap door of the platform and getting started on the climb down. Meanwhile, I was down the bottom (I get vertigo at about 2m altitude) and ended up talking to a park ranger. He told me they regularly got people who went up and could not get back down, and one of them had to wheedle them into doing it. But he once had a Japanese man up there who absolutely would not / could not come down, so the ranger had to PIGGY BACK HIM BACK DOWN! Above and beyond...

---

xoxoxoBruce Thursday Nov 12 12:23 AM

Wow, Hi Sandy, good to see you.


I suspected coming down would be much harder, I know it would be for me because I don't have eyes in my feet.

---

glatt Thursday Nov 12 08:49 AM

I'd think twice before climbing up that. Part of me would very much want to do it, but part of me would be skeerd.

---

fargon Thursday Nov 12 01:57 PM

I'm to afraid to any thing like that.

---

classicman Thursday Nov 19 08:51 PM

no freakin' way... nope ... none.

---

Gravdigr Friday Nov 20 01:02 PM

---

fargon Friday Nov 20 04:16 PM

Thanks Gravdigr

---
Your reply here?

The Cellar Image of the Day is just a section of a larger web community: a bunch of interesting folks talking about everything. Add your two cents to IotD by joining the Cellar.