xoxoxoBruce Tuesday Oct 27 04:03 AM

October 27th, 2015: Sign Post Forest

Watson Lake, up in the Yukon Territory, is a little town of about 1500 people. It's located 635 miles, about half way, up the 1400 mile Alcan Highway, and close to the junctions of Rte 37 down to British Columbia, and Rte 4 up to Dawson. That makes it a natural rest stop for travelers, and because there ain't no place, like this place, near this place, for locals too.
But Watson Lake is most famous for signs, lots of them, over 76,000 in 2010.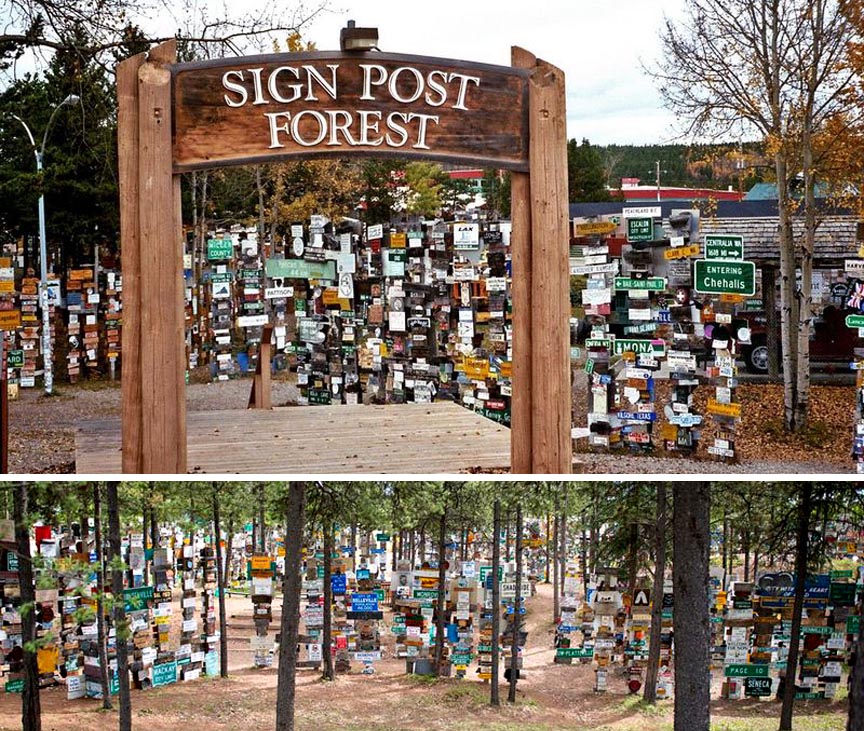 There was a US Army base and airstrip there during the big one, WW II, to support the construction of the road which took place between March 8th and October 28th. Private Carl K. Lindley was assigned to fix up the base signpost pointing the way to nearby destinations. He decided to add a sign pointing to his home town of Danville, Illinois. It caught on with others who added there own signs, under what must have been a laidback CO. But hey, WW II was raging and he was assigned to... Canada, which makes me think he was no Patton.

The base packed up and left, but the signs stayed, so some miners and loggers added more. When the highway opened to the public in 1948, first a trickle then a flow of tourists, adventure seekers, and not a few fugitives, kept adding signs. Watson Lake decided to not only tolerate the growth, but capitalize on it as a tourist attraction.
See the Sign Post Forest... psst, wanna buy some gas? How about a meal? We've got clean, soft, comfy beds? But always in a polite Canadian manner, eh.

---

glatt Tuesday Oct 27 08:57 AM

I've heard of that place before and have always been a little curious about how a sign gets added. A lot of those signs look very official. How does that work, does a tourist plan ahead by stealing a sign from home and carrying it with them across the border and up to Watson Lake, and then find an empty spot on a post?

---

Sundae Tuesday Oct 27 09:15 AM

They can have the misspelt ones from Walthamstow and Aylesbury!

---

xoxoxoBruce Tuesday Oct 27 12:30 PM

Yes glatt, they bring them along with them, because someone told them about the place, they read about it, or they've been through there before. Mining and timber people come to work seasonally, truckers and military passing through, or repeat tourists heading for Alaska. I've been there five times. It's strange looking at those signs, and recognizing so many from places I've been to, or close enough to that the name clicks. Like in the first picture there's a sign for Chehalis, Washington. I was working in Centralia, WA, for about three months in 1980, and we used to go to this weird store in Chehalis, called Sunbird, that was a bastard child of Kmart, Job Lots, and an Army Navy store, so it clicked immediately. Then of course some are for cities everyone has heard of, I mean a sign for Springfield, hell everyone knows a Springfield.




Hey Snakeadelic, where are you?

---

BigV Wednesday Oct 28 05:43 PM

Know Springfield? Hell, I was BORN in Springfield.

---

xoxoxoBruce Wednesday Oct 28 06:58 PM

We know that, Bart.

---
Your reply here?

The Cellar Image of the Day is just a section of a larger web community: a bunch of interesting folks talking about everything. Add your two cents to IotD by joining the Cellar.