xoxoxoBruce Wednesday Oct 14 10:44 PM

October 14th, 2015: OK Space Capsule

Look Dear, a flock of geese.... Uh huh.
Look Dear, puppies for sale.... That's nice
Look dear, A space capsule.... Mmm.... WHAT?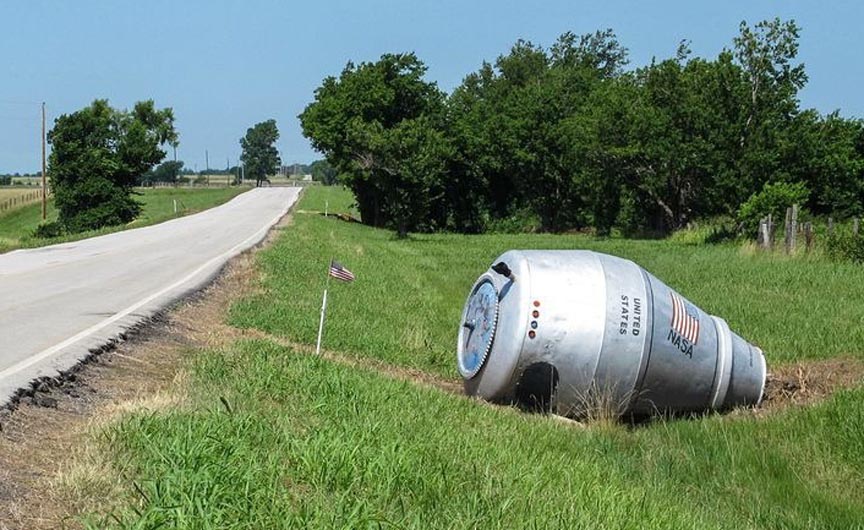 But it ain't. Way back in '59 this here young fella done rolled his boss's ready mix-em-up truck over. Well now by the... wasn't no celly phones in every pocket, doncha know... so by the time they got old Fat Bob's tow-em-back truck out here, the ce-ment done got harder than a stood up bride's heart. The rig was too heavy for Fat Bob to tow, so they unhooked the big ol tank and just towed the truck. Lord knows what happened to that young fella when his boss found out, maybe he lit out.. tween you and me I heard 'bout a fresh dirt mound in the desert.

For some reason they never come back fer the dang thing. Sure ain't nobody stealin' it.
Before long the kids they graf-feaded it with big willys and naked ladies and nasty stuff too.



Quote:

In September 2011, local artists Barry and Heather Thomas decided to turn it into a space capsule to celebrate the fifth anniversary of their wedding.

I guess after five years they be tryin' to think of sumthin' to avoid the hokey pokey, like folks would expect. No respect for tradition, them artsy types.



Quote:

The couple attached canning lids, garden hose, broken reflectors and other household items to the mixer to make the transformation look as real as possible. Before the latest incarnation the mixer was painted in a patriotic stars-and-stripes motif.

The Winganon Space Capsule is now a popular attraction. People driving along Winganon Road get down from their cars to pose near it and take pictures.

Heather Thomas hopes the new paint job would discourage kids to paint it over with graffiti. It has definitely survived, till now, although the thrusters at the bottom are gone.

That's my story an' I'm stickin' to it.

---

glatt Thursday Oct 15 08:53 AM

I like it.

There was a tv show in my youth starring Andy Griffith as a junkyard owner who cobbled together a space ship from parts in his junkyard. The capsule was a cement mixer on that show as well. I wonder if that show has held up well over the years?
Attachment 53736

---

Gravdigr Thursday Oct 15 05:36 PM

That's pretty cool.

Reminds me of the Mythbusters episode where they blew up a cement truck. It basically ceased to exist. It disappeared, damn near literally.

---

xoxoxoBruce Thursday Oct 15 08:23 PM

I was wondering why they were so far away, behind a hill, until it went off. That was an incredible explosion.

---

Gravdigr Friday Oct 16 11:41 AM

For the uninitiated:

The Mythbusters were experimenting with using dynamite to dislodge dried cement from the walls of the mixing vessel(?). Then, as usual, they decided to have some fun. IIRC, they used a 55 gallon drum of ammonium nitrate and diesel fuel, ANFO, pretty much.

This was the result:



[/drift]

---

SPUCK Wednesday Jan 6 04:09 AM

I can tell you from personal experience dealing with a cement truck full of hardened cement is NOT fun.

As a high school auto shop guy I got a summer job with the local cement company. I typically changed oil, replaced transmissions and did electrical troubleshooting. Once a week I'd have to tighten every single drive-line U-bolt nut in the 16 truck fleet.

I'd even find myself laying on the narrow top of the 10 story batch-plant conveyor welding holes closed in the pan that would otherwise cause gravel to rain 10 stories down on trucks and people with the inevitable complaining.

I thought it was all pretty entertaining until one day there was a problem. Seems a guy was delivering a full load of concrete to a site that included a driveway that went down a hill and back up steeply. At the bottom of the hill the enormous weight of the concrete caused the trucks frame to flex. It flexed so far that the truck's clutch disengaged causing it to dribble to a stop and sit bridging the little valley. A monster tow truck was summoned and eventually showed up and dragged the truck back half it's length so it could then motivate again. Unfortunately in all the excitement the truck's engine had been off for a while so the drum hadn't been turning... Once pulled back everything was set the engine was restarted and the drum started rotating again. Enough concrete had hardened that when the solid mass got up on one side the entire truck flipped over rolling to the bottom of the little valley.

The driver had been carrying a 100 lb wooden case of anchor bolts to the site on the floor where the passenger seat would normally be. That box of bolts roamed in a big circle around the cab cleaning off the steering wheel, steering column, and all the windows. The driver said he spent the entire time rolling down the canyon trying to stay away from that crate. LOL

Anyway I digress, this truck was again fished out of the canyon by the conveniently present tow truck and hauled back to our yard. My boss after relating most of this to me said, "I've got a special job for you".

"What's that Mr. Raines?"

Cripes. I had to remove the small access port seen as the black oval on the drum in the above picture. Then crawl in off a ladder as it happed to be oriented up at about 2 o'clock. I was handed a 20 pound jackhammer earplugs, safety glasses, and a mask and instructed to break it all up, and once I had a loose pile, to use this shovel to shovel it all out the hole above my head.

Did I mention it was summer? Or that the drum contained 8-1/2 yards of 5-sack concrete? Or that the inside of a cement truck drum has five huge curved steel blades that are to help hoist the concrete up the walls? And that the space at the center of the blades is only about four feet?

Took me four days - all day.




Just about one month later they filled another truck up, always overloading them, and as it drove away from the batch-plant the output shaft of the enormous hydraulic drum-drive gearbox snapped clean off. About a two day repair if all parts were in hand. In full panic-mode they parked an identical truck next to the distressed one and tried to run the distressed drum chain from the good truck. The forces involved were just too great causing to two trucks to try to suck up to each other.

I had to do it all over again the next day. This time the access was pointed down at about4 o'clock so that while it was a lot harder to work my way in it was way easier to shovel it out.

What a summer.

---

glatt Wednesday Jan 6 06:24 AM

What a great story!

---

lumberjim Wednesday Jan 6 10:57 AM

Bonus pay?

---

xoxoxoBruce Wednesday Jan 6 12:08 PM

I think when that drum drive snapped, I'd be looking for a fire hose.

---

Griff Wednesday Jan 6 09:00 PM

---

SPUCK Thursday Jan 7 01:45 AM



I just looked it up. 8-1/2yards of concrete weighs about 28,500lbs.

The only bonus I ever got was a bet I won with my boss. He told me that a 10 gage copper wire could only support about 50amps before melting open. I started laughing when he told me that and a little angrily he asked why I was laughing. I told him, "Because a 10 gage wire would carry a hell of a lot more than 50amps while it was melting."

He asked me how much and I told him a couple of hundred at the least. So he bet his 'idiot high-school student' ten bucks. He dragged out a piece of wire, a 200Amp meter, and a huge truck battery.
He hooked it all up and then closed the circuit. The wire lit up white hot, the 200A meter smashed over pegged(way more that 200A) and about 5 seconds later the wire melted open. He was not happy but paid me. I made sure I steered clear of that subject for the rest of my tenure there.

---
Your reply here?

The Cellar Image of the Day is just a section of a larger web community: a bunch of interesting folks talking about everything. Add your two cents to IotD by joining the Cellar.