xoxoxoBruce Monday Oct 5 03:08 AM

October 5th, 2015: The Cow is Falling, The Cow is Falling



C'mon, seriously? Like that's ever going to happen. Must be a photoshopped joke.


Uh... no.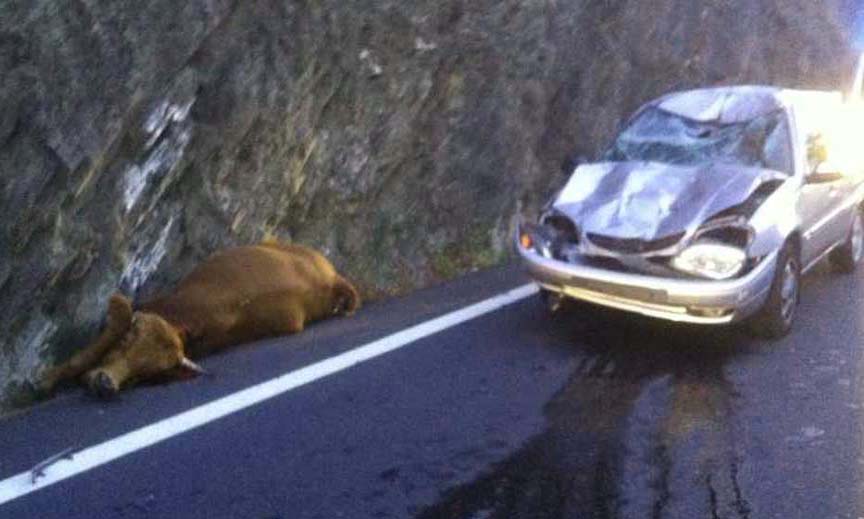 Quote:

A French driver said it was a miracle he wasn't killed after being given the shock of his life when a 500 kg cow fell from the sky and landed on the bonnet of his car. The driver was travelling down the departmental road 900 to take his stepson to school near the town of Perthus, on the border with Spain in the Pyrenees mountains. As he drove along he was brought to an abrupt stop when a 500 kg cow crash landed on his car.

According to reports on France Bleu radio the cow had been walking along a cliff high above the road and lost its balance. The animal fell to the road below just as the car was passing, with the bonnet taking most of the impact, although one of the cow's horns did pierce the windscreen.

That'll wake you up faster than concentrated Death Wish coffee, but it tends to make you soil your clothing.
The poor kid, the one time he's got something really neat to tell his friends he doesn't make it to school.

link

---

Griff Monday Oct 5 07:14 AM

Too intense.

---

glatt Monday Oct 5 08:17 AM

I'm going to go out on a limb here and say that I'm glad that didn't happen to me.

---

Spexxvet Monday Oct 5 08:47 AM

Holy cow! He'll be able to milk that story for a long time. When it hit the car, I wonder how fast it was moooooving.

---

Snakeadelic Monday Oct 5 08:51 AM

When I find a blog or daily-update kind of site I like, I'm one of those freaks who reads the ENTIRE archive. Way back when, there was an image set featured that was taken in Glacier National Park here in Montana. Two hikers walking Going-To-The-Sun Road (before it was vehicle-friendly that spring) found a dead bighorn ewe in the road. The story with the photo was that when they noticed the sheep had hit something so hard that one of its horns broke off its internal bone the guys were just about ready to pass it off as roadkill when they remembered there was still way too much ice and snow on the road for cars. Shortly beyond, they found a very large and very dead cougar, with the sheep's missing horn nearby and a mouthful of bighorn hair. The cat had been chasing the sheep, tried to grab her, and they'd both gone off the cliff and died on impact with the road.

There's also the (pretty sure) confirmed Darwin Award story of a man in Spain who was poaching red deer. Reds look a lot like American elk--same shape, nearly the same size, same antler arrangement. Their color's different, but the stags are still BIG. The Spanish poacher shot an adult male weighing in I think the neighborhood of 800 pounds or so, while it was negotiating a steep hillside. It's a Darwin Award, so of course it landed on him.

I see those falling-cow signs all the time, especially when we go east of the Bitterroot Valley. In order to get to one of the coolest itty bitty state parks I've ever had the pleasure to see, you have to drive like 4 miles past the last "Cattle Range" warning sign because a lot of places in the Big Hole area are full of free-range cattle.

One of these days I'll have to see if my favorite "maybe a joke, maybe a Darwin Award" story was ever confirmed. A subsistence hunter in the Middle East found a fairly large and definitely highly venomous snake near his camp. Realizing that snakes are, in fact, edible he decided to go about catching it in the safest way he could think of--immobilizing its head with the stock of his rifle. The un-amused snake (so the story I heard goes) was thrashing around and managed to whip the end of its tail through the trigger guard and was strong enough for its grip to pull the trigger. I can think of a couple of fairly large and highly aggressive venomous snakes from that part of the world that would be big enough and strong enough to take part in such a story...

---

BigV Monday Oct 5 11:41 AM

What jumps over the moon, must come down...

---

xoxoxoBruce Monday Oct 5 12:52 PM

Snake, you've triggered many memories of IOtDs gone by.

---

Gravdigr Monday Oct 5 05:14 PM

There was some famous keyboard player killed by a falling cow, wasn't there?

I may be thinking of the guy who was killed by a round bale of hay falling on his minivan.

You know what, it's entirely possible that I don't know wtf I'm thinking, so, nevermind.

---

sexobon Monday Oct 5 06:49 PM

Quote:

Originally Posted by

Gravdigr

... You know what, it's entirely possible that I don't know wtf I'm thinking, so, nevermind.

Don't have a cow.

---

Gravdigr Tuesday Oct 6 01:57 PM

♪ ♫If I had a heifer♪ ♫
♪ ♫I'd have her in the morning♪ ♫
♪ ♫I'd have her in the evening♪ ♫
♪ ♫All over my land♪ ♫

~Pinkard & Bowden

---
Your reply here?

The Cellar Image of the Day is just a section of a larger web community: a bunch of interesting folks talking about everything. Add your two cents to IotD by joining the Cellar.