Undertoad Thursday Sep 17 10:00 PM

September 17, 2015: Comedy wildlife photo awards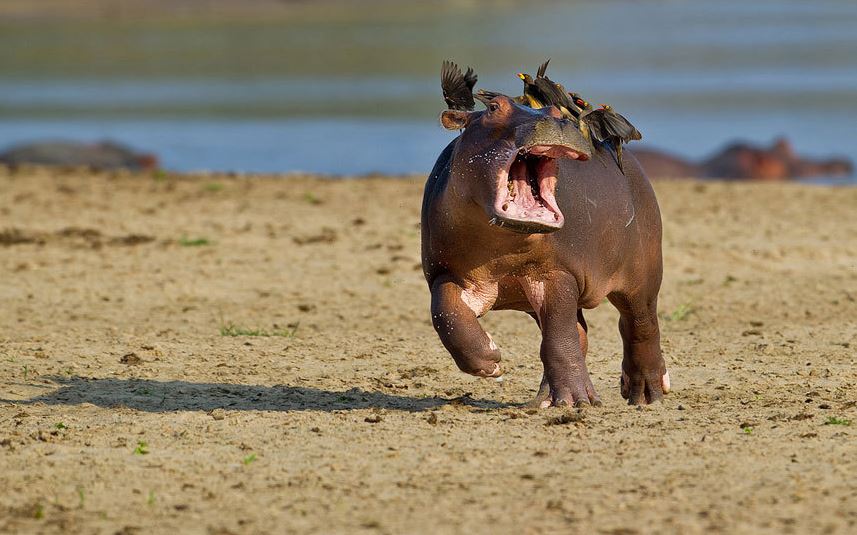 It turns out there is a thing called the Comedy Wildlife Photography Awards, and the Telegraph has collected a set they call "the best entries so far". These are two of them.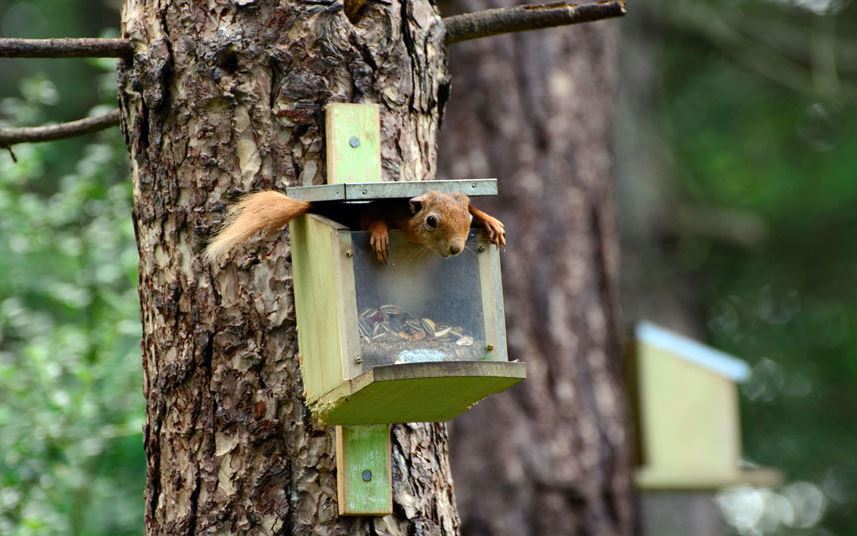 ---

Snakeadelic Friday Sep 18 08:24 AM

As I haven't checked the source material yet, I can't say I've got clue 1 what the hippo is flipping out about. It's probably not the birds--they're called oxpeckers, and they clean parasites off every African mammal that will tolerate them.

Anyone else notice it has at least 3 pink toes?

Squirrels, even endangered ones like that Eurasian red (in parts of the UK they are severely endangered by competition from invasive American grey squirrels) deserve what they get. They're HUGE jerks about anything edible and (whatever you believe in/pray to goes here) help you if they set up a colonial nest in your home. Wood & wires chewed, food stolen, and what their body waste can do to drywall is horrible to behold. In small areas of the US where they've been blanket-protected by people only interested in the cute fuzzy parts of nature, they've actually become both a vector for human-dangerous diseases and an increasingly major cause of house fires.

---

fargon Friday Sep 18 11:39 AM

Purty piktures.

---

xoxoxoBruce Friday Sep 18 12:10 PM

Here's the story on the Hippo/bird picture.

---

Snakeadelic Saturday Sep 19 08:35 AM

Thankee for the info! Oxpeckers are known to pick at open wounds on large animals, which sometimes helps prevent infection and sometimes just causes bigger scarring. If the hippo wasn't used to them and it had a small injury where the birds are clustered, it would explain the birds triggering the freakout. I tend to be less interested in what US park rangers call "charismatic megafauna" than I am in smaller, weirder critters, so I hadn't seen the hippo flipout before it showed up here. I did check some of the other contenders for comedic wildlife shots...

I can't wait until people stop thinking that weasel & woodpecker shot is adorable or hilarious. That bird was likely dinner less than two minutes after the photo was taken. Weasels that size will hunt European hares equal in size to their close US relatives that we call jackrabbits, and many a bright-eyed college-age kid backpacking and camping through western Europe has awakened to the literal shrieking horror show of a weasel chewing at the back of a hare's head--their preferred "kill shot" is to disconnect the skull from the spine, and because they're so limber it's nearly impossible even for an animal literally ten times their mass to throw them off. As anyone who's ever raised rabbits or been around rabbits knows, those buggers scream like the dickens when they're upset. I don't recommend looking up weasels' hunting tactics on YouTube unless you have a strong stomach and know how to turn off your computer's speakers first!

---

Snakeadelic Saturday Sep 19 08:39 AM

Also, must say to fargon that I love the last line of your signature. I do kinda fear the government myself as well, but since they pay me to stay the heck away from my own kind I tend to avoid interacting with people face-to-face whenever possible. And when I do interact offline, it's usually facilitated by me being heavily medicated.

---

xoxoxoBruce Saturday Sep 19 09:52 AM
---

Gravdigr Saturday Sep 19 02:35 PM

Ahh...The facilitation of medication.

---
Your reply here?

The Cellar Image of the Day is just a section of a larger web community: a bunch of interesting folks talking about everything. Add your two cents to IotD by joining the Cellar.