xoxoxoBruce Tuesday Sep 8 12:40 AM

September 8th, 2015: Refugees

Supposedly Hungarian countryside after the passage of refugees.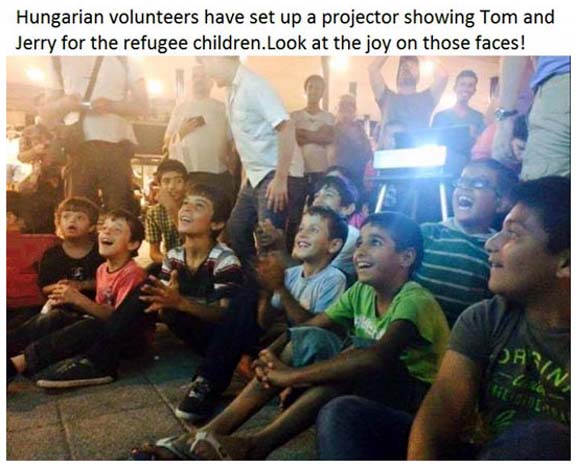 ---

Sundae Tuesday Sep 8 04:12 AM

I despise people who litter.
Because you are always close to a bin, or in your car, or have pockets...

Refugees? Carrying everything they own and leaving everything they have?
I grant leniency.

We don't need this.

---

Undertoad Tuesday Sep 8 07:58 AM

I'ma go ahead and guess that this is not refugee litter. To produce this amount of trash in a week they would have to truck it in.

---

glatt Tuesday Sep 8 08:20 AM

My parents just got back from a river cruise in Europe. At one point, the Danube was too dry, so they got put on to busses to complete the trip. I asked them about the refugees since they were in Austria and Hungary, among other places.

This is their email from 3 days ago.



Quote:

Today we crossed the border from Austria on the autobahn. There was a ~10 mile traffic jam at the border on the side entering Austria, also some tent villages in rest areas in both countries, and a couple of police checkpoints that caused smaller traffic jams between the border and Budapest. There was one field beside the highway in Hungary where a cleanup crew with trucks and pay loaders were clearing rubble from what looked like a previous large encampment, now empty of people. Finally in Budapest we got a glimpse of a tent village in a park behind a wall. There were also occasional persons or small groups walking along the autobahn. Traffic flowing east and life in the main tourist areas of Budapest appeared normal.
Dad
There were at least a dozen buses (like city buses, not greyhound) sitting on the Hungarian side of the border filled with refugees. I found it very sad. What has their life been like, what kind of future do they have and how courageous and scared they must be right now.
Mom



---

glatt Tuesday Sep 8 08:23 AM

I can see there being a government encampment that the refugees lived in for a couple days and then they left, carrying government water bottles and plastic bags and stuff, and abandoned the trash along the highway. Hungary didn't treat them well, and I'm sure they don't feel much love for that country.

---

Snakeadelic Tuesday Sep 8 08:34 AM

Sadly, Undertoad, between the flight-mentality lifestyle of first world refugees and the easy availability of plastic and paper packaging, I would believe that's refugee litter. I've personally seen messes a good half the size of any of those photos that were left behind after less than 2000 people had occupied a small hotel for 3-4 days for sci fi conventions! When people have nothing but what they carry, they can't take time or energy to think about the physical world around them--whatever isn't necessary is going to get stripped away, and if there aren't garbage facilities right on the spot they don't think they have the time or energy to go find a bin or anything. There's a pretty solid chance that any cloth items in the photos (like the tent, blanket, and clothes in the first one) left behind belonged to people who were arrested or rousted, or they may have been stained or damaged or stolen, rifled through, and dumped.

I've never been a refugee, but there was a time 40 years ago when my mom had to act like one--packing everything we HAD to have into one huge carry-all bag, grabbing me, and making a break for it through the orange groves around Orlando in the middle of the night. I remember having very few toys, even three or four years later, compared to the few kids who would talk to me in school. Heck, until I was about 12 or so my prize possessions were about a dozen books, half a dozen stuffed animals, and a coffee can with about 50 little plastic critters in it that I would take out in the empty lots and arrange & orchestrate in what could have been stop-motion animation if I'd had a camera. I remember not really wanting more toys because someone would just come along and tell me we were moving again and didn't have room to take them. It must be a thousand times worse for real refugees in first world countries (which I would hope still includes at least most of Europe...).

---

xoxoxoBruce Tuesday Sep 8 08:45 AM

They're not just walking through, they're being held up and screened. Only 35% are accepted with the rest being turned away. But there is no going back, so they camp until routed out by the authorities.

http://www.magyartudat.com/

http://www.magyartudat.com/ausztria-...s-bevandorlok/

---

Undertoad Tuesday Sep 8 09:31 AM

Okay I'm convinced. But is that a loveseat?

---

xoxoxoBruce Tuesday Sep 8 12:20 PM

I'm sure there are locals who feel sorry for these people and are donating food, clothing, and yes maybe a love seat. It's more likely the love seat was dumped there by someone before the refugees came.

I can understand the reluctance by European governments to open wide, considering the history of trouble with the transplants they already have. It's going to be a hell of a strain, and drain, on those governments from new refugees with limited language skills, and limited trade skills.

---

BigV Tuesday Sep 8 12:55 PM

The Convention on the Rights of the Child has been ratified by numerous countries. Guess what country has not ratified this international human rights treaty? That's right, Somalia. Oh, yeah, and the United States of America.

I've heard the opposition to ratification is the concern that the treaty would override US law, but no such worry about, say, the Pan Pacific trade treaty.

From here: http://www.gurtong.net/ECM/Editorial...UN-Hiroko.aspx

---

Gravdigr Tuesday Sep 8 02:41 PM

That beige tent is/was pretty nice.

---

glatt Tuesday Sep 8 02:43 PM

And in the foreground, in front of the nice tent, is a trash bag on a roadside reflector post. So somebody went through the trouble of hanging a bag on a post and putting their trash in it.

---

xoxoxoBruce Tuesday Sep 8 02:44 PM

Of course it's not ratified, there's no money in that. But that shit doesn't mean a rat's ass without enforcement. Who and how would it be enforced?

---

xoxoxoBruce Wednesday Sep 9 11:44 AM

Bild, Europe's best selling newspaper, published the picture in Sundae's post of the dead three year old on the beach. They got a lot of shit from people saying it was inappropriate and didn't want to see it.
In reply, Bild put out a paper this week with no photographs, none, they left out every damn picture in the paper, pointing out how important pictures are even if you're offended.

link

---

glatt Wednesday Sep 9 12:05 PM

The Washington Post published at least two pictures of that dead boy. One, on the front page that was a little tamer, showing a cop carrying the body, and then I think a day later they posted another, slightly more "graphic" one in a story inside that talked about coverage of the crises and the image itself, and showed the boy's face in the rippling waves.

---

Diaphone Jim Wednesday Sep 9 03:48 PM

I read this morning that the EU has 508 million people and many EU officials feel that it can realistically absorb refugees in the number expected.
What ever trash they had to discard must have been obtained after their 40-in-a-5-man-boat rides across the sea.

I have to say that Bruce's promise of a "lighter side of IOtD" was sadly too optimistic.

---

Lamplighter Wednesday Sep 9 09:13 PM

Refugee crisis: Pressure builds for U.S. to welcome more Syrians
By Holly Yan, CNN



Quote:

(CNN)Of the 4 million Syrian refugees who have fled attacks by their government and ISIS, the United States has taken in 0.03% of them.

That's a pitiful number that needs to be changed immediately, a growing number of Americans say. Both Republican presidential candidate Donald Trump and Democratic candidate Martin O'Malley agree: the U.S. needs to step up.

But how many should the United States take in? And what risks would be involved?

So far, the U.S. has accepted 1,500 Syrian refugees. By contrast, Germany said it will take in 800,000 migrants in the current refugee crisis. Several other countries, such as Turkey, Jordan and Lebanon, have each taken in hundreds of thousands of Syrians.

The International Rescue Committee called for the United States to open its doors to 65,000 Syrian refugees.


.

Martin O'Malley, (D) Presidential Candidate, made the comparison.
...65,000 refugees in the USA is equivalent to 6 or 7 additional people
among 3,200 people at a baseball game.

Big deal ? - I don't think so, but The Donald is hesitant because we already have
"tremendous problems with immigration --- tremendous problems ---"

.

---

Griff Wednesday Sep 9 09:22 PM

Rust belt cities in the US are desperate for a population boost.

---

xoxoxoBruce Wednesday Sep 9 09:48 PM

Sorry Jim, nobody stepped up to fill the void.



Quote:

Martin O'Malley, (D) Presidential Candidate, made the comparison.
...65,000 refugees in the USA is equivalent to 6 or 7 additional people
among 3,200 people at a baseball game.

3200 is a pretty small ball game attendance, must be a loser... like the Phillies.
But O'Malley is missing the point, it's 65,000 heathens who don't talk good American, and everyone knows they's welfare sucking, job stealing, terrorists, and rapers... father rapers.

---

Clodfobble Thursday Sep 10 06:26 PM

Quote:

Originally Posted by Griff

Rust belt cities in the US are desperate for a population boost.

And if they were Irish, they might take them.

---

Griff Friday Sep 11 07:23 AM

You'd think the batshit right would see the potential for staving off the end of religion in America for another couple generations but it appears religious freedom isn't the thing, maybe its more like Religion® freedom...

the Syracuse metro was the only one in New York that was not listed as having recovered or partially recovered from the recession.

---

xoxoxoBruce Friday Sep 11 04:48 PM

But they're "that religion", which is worse than heathen. How could you forget, today being 9/11.


---

Griff Friday Sep 11 04:55 PM

I've been given to understand that my support for the Iran deal indicates insufficient remembering.

---

BigV Friday Sep 11 05:42 PM

You, too, hear stupid people?

---

Griff Friday Sep 11 10:08 PM

So many.

---

xoxoxoBruce Saturday Sep 12 10:45 PM

On an upnote...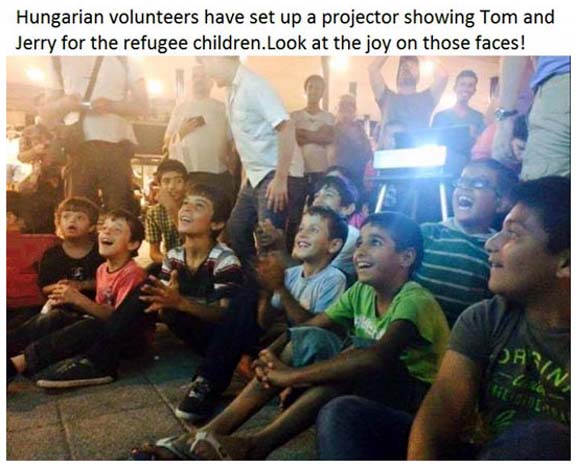 ---

Griff Sunday Sep 13 12:07 PM

Tom and Jerry will win their hearts and minds. Thoroughly westernized in 30 minutes. We can absorb a lot of Syrians. I am not excited by Islam or religion generally but these folks are fleeing the ugliest manifestation of religion, they should be ready for a little skepticism and some damn peace.

---

Undertoad Sunday Sep 13 12:11 PM

They are learning about that infidel Tom.

---

xoxoxoBruce Sunday Sep 13 01:07 PM

Hey, why did the OP picture get replaced with the Tom & Jerry pic? Did I label them the same when I uploaded them, and the program replaced the first with the second?

---

Undertoad Sunday Sep 13 01:38 PM

Yes they need to be different names

---

xoxoxoBruce Sunday Sep 13 04:01 PM

Ah, didn't know that. My bad.

---

Undertoad Sunday Sep 13 05:15 PM

My bad for not writing or finding a half decent upload library and instead just writing a few lines and hoping for the best.

---

xoxoxoBruce Sunday Sep 13 07:53 PM

Hey, it was up for six days so if they missed it, you snooze you lose.

---

Pamela Sunday Sep 13 08:47 PM

Germany reaps what it sows. A sneak preview of what may happen if we import "refugees" here.

It has been said that these people are not true refugees but an invading army. We would be bringing in their civil war and giving it a nice home. I counsel against admitting any of them. Let Muslims take care of their own. Although Jordan, Egypt and Lebanon have taken in many, Saudi Arabia, the richest country over there, has taken in zero.

---

xoxoxoBruce Sunday Sep 13 09:45 PM

Quote:

The "open doors" immigration and asylum policy adopted by the European Union has now served to import this struggle into the heart of Europe, and as their numbers grow, there can be little doubt such violence will spread along with a general rise in Third World crime.

Europe is third world? Trump's son-in-law knows better than that.

---

DanaC Monday Sep 14 01:22 AM

Quote:

Originally Posted by

Pamela

Germany reaps what it sows. A sneak

preview

of what may happen if we import "refugees" here.

Let Muslims take care of their own

. Although Jordan, Egypt and Lebanon have taken in many, Saudi Arabia, the richest country over there, has taken in zero.

So because Saudi hasn't stepped up, we should just let those people rot? Well hell, they pray the wrong way right?

---

xoxoxoBruce Monday Sep 14 03:24 AM

It isn't the way they pray, it's the way they lived, the way they think, the culture they're brought up in, that seems to cause so much friction with Europeans. Needing a catch-all label for slogans and signs, White, Black, Hispanic or Asian, don't work. Actually the refugees cover all those bases, and some are Christian, and maybe a few Flying Spaghetti Monsterites, But Muslim is what the majority have in common, so that's the handle.

My heart says help them out, save them from the animals who have seized power. But my head fears a lot of clashes, and a deterioration of Europe living standards from the huge drag on the economy. Hope I'm wrong, but the past has proven troublesome.

---

DanaC Monday Sep 14 12:07 PM

I guarantee they won't harm our living conditions as much as the bankers did.

---

xoxoxoBruce Monday Sep 14 03:27 PM

Quote:

Originally Posted by

DanaC

I guarantee they won't harm our living conditions as much as the bankers did.

Looking at the big picture, I'd agree in a heatbeat, however that damage was spread pretty uniformly like an evil rain. Most suffered without a specific target to blame, so they cast aspersions on the bankers as a group. I'm sure not every banker was evil, even less feel they were doing evil. 'I was just following orders', or 'following bank procedure', most would say. There's some truth to that, it's the institution, and the officers controlling it, who are at fault. Those few would say, 'I did what I had to do to compete', or 'it's my sworn duty to make as much money as possible for my employer, the board of directors". The board would pass the blame to the stock brokerage houses who threaten downgrading the bank's future(value).

So when you say "bankers", which includes many people who are not at fault for the damage done, it's shorthand for the aggregate banking industry. It's the same way with the use of Muslim to cover a large group, many of whom don't fit the description, and/or are not at fault.

The damage from refugees I worry about, is more personal. One on one clashes between neighbors who have different backgrounds and values. Some of these clashes might be caused when people are annoyed by what their neighbors feel is normal behavior. It can be as stupid as your kitchen exhaust fan blowing bacon fumes at the praying neighbors. It can also be much more serious, but friction builds heat which can become flames.

The culture differences causing friction is why during the great migrations to the US a hundred years ago, the Jews sought out Jews to live with. The Scandinavians did the same, as did the Irish, Italians, etc, to live with people from a culture they understood, felt comfortable with. But it also created suspicions/fears in each group, about all the other groups, and it's taken a long time, several generations, to assuage most of those fears.

I'm worried that dropping these refugees into existing neighborhoods will cause friction, and putting them in enclaves apart will cause suspicion/fear of the unknown. Add bigoted troublemakers on both sides, and the standard of living goes down for everyone. Your standard of living plummets when you're afraid to walk your dog at night. Of course the person to blame, right or wrong, is just a stones throw away.

---

DanaC Monday Sep 14 03:47 PM

I agree with much of that. But - I don;t think the two are comparable really in terms of generalisations. Banking is a specific industry in which certain practices were allowed to become commonplace - whilst not every banker was at fault, it is not unreasonable to hold the industry responsible for what goes on within it - partly because it is, in fact within the power of that industry to alter how it conducts itself as a general rule. Islam is a gigantic swathe of humanity, available in many flavours, most of which hate all the other flavours, with many different national and regional identities shaping yet more variations.

I see what you mean about not blaming all bankers - and I am sure there are many people who work in banking who are ethical - but they are an industry and therefore far more controllable, identifiable and culpable than the press of a fleeing populace. And in terms of relative harm and impact on living standards - we are a generation, at the keen edge of minimum, away from true recovery in terms of living standards and wages versus the cost of living.

---

xoxoxoBruce Monday Sep 14 04:14 PM

OK, then we're pretty much in agreement. I wanted to point out, while using the term "Muslim" as a catch all for anyone from the middle east, except the Israelis, may not be right, or fair, it is reality. Haters did it, pundits did it, even some media did it, so people without an axe to grind heard it so much they accepted it as a term people know the meaning of, and don't stop to think the meaning may be completely different to the one hearing it. To many Americans, Muslim conjures up visions of ayatollah Khomeini & 9-11. To others it's a peaceful religion. Probably most of us are in between.

---

Griff Tuesday Sep 15 07:14 AM

You guys need to ease up on the reasonableness. This is no way to start a flame war.

---

DanaC Tuesday Sep 15 07:46 AM

You're quite right. I can only apologise, to the internet, for allowing standards to slip.

---

xoxoxoBruce Tuesday Sep 15 11:26 AM

Shut the hell up. Is that better?

---

Lamplighter Tuesday Sep 15 11:41 AM

I'm feeling sick-minded this morning....

Flash floods in Utah kill 8
Jokiah Smith was interviewed at the canyon refugee camp this morning:


Quote:

I lost my No 1 wife
I lost my No 2 wife
I lost my No 3 wife
Now Wives No 4 and 5 are bickering over who will be Wife No 1

Kids ? I don't know. I can never keep up with all of them.


Sorry. I won't do that again.

---

Lamplighter Wednesday Sep 16 11:20 AM

Migrants Trapped In Border Space Between Hungary And Serbia
NPR - September 16, 2015

Hungary dismisses asylum requests within minutes, say refugees
The Guardian - 9/16/15


How soon they forget....


Quote:

In 1956, Hungary was again under the power of a foreign state,
this time the Soviet Union, and again Hungarians rose up in revolution.
Like the revolution of 1848, the 1956 Hungarian Revolution failed
and led to the emigration of 200,000 "56-ers" fleeing persecution after the revolution,
40,000 of whom found their way to the United States.



---

xoxoxoBruce Wednesday Sep 16 10:28 PM

Yes, and that's why you see Hungarian/Americans committing crimes on the news every night. And all the mass murders are Hungarian/Americans, as well as inner city shootings. Oh, and child molesters. I almost forgot telemarketers.

---
Your reply here?

The Cellar Image of the Day is just a section of a larger web community: a bunch of interesting folks talking about everything. Add your two cents to IotD by joining the Cellar.