xoxoxoBruce Wednesday Aug 26 10:55 PM

August 27th, 2015: ISS Nightlight

The nightlight for the International Space Station is the Earth.
We've seen this type of pictures before, but I never tire of them.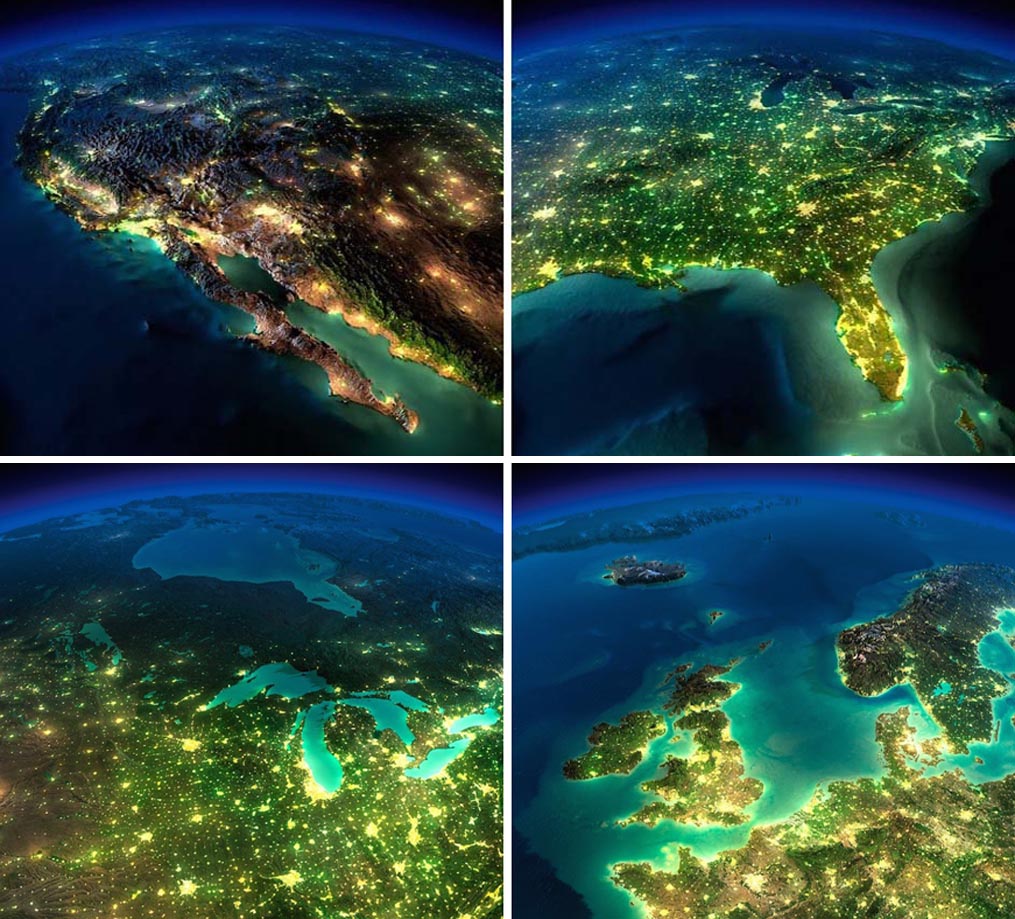 There is 20 more of them here.

---

glatt Thursday Aug 27 08:37 AM

Cool looking images, but I'd like to know what I'm looking at.

These seem completely computer generated to me. The elevations of the land are very exaggerated, and the colors are all wrong. Plus there is no cloud cover anywhere and the oceans are lit up.

---

xoxoxoBruce Thursday Aug 27 10:10 AM

The ones I posted are obvious what your looking at, but the ones at the link are harder to identify. That's the fun of them.

Quote:
The high definition have been specially edited using various techniques, allowing NASA to add a vertical exaggeration of the relief based on a digital terrain model.
---

BigV Thursday Aug 27 10:24 AM

well, the geographical inspirations for the images are mostly figure-out-able, but I agree with glatt that these are not photographs of the earth. There are a couple at the site that are very dark continental landmasses that could be photos of the earth, but these ones with the swimming pool continental shelf and the pointy hills and spiky coastlines and the ridiculously bent horizons... those are the products of someone's computer skills.

---

glatt Thursday Aug 27 11:17 AM

One cool thing with the exaggerated land elevation is that I never knew there was a mountain range in Arkansas. I thought everything in "the middle" was flat, but Arkansas has mountains. I mean, I guess I had heard of the Ozarks, but I thought they branched off the Smokey Mountains ore something. And they have the Ouachita Mountains too.

---

Griff Wednesday Sep 27 08:23 PM

Anyway, 2 years later I just watched the ISS cruise across the sky!

---

xoxoxoBruce Wednesday Sep 27 08:34 PM

Did you flash it?

---

Griff Thursday Sep 28 07:05 AM

No but I did experience a moment of hopefulness about humanity. Does that count for something?

---

xoxoxoBruce Thursday Sep 28 11:30 PM

Probably good for your head, just don't let on to your neighbors, they might get the pitchforks and torches out.
I mean who the hell are you to delay Armageddon.

---

Griff Friday Sep 29 07:52 AM

Oh it's coming baby, even my moderate friends are stocking ammo.

---

xoxoxoBruce Friday Sep 29 12:03 PM

If my house caught fire I'd have a moral obligation to wave off the firemen.

---

Diaphone Jim Friday Sep 29 01:05 PM

Does Antananarivo on Madagascar really have 99.9% of the light?
I agree that many hours can be spent enjoying those pics.

---
Your reply here?

The Cellar Image of the Day is just a section of a larger web community: a bunch of interesting folks talking about everything. Add your two cents to IotD by joining the Cellar.