xoxoxoBruce Tuesday Aug 11 07:32 PM

August 11th, 2015: Moffat Sheep Race

Seems my kinfolk have a proclivity for Scotch Whiskey, gambling, and sheep.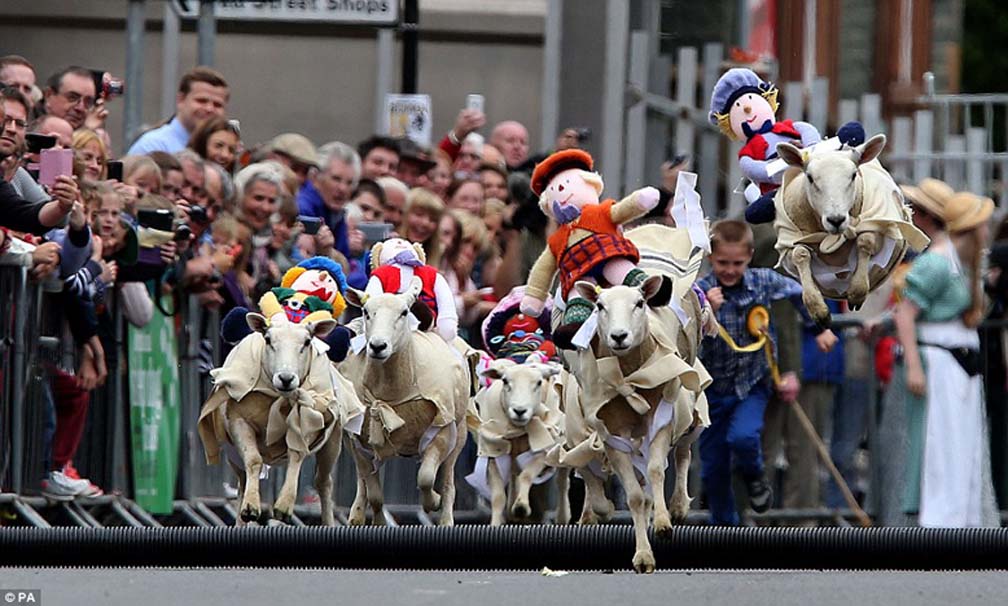 Quote:

Losing punters could have claimed it was a stitch-up. But those who tipped the successful hand-knitted jockey in today's Moffat sheep Race will have been far from sheepish when collecting their winnings, having proved themselves as experts when it comes to judging speedy ewes.

The annual get-together has become an unmissable event in the Dumfries and Galloway town, where locals and tourists try their hand betting on sheep as they hurtle through Moffat's closed High Street in a series of fun races. All of the ewes, which are supplied by a local farm, don racing uniforms and fancy dress items for their runs, and sprint to the finish line carrying woollen jockeys on their backs. There are also several races where rams lock horns on the track too.

The sheep races celebrate Moffat's sheep farming and centuries old woollen industry, with the event made possible by the generosity and support of the local farming community. Moffat's best known pubs, restaurants, cafés, craft and gift shops all join in the festivities, with street stalls popping up to offer visitors the best in local produce, arts and crafts.

Today's running was the fourth year in a row the races have taken place, with crowds getting bigger each time.

Seems every town and city in the UK has a High Street, or they just call whatever street ends up being the busiest commercial street, the high street.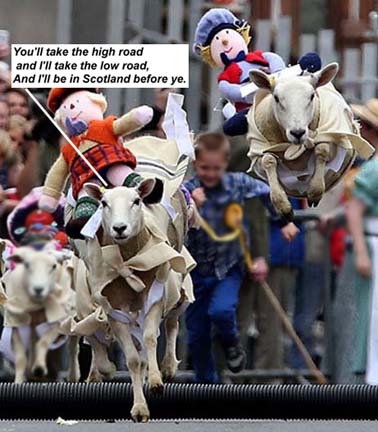 ---

DanaC Wednesday Aug 19 04:03 PM

'High Street' usually just means the main thoroughfare through the town - the one with most of the shops. Sometimes it is actually called High Street. But often it has a proper name and is also referred to as the High Street. And 'the high street' is also a general designation for a particular kind of shopping environment, so you get phrases like 'high street fashion' and 'high street stores' and news reports about the economy are obsessed with how things translate to 'the high street'.

My guess is that, with it being capitalised, in this case it may actually be called High Street.

---

xoxoxoBruce Wednesday Aug 19 04:06 PM

Thank you, I suspected that was the case, but being a provincial wasn't sure.

---

glatt Wednesday Aug 19 04:21 PM

Sheep.

We went to the Alexander Graham Bell museum in Nova Scotia. It was somewhat interesting. We all know he gets credit for the telephone. What I didn't know was that he was a huge inventor just like Edison, and he and the other inventors of the time were all inventing the same stuff independent of each other and only finding out later that they weren't first and that credit for various inventions would go to various people.

Bell invented the phone, and the airplane, and hydrofoils, and a bunch of other stuff that I forgot. Massive kites and stuff. He only got credit for the phone though, and that required an epic legal battle. He gave the invention to his wife and she managed the considerable money for him. He had to go to her to ask for money whenever he wanted to do stuff.

But the reason I'm posting in this thread is the sheep. Bell was convinced that the more nipples a sheep had, the more offspring it would have. He spent much of his lifetime counting nipples on sheep and breeding them especially for their nipples. I have to give him credit though. When the evidence didn't support his theory about the number of nipples and the number of offspring, he gave up and accepted it. He didn't try to make the data fit his theory. He followed where the data led. I wish more people today would do that.

---

xoxoxoBruce Wednesday Aug 19 04:38 PM

The tricky part is knowing when to give up. The next experiment might be the big break though, like Edison's finding the best filament material for lightbulbs. He said, I haven't had a thousand failures, I've discovered a thousand things that won't work, or something to that effect.

---
Your reply here?

The Cellar Image of the Day is just a section of a larger web community: a bunch of interesting folks talking about everything. Add your two cents to IotD by joining the Cellar.