xoxoxoBruce Wednesday Jul 8 11:55 PM

July 9th, 2015: Mobile Castle

This family took their home being their castle to heart. But they also like to be mobile so they built it on a truck.

Quote:

When traveling, the entire house truck is a compact and tidy package. The roof retracts, the sides of the walls fold in, the turrets rotate inwards and itís ready to go. When compacted for travel mode, the house easily meets all the minimum road clearances and is therefore very easy to travel with.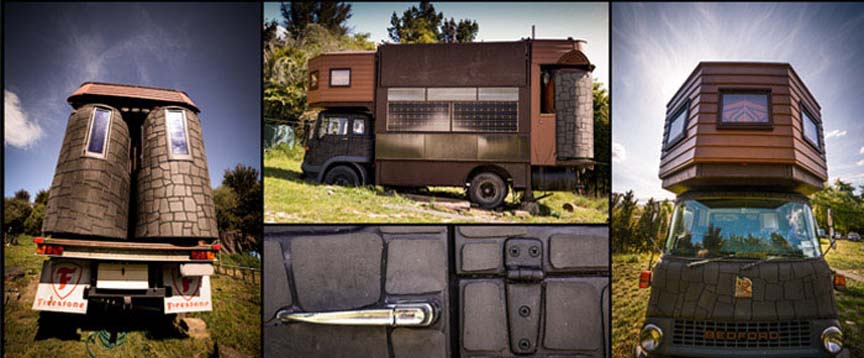 Looks kind of small for a castle, but wait..


Quote:

The castle-truck is completely off-the grid. It is solar powered, heats water through a mixture of solar panels on the roof, a wetback fire, and gas, and it captures rain water from the roof that is then stored in water tanks below the truck. To the rear of the truck youíll find the bathroom turrets. The turret to the left is the composting toilet, and to the right is the shower turret which also is home to a small washing machine. In addition to being a very unique feature on the house, this design also has the practical benefit of separating the bathroom from the living space..

And a bathtub on the second floor.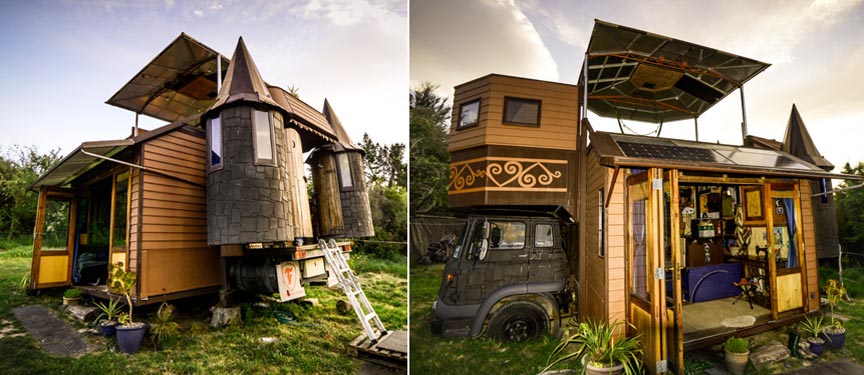 This isn't like a mobile home in that it takes some work and time to set up, but if the neighbors get obnoxious you can move.
The interior is amazing with all kinds of clever built-ins and storage nooks.
The video tour showing most of the set up and all the features is 11 minutes well spent.
Would I lie to you, my oldest and dearest friends... except about money or sex?

link
---

Sundae Thursday Jul 9 12:12 AM

Thank you. Eleven minutes very well spent.

---

fargon Thursday Jul 9 07:13 AM

I really liked that video.

---

xoxoxoBruce Thursday Jul 9 09:26 AM

It would appear from the video at about 2:40 she's an aerialist or a dancer of some sort. I'd love to know what it cost to build that castle.

---

glatt Thursday Jul 9 11:04 AM

It's really cool, but I couldn't imagine living in it for more than a week long vacation getaway.

I wonder. Even the video's host never really looks at home there. He'll lie down in the tub and pose, for example, and then look around like he's looking for the next thing he's supposed to be doing. The owners never seem to be present and in the moment at home. Real people living in their homes don't behave the way those guys were behaving. For them it was more like playing on a playground. Or posing. I guess that's the word I'm looking for. They keep posing in the castle, but don't seem to live there. I bet they live in the yurt and just play in the castle.

---

xoxoxoBruce Thursday Jul 9 12:36 PM

The guy was doing the video for his tiny homes website, promoting the idea of living with a smaller footprint. The folks who own it were giving a tour like they were showing it off to prospective buyers. They also looked smitten with the camera... I'm ready for my closeup, Mr DeMille.


So no, they didn't show how they actually live, and function, on a daily basis... but that might be a little difficult with a camera crew..

---

Sundae Thursday Jul 9 11:01 PM

Just realised where last nights dream came from (the 'rents decided not to move and converted their loft for me to live in instead).

I'd say that the truck is definitely a project. But the personal touches (baby seat, BATH, reclaimed wood) mean it really is their home. Don't mistake the natural reticence of Kiwis for ambivalence, You have artists here, this is their main living space and they are proud of it.

---

Griff Friday Jul 10 07:23 AM

so cool

---

BigV Friday Jul 10 11:38 AM
---

xoxoxoBruce Saturday Jul 11 01:38 PM

Yes, but worthy of putting on the front porch for the tourists to gawk at.

---
Your reply here?

The Cellar Image of the Day is just a section of a larger web community: a bunch of interesting folks talking about everything. Add your two cents to IotD by joining the Cellar.