xoxoxoBruce Tuesday Jun 2 01:38 AM

June 2nd, 2015: Michigan Criminal Pig

WXYZ in Detroit, reports the Shelby Township police responded to a local woman complaining about being harassed by a pig. They made the mistake of putting the pig in the cruiser.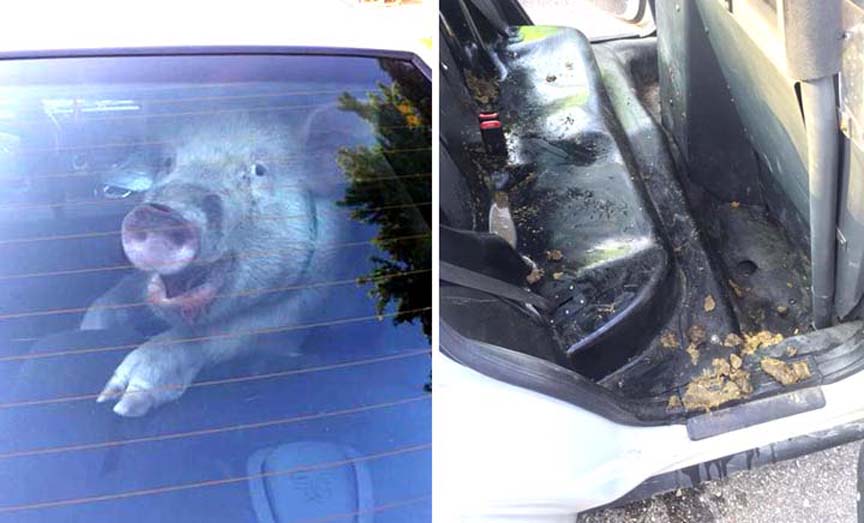 Should have tased, gassed, beat, and shot it like people.

---

Griff Tuesday Jun 2 07:22 AM

How the guys at Field and Stream like it done.

---

blueboy56 Tuesday Jun 2 12:08 PM

Well, I am certainly shocked and embarrased that those officers placed that poor, obviously stressed pig into such a filthy, dirty, vile and unclean vehicle. They should have taken the time to sanitize, de-toxify and prepare the back seat prior to counseling the porcine detainee and inviting it into their means of conveyance.

---

monster Tuesday Jun 2 06:37 PM

that's not the criminal, that's the arresting officer!

---

lumberjim Tuesday Jun 2 06:53 PM

oh no she di int

---

DanaC Wednesday Jun 3 07:43 AM

How has this image not provoked a flurry of recipe ideas?

---

Snakeadelic Wednesday Jun 3 08:07 AM

I used to live near an area where 'waste' from pig farms was collected in immense fermentation ponds, complete with recirculation pumps so they didn't explode in the summer. I can tell you one thing...not only was the stench so powerful and pervasive (even with closed windows and air on internal recirc only you could smell it inside the car for like a MILE) that it would cause the unsuspecting to gag, it was sufficiently awful that just the memory evoked by the second picture is enough to make me glad my dietary restrictions now omit almost all pig products from the "foods I can keep down" list.

---

Sundae Wednesday Jun 3 10:30 AM

I remember watching an episode of Animal Rescue RSPCA (the Australian one) where the officers staked out a local market where livestock were sold in individual numbers.

There were sheep being taken away in conditions similar to this. I think all the drivers got was a first time warning, and an education in how it was supposed to be done. But you can bet any repeat offenders would have had a fine at the least, if not having the animal confiscated.

I can't believe any intelligent law enforcement officer would think this was a suitable way to transport a pig. At least the poor rubes on the TV programme were immigrants trying to buy a one-off for a family feast day. Why didn't the cops call proper animal control?

Still, I'm saying that and I brought a cat home on the bus (in a proper cat carrier, but there was leakage of urine by the end...)

---

Griff Wednesday Jun 3 06:11 PM

Quote:

Originally Posted by

Griff

How the guys at Field and Stream like it
done.
---
Your reply here?

The Cellar Image of the Day is just a section of a larger web community: a bunch of interesting folks talking about everything. Add your two cents to IotD by joining the Cellar.