Undertoad Thursday Apr 30 08:31 PM

April 30, 2015: Sallie Gardner at a Gallop quilt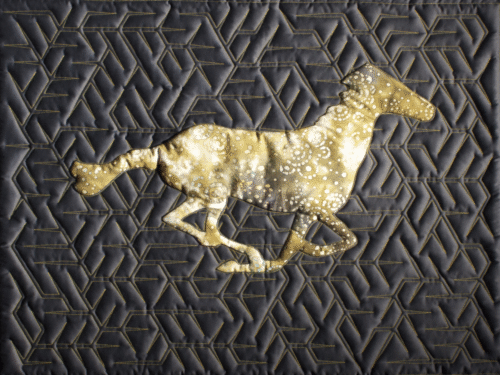 Our old friends at Neatorama featured this item.

Movies, film, video, etc. are just a bunch of still images, one after the other. Why does this work? Why do we see stuff that isn't in motion, and believe that it's moving? It's an optical illusion; things aren't moving, but we perceive them to be, because the sequence makes our eye mimic what we would happen if we were watching something move in real life.

But you know what's weird?

We didn't always know that would happen. We didn't know that a bunch of still images, viewed one after the other, would look like a "movie".

It's so hard to imagine a time when we didn't know that, because films and television and video are so much a part of our experience. But in the 1870s, when there was only black and white photography, there was a lot that we didn't know, simply because we had no way to measure it.

In fact, in the 1870s, California Governor Leland Stanford was greatly interested in one of the deepest questions of the day:

Does a galloping horse ever have all four feet off the ground?

Only 140 years ago, humankind didn't know the answer to that question. The human eye can't see fast enough to determine it. And so it was widely debated.

So Leland Stanford hired Eadweard Muybridge. Muybridge was a photographer who had been working on the question. He came up with a way to shoot 12 "frames" of the same horse by triggering 12 cameras to shoot, one picture each, while the horse went by. On Leland Stanford's farm, they set up a shot with a background of white sheets, and successfully captured a gallop of the horse Sallie Gardner, with jockey Domm atop.

The 12 shots then became a "movie" of the gallop, and Muybridge perfected a device he called the Zoopraxiscope, in which he showed the developed shots in sequence. It was a zoetrope, but with real pictures of real animals, not animations. He went on to do the same work for many different animals.

This is considered one of the first-ever film projectors, one of the predecessors to modern video.

But! The point of THIS Image of the Day is that the very fine cartoonist Nina Paley has created a beautiful QUILT of this historical set of images.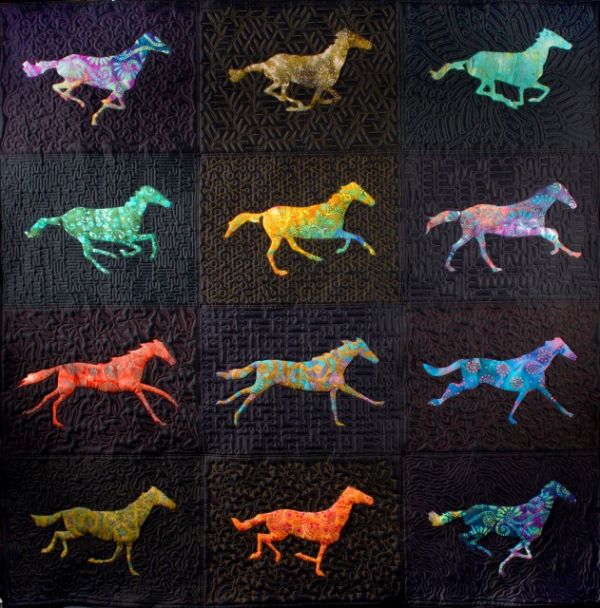 Leland Stanford's farm, in Palo Alto, is now the campus of Stanford University.

And, of course, you need to know the answer to the Question. In frames 2 and 3, all four hooves are off the ground.

---

Griff Thursday Apr 30 09:27 PM

too cool

---

orthodoc Thursday Apr 30 09:44 PM

Gorgeous quilt!

And yes, any Pony Clubber could/should be able to tell you that the gallop is four beats, in one of which all four feet are off the ground. As opposed to the canter, in which at least one foot is always on the ground. The horse's foot, that is.

---

xoxoxoBruce Thursday Apr 30 11:06 PM

Pretty quick pace for a horse so old and wrinkled.

---

glatt Friday May 1 08:58 AM

That's a cool story. I was thinking as I was reading this that the story was going to lead to the quilt being made before the film was, and how would they have been able to do that back then? Space aliens? But of course, it's a modern quilt. Then as I looked at the quilt, I had to marvel at it. I can do some very basic sewing, like putting a patch on a uniform, and I hemmed some pants (rather poorly I might add.) Sewing those horses to the background and getting the outlines of them to be so perfect, especially the intricate details of the legs and mane, etc. is simply outstanding. You would notice the flaws so quickly if there were any, but there are not.

---

monster Sunday May 3 07:34 AM

Quote:

Originally Posted by

glatt

You would notice the flaws so quickly if there were any, but there are not.

Well they're not needed in panes 2 and 3 anyway..... but I think in the rest they've been omitted deliberately

---
Your reply here?

The Cellar Image of the Day is just a section of a larger web community: a bunch of interesting folks talking about everything. Add your two cents to IotD by joining the Cellar.