xoxoxoBruce Friday Mar 27 05:36 AM

March 27th, 2016: Emmy Noether

Do you remember Margret Hamilton and Elizebeth Friedman? Here I go again.



Amalie Emmy Noether was born in 1882 in Erlangen, Germany.
Her Father, Max Noether, a math professor at the University of Erlangen.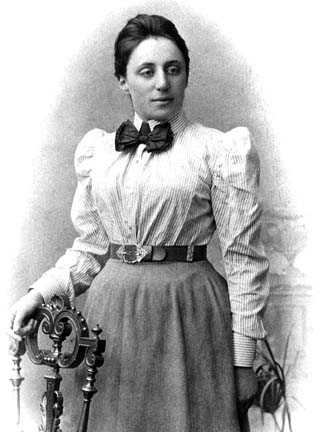 Quote:

Despite this fertile background, it wasn't obvious that Emmy could become a mathematician, too. German universities rarely accepted female students at the time. She had to beg the faculty at Erlangen to let her audit math courses. It was only after she dominated her exams that the school relented, giving her a degree and letting her pursue graduate studies.

OK, so once she absorbed all this book learnin', knew what all the smart guys had figured out, what next?
Most do research, trying to figure out some new stuff, becoming one of the smart guys.
In a short time she came up with her own new stuff in algebra, which impressed some people.
But there's that niggling little matter of food and shelter.



Quote:

Her work got noticed, and in 1915, the renowned mathematician David Hilbert lobbied for the University of Göttingen to hire her. But other male faculty members blocked the move, with one arguing: "What will our soldiers think when they return to the university and find that they are required to learn at the feet of a woman?" So Hilbert had to take Noether on as a guest lecturer for four years. She wasn't paid, and her lectures were often billed under Hilbert's name. She didn't get a full-time position until 1919.

Despite all this drama she did a lot of work, made a number of breakthroughs, and even grabbed the brass ring, "Noether's theorems".
But she was not only a woman, she was a Jew, so when Hitler took over in 1932, she got the hell out of Dodge, to teach at Bryn Mawr College in Pennsylvania.
She died in 1935 after surgery… probably a German Doctor.

Mathematicians and Physicists made great strides based on her work, Chen Ning Yanng, Robert Mills, Murray Gell-Mann and the famous Peter Higgs.
Albert Einstein wrote;


Quote:

In the judgment of the most competent living mathematicians, Fraeulein Noether was the most significant creative mathematical genius thus far produced since higher education of women began. In the realm of algebra, in which the most gifted mathematicians have been busy for centuries, she discovered methods which have proved of enormous importance in the development of the present-day younger generation of mathematicians.

Et tu Albert? "since higher education of women began"? For a chick, Albert?




Quote:

Today, Emmy Noether remains relatively unknown outside of math circles. In 2012, physicist David Goldberg told the New York Times that most of his colleagues and students had never heard of her: "Surprisingly few could say exactly who she was or why she was important."

We're doing our part.

---

Scriveyn Friday Mar 27 02:23 PM

As a maths guy I have been aware of her since my student days, before and at university. From a book of maths biographies I seem to remember, that, when at the blackboard she wrote with her right hand and wiped out with her left what she had written moments before, so she always had free space to write.- Must have kept her students on their toes.

---

BigV Friday Mar 27 06:21 PM

In other words,

"maths on, maths off"

---

monster Friday Mar 27 09:26 PM

A Friday image needs a recipe..... a Pi, maybe?


Imma post my cute animal image for tomorrow. Don't eat him/her

---

DanaC Thursday Apr 2 05:14 AM

Keep 'em coming Bruce, I am loving these threads!

I'd never heard of her.

---

DanaC Thursday Apr 2 05:17 AM

Quote:

Originally Posted by

xoxoxoBruce

Et tu Albert? "since higher education of women began"? For a chick, Albert?

To be fair to old Albert, he didn't say the most significant female mathematical genius - he timelined it to the beginning of women being allowed to participate in higher education - and considered her the most significant mathematical genius to arise in the field since that change.

---
Your reply here?

The Cellar Image of the Day is just a section of a larger web community: a bunch of interesting folks talking about everything. Add your two cents to IotD by joining the Cellar.