xoxoxoBruce Friday Mar 20 11:22 PM

March 20th, 2015: Japan's Tattoos

Many cultures tattoo humans, Otie the Iceman had them, I think some of the Bog Bodies do also. But nobody got into like the Asians.
I don't think any group can beat the Japanese for complexity and beauty. Seems every culture has yay and nay groups, beating the drum
to promote or suppress tattoos... on other people.



Here are some at Faith Is torment.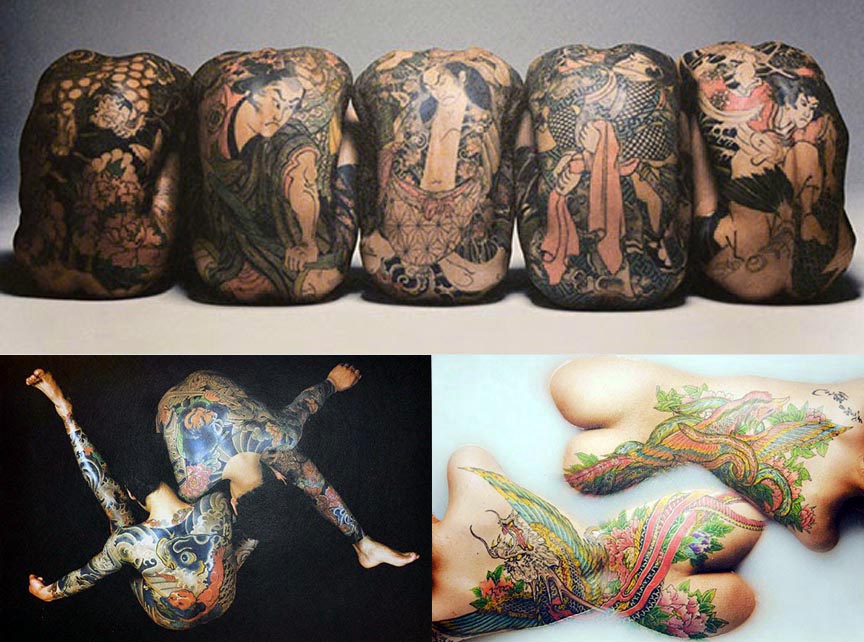 These photographs were taken by Masato Sudo, who has made a career documenting Japan's heritage like tattoos, greenhouses and Kabuki.
I noticed this blurb..

Quote:

Combining large format photography with the cutting edge archival fresco pigment printing process, Sudo generates not only stunning, but also long lasting studies of the inked form. Originating in Japan, this new printing technology draws upon ancient innovation to create photographic images that are heat, light and moisture resistant. Just as traditional fresco technique preserves Michelangelo's pigments in Sistine Chapel, the archival fresco pigment printing process captures Sudo's photographs within a soft layer of plaster, guarding his photographs for centuries to come.

Guess fold-spindle-mutilate is out of the question. I looked at Ronin Gallery where his work is sold, and did some searching, but couldn't find a detailed description of the process. I did find out the process uses pigments instead of ink, and the printing is done on PH balanced Kaolin clay, but that's about it.
Someone with better skills may be able to root that out.

---

Lamplighter Saturday Mar 21 12:05 AM

I've said before that when my 3rd daughter wanted a tattoo,
I opposed it by saying she had to wait until she was 18 yrs old.
Of course, on her 18th birthday, she went out and got her first tattoo,
but hide it from me for some time. She has since gotten another.

Yet because of her, I've eased my biases about tattoos, and have started
engaging people with tattoos that I meet in public.
It's remarkably easy to get them talking about their "tats", and
what meanings they have, and what they plan for the future.

OK, so all that is great. But what about individuals, as in this IOD,
who have essentially used up all their skin geography, but still want to add "just one more" ?
I've talked with a couple of men whose arms or legs were already pretty well covered.
I imagine this could be frustrating.

I have become much more tolerant and appreciative from these conversations.
But, some of my biases are still there, and I feel a little sad when young person has
a such made a permanent change on their body which may or may not seem
as attractive or appropriate later on in their lifetimes.

---

xoxoxoBruce Saturday Mar 21 01:32 AM

I know people with the running out of room syndrome. However I doubt that happens to the men like the ones depicted in the photograph. They don't keep adding whatever strikes their fancy until they run out of real estate. Their tattoo, their body suit, is planned out in it's entirety before they even begin. The whole picture is carefully interwoven to tell a story, and like all Japanese art, meticulous in detail.

I'm sure shit happens to them like it does to everyone else. Family, money, illness or injuries, affect the progress. Hmm, I wonder about large weight gains or losses? But the goal is set and always clear what it should look like in the end.

---

Diaphone Jim Saturday Mar 21 01:07 PM

OK, I have looked at the bottom right photo for quite a while now and am ready for someone to explain what parts of what kind of bodies are depicted.

---

Lamplighter Saturday Mar 21 01:35 PM

Back sides up in a milk bath ?

---

Griff Sunday Mar 22 12:28 PM

Look for the fart bubbles.

---

Gravdigr Monday Mar 23 02:57 PMJapan...that milk is more than likely octopus sperm.

---

xoxoxoBruce Monday Mar 23 10:03 PM

Well yeah, but they're not wasteful, they likely ate the Octopus.

---
Your reply here?

The Cellar Image of the Day is just a section of a larger web community: a bunch of interesting folks talking about everything. Add your two cents to IotD by joining the Cellar.