xoxoxoBruce Wednesday Mar 18 06:43 AM

March 18th,2015: Gasholes

Exasperated Mother Earth, "You Gasholes will be the death of me, I swear."

There is one group, I forget if it's the Orange camp or Purple camp, who are warning, "The End is Possibly Pretty Close to Being Neigh, Maybe".
Everybody… well, all the scientists and the people I asked at the pub, agree it's because of Anthropogenic Global Warming. Us really smart people know it's actually because you put that icky cat food cat in the trash, instead of washing it out and recycling it into a Prius.
But what's done is done, what's a Mother Nature to do?

Since that's settled, now we're looking for clues as to how Mother Nature will reveal her bitch side.
Frogs? Nope. Boils? Nope. Locusts? Nope. Methane? Aha... Gasholes!





Huff Post says in 2010 the AP reported;

Quote:

Gas locked inside Siberia's frozen soil and under its lakes has been seeping out since the end of the last ice age 10,000 years ago. But in the past few decades, as the Earth has warmed, the icy ground has begun thawing more rapidly, accelerating the release of methane – a greenhouse gas 23 times more powerful than carbon dioxide – at a perilous rate.

Some scientists believe the thawing of permafrost could become the epicenter of climate change. They say 1.5 trillion tons of carbon, locked inside icebound earth since the age of mammoths, is a climate time bomb waiting to explode if released into the atmosphere.

Then last July, Nature reported;

Quote:

A mystery crater spotted in the frozen Yamal peninsula in Siberia earlier this month was probably caused by methane released as permafrost thawed, researchers in Russia say.

Air near the bottom of the crater contained unusually high concentrations of methane — up to 9.6% — in tests conducted at the site on 16 July, says Andrei Plekhanov, an archaeologist at the Scientific Centre of Arctic Studies in Salekhard, Russia. Plekhanov, who led an expedition to the crater, says that air normally contains just 0.000179% methane.

Since the hole was spotted in mid-July by a helicopter pilot, conjecture has abounded about how the 30-metre-wide crater was formed — a gas or missile explosion, a meteorite impact and alien involvement have all been suggested.

But Plekhanov and his team believe that it is linked to the abnormally hot Yamal summers of 2012 and 2013, which were warmer than usual by an average of about 5°C. As temperatures rose, the researchers suggest, permafrost thawed and collapsed, releasing methane that had been trapped in the icy ground.

Followed in July and again in August by WaPo;

Quote:

One of the newly discovered holes is near the original — in a land referred to by locals as "the end of the world." It's around 45 feet in diameter and formed under unknown conditions. Same goes for the other new crater, which has a diameter of 13 feet, a depth of between 200 and 330 feet and was discovered by "mystified" herders near the village of Nosok in the icy Krasnoyarsk region.

Quote:

Plekhanov explained to Nature that the conclusion is preliminary. He would like to study how much methane is contained in the air trapped inside the crater's walls. Such a task, however, could be difficult. "Its rims are slowly melting and falling into the crater," the researcher told the science publication. "You can hear the ground falling, you can hear the water running; it's rather spooky."

WaPo again in February 2015;

Quote:

Now, however, researchers fear there are more craters than anyone knew — and the repercussions could be huge. Russian scientists have now spotted a total of seven craters, five of which are in the Yamal Peninsula. Two of those holes have since turned into lakes. And one giant crater is rimmed by a ring of at least 20 mini-craters, the Siberian Times reported. Dozens more Siberian craters are likely still out there, said Moscow scientist Vasily Bogoyavlensky of the Oil and Gas Research Institute, calling for an "urgent" investigation.

He fears that if temperatures continue to rise — and they were five degrees higher than average in 2012 and 2013 — more craters will emerge in an area awash in gas fields vital to the national economy. "It is important not to scare people, but to understand that it is a very serious problem and we must research this," he told the Siberian Times. "… We must research this phenomenon urgently, to prevent possible disasters."

Remember awhile back we looked at "The Door to Hell" in Turkmenistan?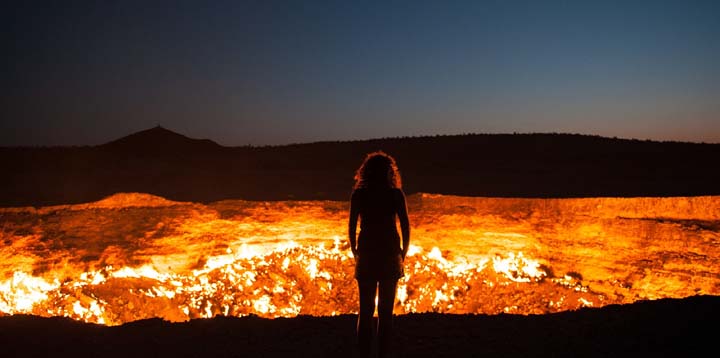 Soviets were drilling an exploratory well for gas/oil when the ground under the rig collapsed. Since the smell of gas was so strong they worried about an explosion. So to get rid of the danger, just throw a lit match in that hole and it'll burn off in a jiffy. Who knew a jiffy was so damn big... 44 years later it still burns.

Bonus Pic, why Natural Gas and farts burn so well.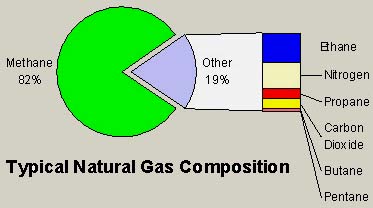 I figured with Winter waning, you might need a new worry. You're welcome.

---

elSicomoro Wednesday Mar 18 06:40 PM

That Turkmenistan photo reminds me of Centralia, PA...only underground.

---

Lamplighter Wednesday Mar 18 08:23 PM

Quote:

Originally Posted by

elSicomoro

That Turkmenistan photo reminds me of Centralia, PA...only underground.

It reminded me of all those old Pacific Island B-movies where the beautiful,
scantily clad, daughter of the chief jumps or is thrown into the volcano to appease the angry gods.

---

RocketGirl Friday Mar 20 03:27 PM

Jiminy Crickets XOXOXOBruce! Now you put a whole lot of additional mayhem for my leetle brain to attempt to compartmentalize what you have presented here. So what kind of drink doust thou suggest to help adjust said leetle brain, to take that all in and still be able to sleep at night? Oh an no Kool-Aid for me... ;-)

---

Gravdigr Friday Mar 20 03:37 PM

Long Island Tea

---

xoxoxoBruce Friday Mar 20 07:41 PM

Sleep is for cowards.
Face the night, embrace it, tell it how you hid that watch for five years, make it respect, if not fear, you.

---
Your reply here?

The Cellar Image of the Day is just a section of a larger web community: a bunch of interesting folks talking about everything. Add your two cents to IotD by joining the Cellar.