xoxoxoBruce Friday Feb 20 12:34 AM

February 20th, 2015: Plum Island

Pssst, have you ever dreamed of being Dr. Moreau, or Mr. Roarke , maybe Dr. Julius No? Well have I got an island for you. Way out off the end of Long Island, NY, lies Plum Island. Itís home to the federal Animal Disease Center research facility, which is the subject of almost as many conspiracy theories as Area 51.





The 840 acre island was sold by the Corchaug znd Montaukett Indians to to Samuel Wyllys for a coat, a barrel of biscuits and 100 fishhooks. In 1869 a lighthouse went up, then 1897 Fort Terry opened on 150 acres the government paid $25,000 for. In 1901 the government took control of the entire island... probably made an offer they couldnít refuse. In 1952 they built the U.S. Army Chemical Corps facility focused primarily on anti-animal biological warfare research and in 1954 the U.S. Department of Agriculture took over the island and began to use it as an animal disease research center. Thatís when the island was made off limits to everyone, and fueled the conspiracy theorists.

Now the congress, in their infinite wisdom ( ) have decided to move the facility that tests stuff very dangerous to cattle, to Manhattan, KS in the middle of cattle country. Itíll take ten years but after they move the island is to be sold. The sale would include all the buildings, the lighthouse (bad shape + Historic Register), one grave (Colonel Thomas Gardiner), emergency power plant, 12 miles of road, 4 paved, and a 9.5 acre support facility at Orient Point, NY.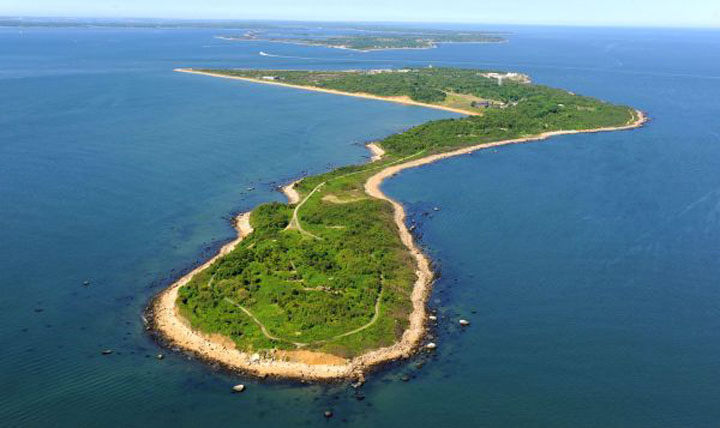 How much could they sell this for? How much discount for a generous donor to whatever administration is in the White House at the time?
After the future sale became public, in a flurry of activity the town of Southold zoned the island non-residential, and the Governor ordered a biological study. Also, the island being closed to the public since 1954 has resulted is a huge diversified bird population, and the federally protected seals(Great White bait), inhabit the beaches. Iíll bet it takes at least 50 years, and tons of court time, to dispose of Plum Island.

Nobody wants to take on the physical or financial burden, but don't want anyone else to get control either. In the past that sort of property would be foisted off on state or Federal taxpayers, by governments are shying away now too. But you know, with Plum Island, and a pickup full of pillows and blankets you could build a fort like nobody can match.

---

Lamplighter Friday Feb 20 09:35 AM

... looks like a big eroteme to me.

---

xoxoxoBruce Friday Feb 20 09:41 AM

---

Sundae Friday Feb 20 01:57 PM

Anthrax Island, eh?

I've had no luck trying to spend other Dwellar's money on secret hideaways in the past. But c'mon people... It's an investment!

---

Clodfobble Friday Feb 20 03:16 PM

Sure, it's pretty and green in the photo, but I wonder what it looks like in the winter? We'd have to build a Fortress of Solitude.

---

infinite monkey Friday Feb 20 08:20 PM

It's my island.

---

footfootfoot Friday Feb 20 08:39 PM

OMG I know a local kook who thinks Lyme disease was started there and the ticks came across the water on the backs of deer swimming between Plum island and Lyme CT. I pointed out that Lyme disease was around 4000 years ago, but my puny facts were no match for his mighty conspiracy!

---

xoxoxoBruce Friday Feb 20 09:44 PM

Well it's only about 35 minutes by ferry from Rhode Island. So They must have created Lyme disease. Unlikely it moved to CT/RI on wildlife though, more likely the aliens tracked it onto their ships and would have been about over Lyme, CT when the did their decontamination cycle before warp factor 8

---

classicman Saturday Feb 21 01:27 PM

---
Your reply here?

The Cellar Image of the Day is just a section of a larger web community: a bunch of interesting folks talking about everything. Add your two cents to IotD by joining the Cellar.