What's IotD?

The interesting, amazing, or mind-boggling images of our days.
xoxoxoBruce Sunday Feb 1 02:53 AM

Feb 1st, 2015: Lookin' Groovy

You might have heard the ship Titanic got it's butt kicked by a tiny piece of ice which broke off a big mother glacier.
Glaciers cause some serious damage too, just a lot slower. Very few people are killed by hit and run glaciers.
Back during the many Ice Ages, glaciers moved hundreds, even thousands of miles, ruining golf courses and scraping
away everything down to bedrock. They were heavy enough to cause the earth's crust to actually deflect.

Out in Lake Erie, north of Sandusky, sticking out of the water is a rock called Kelley's island.
When a glacier crawled over Kelley's, some 18,000 years ago, it left an impression.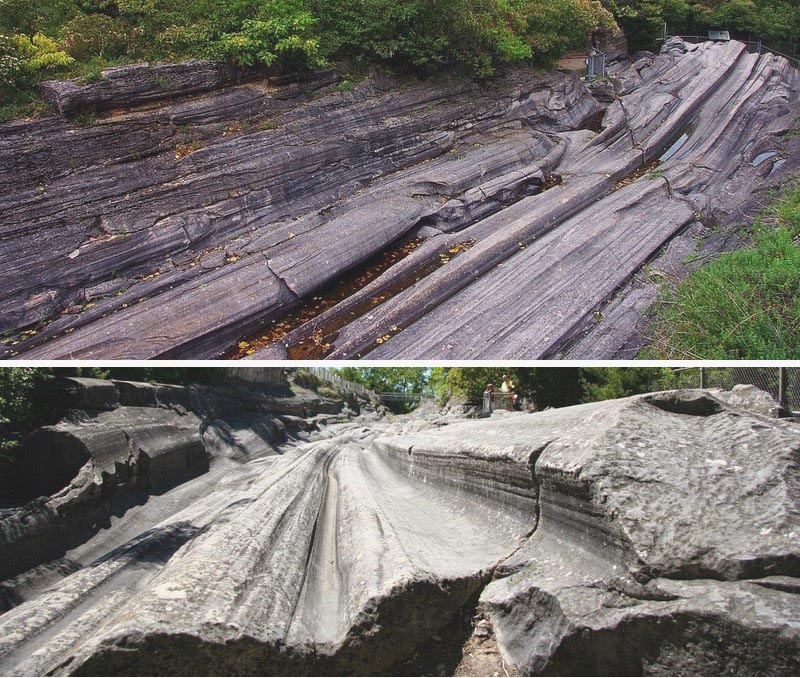 Quote:

The glacial grooves on the north side of Kelley's Island are the largest easily accessible such grooves in the world.
They were scoured into solid limestone bedrock about 18,000 years ago by the great ice sheet which covered part of
North America.This impressive groove is 400-feet long, 35-feet wide, and up to 10-feet deep. The ice which
created these grooves were probably hundreds of feet thick and flowed from the north in what is now the Lake Erie basin.
The grooves were under several feet of soil before they were dug out in the 1970s.

At one time Kelley's Island had a much larger glacial groove area with grooves over 2,000 feet in length. It was called
the "Great Grooves". Unfortunately, active quarrying in the area destroyed most of the grooves. The remaining grooves are
now protected and fenced in, although open for public.
The old rock quarry is still visible behind the Glacial Grooves State Memorial.

Ohio is famous for it's Limestone as it's was used to build a lot of rich & famous buildings.
But I didn't think Limestone was so rare they had to work an island for it.
I guess cheap shipping by barge around the Great Lakes may have something to do with it.

Link

---

glatt Sunday Feb 1 07:52 AM

A lot of granite came from the coast of Maine for the same reason. You just bring the boat right up alongside and drop the big rocks in and off they go to NYC.

---
Your reply here?

The Cellar Image of the Day is just a section of a larger web community: a bunch of interesting folks talking about everything. Add your two cents to IotD by joining the Cellar.