xoxoxoBruce Thursday Jan 29 02:42 AM

January 29th, 2015: Seasoned Firewood

The skeptical buyer says, how seasoned is it? How about 500 years?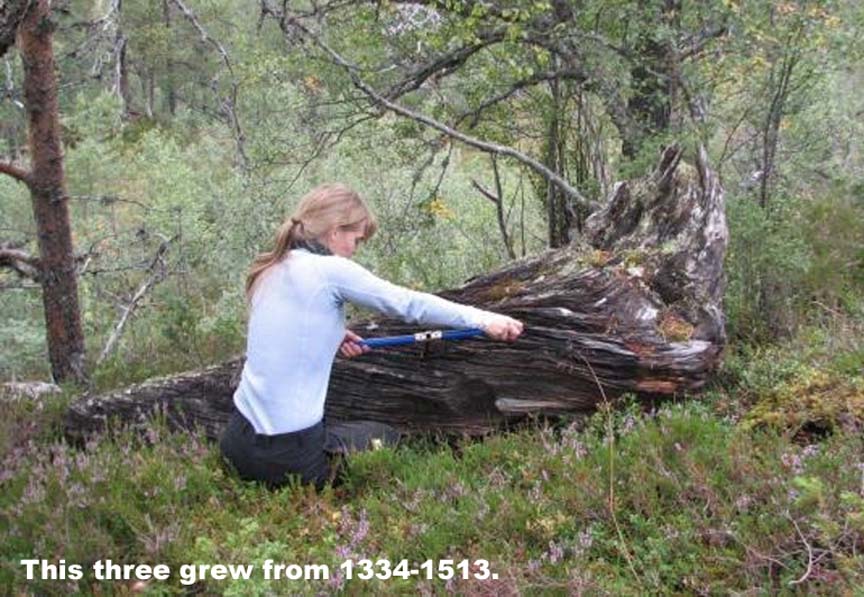 Quote:
Norwegian scientists have found "mummified" pine trees, dead for nearly 500 years yet without decomposition.

Norway's wet climate seems perfect for encouraging organic matter to rot – particularly in Sogndal, located on Norway's southwestern coastline, in one of the most humid, mild areas of the country. In fact, with an average of 1541 millimetres(61 inches) of rain yearly and relatively mild winters, Sogndal should be an environment where decomposition happens fast. Not so.

"We were gathering samples of dead trees to reconstruct summer temperatures in western Norway, when our dendrochronological dating showed the wood to be much older than expected", says Terje Thun. "We were astounded to find fresh wood in trees that started to grow in the late 1200s and had died almost 500 years ago, which is much older than we originally expected. Somehow they have kept from decomposing for several centuries in this humid climate", Thun says. "This is quite extraordinary - I would go as far as to call it sensational."
link
---

glatt Thursday Jan 29 08:19 AM

They should build a deck out of that stuff. It would be much better than pressure treated.

---

footfootfoot Thursday Jan 29 01:27 PM

Quote:

Originally Posted by

glatt

They should build a deck out of that stuff. It would be much better than pressure treated.

You are funny

---

newtimer Sunday Feb 1 03:22 PM

I don't know who wrote the caption, but I wouldn't consider her a three. Based on her figure, she's at least an eight.

---

Griff Sunday Feb 1 04:51 PM

Not afraid of work, 9 minimum.

---

xoxoxoBruce Sunday Feb 1 09:32 PM

Ha, I didn't even notice that after I posted it... at 3AM.



Griff, I like the way you think.

---

BigV Tuesday Feb 3 01:30 PM

she may be unafraid of work, but her sense of leverage is sorely lacking. see how she's turning that handle to get the core? who does it that way twice? no one. You stand up, bend over and put your weight on the downhill handle. Or, if needed, kneel putting yourself where the work is. it's conceivable that she's turning the handle counterclockwise, extracting the core, pushing with her left hand, under her shoulder... still, that looks awkward.

---

glatt Tuesday Feb 3 02:39 PM

The photographer probably asked her to move to the side so he could get the core in the shot. Nobody, including her, would choose that position of their own volition. The main subject of the photo is the log, and the photographer didn't want to shoot from the side to allow the scientist a more natural position because that wouldn't show the log as much.

This is also not how a person would naturally open a door, yet we wouldn't accuse him of not understanding leverage. He's being accommodating of others, just as she is.
Attachment 50281

---

xoxoxoBruce Tuesday Feb 3 05:23 PM

The logical thing would be to bore standing up, from no more than 50 degrees off vertical. Since the log has been laying around for 500 years, and some of it has deteriorated, she may have to bore at that angle to get the sample they want. But to bore a core sample from that angle, starting the core drill from a standing position requires the upper body strength of an ape. So I think glatt's theory of being posed, rather than candid, is valid.

---

footfootfoot Wednesday Feb 4 07:03 PM

It's probably punky as hell.

---

xoxoxoBruce Thursday Feb 5 01:43 AM

Yes, 500 years in a wet climate tends to do that.

---
Your reply here?

The Cellar Image of the Day is just a section of a larger web community: a bunch of interesting folks talking about everything. Add your two cents to IotD by joining the Cellar.