monster Friday Jan 16 10:14 PM

January 16: 2015: Forgotten Rifle

Archeologists found a 130-year-old rifle that had been propped against a tree in a Nevada National Park and then forgotten. Maybe not for 130 years, but long enough for it to look like part of the tree.

I wonder how long it had been there, why it was propped then and how it came to be forgotten. is it loaded? But also I wonder what on earth the archeologists were doing out there? Are they looking for something that might be related or completely unrelated? What made them notice it?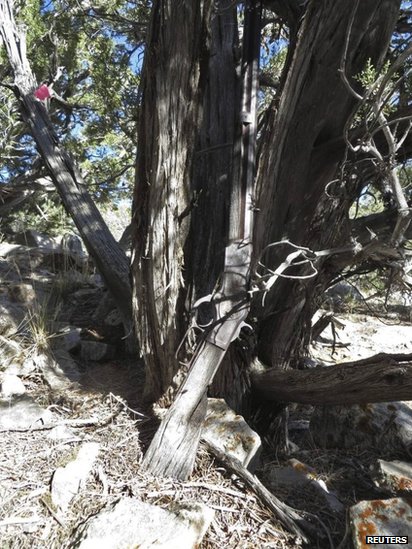 Story from BBC

---

Clodfobble Friday Jan 16 10:49 PM

I bet there's a body somewhere nearby. Kill your hunting buddy, quickly bury him, forget to bring the second rifle home.

---

xoxoxoBruce Saturday Jan 17 02:44 AM

They made something like 25,000 of those Winchesters in 1882, everybody and his brother had one. But whether it was 1882, 1932 or 1982, it's had to comprehend leaving it behind unless the owner met some real bad luck. Could have gotten hurt and taken out by horse or chopper, but he had to be in bad shape to leave his rifle. Or could have been eaten by Dingos.

---

Griff Saturday Jan 17 09:14 AM

I guess I'm everybody and my brother has one as well. The bluing is a bit better on mine.

I'd be interested in a short story from any and all interested dwellars telling us precisely what happened. I have one percolating, who knows when I'd write it though. Maybe I'll try this weekend.

---

footfootfoot Saturday Jan 17 09:39 AM

---

footfootfoot Saturday Jan 17 09:44 AM

Also can't understand why they only have that one shitty photo. Even iphone 4 has HDR on it.

---

Griff Saturday Jan 17 09:48 AM

Yeah, there should have been a great iotd quality photo there.

---

xoxoxoBruce Saturday Jan 17 09:57 AM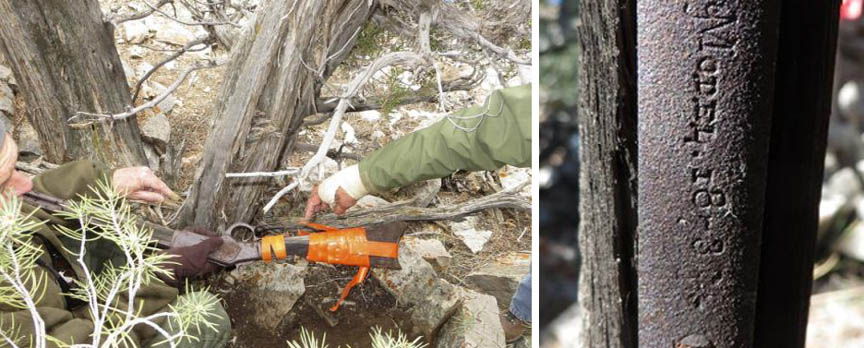 ---

monster Saturday Jan 17 11:39 AM

What are the chances one of the "archeologists" was the owner? or a descendant of the owner?

---

monster Saturday Jan 17 11:45 AM

I think a hunter/bad guy was hiding in the tree fell and broke his pelvis. He propped the gun in the tree to fire a shot upwards to attract help. Help came, but not before he had passed out and coyotes had dragged his body a short distance from the rifle and his rescuers never thought about it in the heat of the moment and were unable to find it when they went back.


I wonder how far off any beaten path that tree is?

---

xoxoxoBruce Saturday Jan 17 11:52 AM

Pretty slim, it's only been a park since 1986, and money for stuff like archeology surveys is pretty slim. Archeologists are looking closely for signs of human habitation, so are much more likely to spot this rifle than a tourist looking for pretty scenery.

---

footfootfoot Saturday Jan 17 02:06 PM

Death by misadventure

---

Undertoad Saturday Jan 17 03:56 PM

"Hey Josey, set yer gun down and lookit this massive herd of buffalo coming... straight at us."

---

Diaphone Jim Saturday Jan 17 03:57 PM

I like the idea of creating a short story around how the rifle got there.
Actually I recently read a novel with such a discovery as a main subplot.
I cannot remember who wrote it, only that is close to the work of C.J Box and Craig Johnson.
It may be bad form to ask, but I do wonder if 3Foots "fudge packing" comment is pertinent to all the threads where it appears.

---

xoxoxoBruce Saturday Jan 17 04:02 PM

That's a signature line which is irrelevant to any thread it's in.

---

footfootfoot Saturday Jan 17 04:09 PM

---

footfootfoot Saturday Jan 17 04:09 PM

Hunting and stopped to shoot an animal. Leaned gun against tree and moved to where animal was downed several hundred yds away. Broke ankle, tripped and hit head, bitten by snake, gila monster, attacked by puma also hunting said animal, animal in death throws cuts brachial artery and guy bleeds out, dies of exposure, freezes to death, poison whatever. Body consumed, horse runs away.

Stops on a long journey, tired hungry, thirsty, disoriented. Stops and rests, is distracted when time to leave and doesn't realize gun is left until 100 miles later, can't go back.

Hides gun temporarily with intent to return to it and is taken prisoner, shot by Indians, lawmen, or the like who are unaware that it is there.
Stops to rest and freezes to death under the tree. Body dragged away.

Leaves gun for someone who is following but that person never makes it.

---

lumberjim Saturday Jan 17 04:21 PM
---

xoxoxoBruce Saturday Jan 17 04:25 PM

Hunter is camped in the wilds, enjoying the stars and coyote's call.
Vito rides up on a double wide Clydesdale and says, "This is Big Tony's turf, move along.
Hunter says, "OK, I just have to grab my bedroll and rifle".
Vito says menacingly, "Fugetaboutit".
So Hunter did.

---

monster Saturday Jan 17 04:41 PM

[aside] FWIW I think Fudge3's quote is hilarious and -given that it's a signature line- it's not supposed to be pertinent to anything other than fudge3. [/aside]

---

sexobon Saturday Jan 17 05:27 PM

Rifle bearer was abducted by aliens - X Files.

Rifle bearer ran out of ammo, rifle no longer made weight cut - abandoned.

Rifle bearer had no military training, never stray away from your rifle - careless.

Rifle bearer didn't want to get caught with stolen rifle, person who finds it gets blamed - clever.

Rifle bearer leaves impromptu memorial to fallen friend, the animals have got to eat too - good buddy.

Rifle bearer set rifle down to take a shit, crawled several feet away in an attempt to get help - died like Elvis.

---

monster Saturday Jan 17 05:47 PM

Rifle-bearer file through a hole in time/stepped into the Tardis

---

infinite monkey Saturday Jan 17 06:15 PM

Context, my good man, context.

Don't worry, some day Mr Foot will exchange sig lines and you'll be the only one using that horrendous term in this thread.

Cheers.

---

sexobon Saturday Jan 17 06:28 PM

---

monster Saturday Jan 17 06:36 PM

A group of would-be-settlers sent out a scout to explore the environs. He was met by a native tribe wanting to trade a rifle for the whiskey in his hip flask. He said "over my dead body" So they thanked him for the recipe, shot him with the rifle, and took away his body and hip flask. But they left the rifle because they were not dishonest.

---

Diaphone Jim Saturday Jan 17 08:19 PM

Being before "signature required" tags, Pony Express rider delivered the rifle to the wrong tree. Intended recipient was pissed.


Rifle turned out to be made like an M-16, misfired once too often, abandoned in disgust.

---

sexobon Saturday Jan 17 08:29 PM

An attractive mystery woman showed up at this guy's location and said "Honey, put down that long arm and raise up your short arm." As he was unbuttoning his trousers, she fatally stabbed him and took his money. Not wanting to get caught in possession of identifiable belongings, she left the rest behind. Tales of similar occurrences in the region refer to the woman only as Clementine's little sister.

---

monster Saturday Jan 17 11:02 PM

His pappy told him the facts of life.

Put your gun in the hole in her bush, Jiggle it about and it'll go off by itself. Not able to live with the shame of his gun not firing, he walked away, never to return.

---

monster Saturday Jan 17 11:04 PM

(have we truly reached the cellar now?)

---

glatt Sunday Jan 18 11:49 AM

Drunk cowboy sets his rifle down to take a dump. Pulls his britches up and continues on his journey. After 5 minutes, realizes he's forgotten something, but all those damn trees look the same, and none of them look familiar. He spends half a day looking for it, and gives up because he's getting hungry and has to head back to camp.

---

sexobon Sunday Jan 18 12:58 PM

That cowboy knew how to shoot a deer; but, didn't know how to shoot an azimuth, tsk-tsk.

---

Crimson Ghost Sunday Jan 18 01:14 PM

The year is 1847, the place is the territory of New Mexico, the people are a tiny handful of men and women with a dream. Eleven months ago, they started out from Ohio and headed west. Someone told them about a place called California, about a warm sun and a blue sky, about rich land and fresh air, and at this moment, almost a year later, they've seen nothing but cold, heat, exhaustion, hunger, and sickness. This man's name is Christian Horn. He has a dying eight-year old son and a heartsick wife, and he's the only one remaining who has even a fragment of the dream left. Mr. Chris Horn, who's going over the top of a rim to look for water and sustenance and in a moment will move into the Twilight Zone.

---

Lamplighter Sunday Jan 18 02:11 PM

Well played, CG... you must have been a fan.

---

xoxoxoBruce Sunday Jan 18 03:15 PM

---

Sheldonrs Tuesday Jan 20 09:34 AM

I'm not saying the mafia was involved but I don't see a box of canolis in the picture.

---

Crimson Ghost Sunday Jan 25 03:42 AM

Twilight Zone, Tales From The Crypt, Tales From The Darkside, The Outer Limits...

---

xoxoxoBruce Monday Jan 26 01:26 AM

Proud as punch, they are. Didn't get this exited when I left my raincoat behind.


---

Sundae Monday Jan 26 06:07 AM

Day Twe:
No idea where I am. Can't even remember where I left my raincoat. May be on another world. Last thing I remember was Zaphod getting another round in.

Day Thv:
Battery getting low. Is anyone even reading this?
Fix on location and get me out of here, please!

Day Tin:
Getting the impression the natives aren't exactly froody.
I think I may have been hit by a retro projectile weapon of some sort. Nothing a medipac can't sort.

Day Con:
My face isn't the only thing getting a bit hairy now. I'm being stalked.

Day Ra:
No, really guys. This isn't a funny pre-commitment jape any more.
Fix on my fucking location and get me out of here.

Day Wst:
Yeah. Okay. Use the DNA filter next time. You got the ape stalking me.

---

DanaC Monday Jan 26 06:52 AM

Sundae ftw.

---
Your reply here?

The Cellar Image of the Day is just a section of a larger web community: a bunch of interesting folks talking about everything. Add your two cents to IotD by joining the Cellar.