Undertoad Tuesday Jan 13 08:07 AM

January 13, 2015: Yawn... in Times Square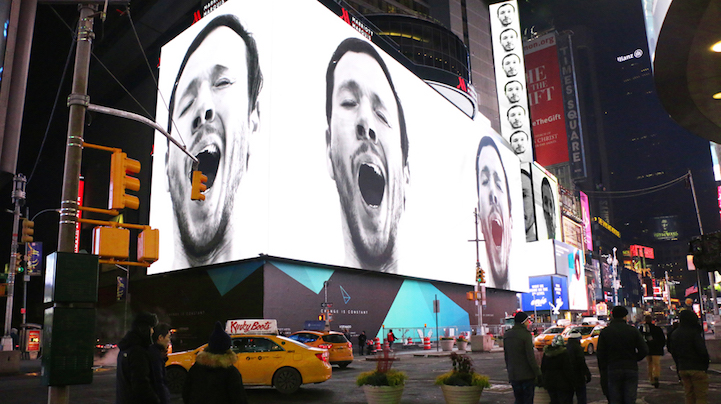 Yawns, as we know, are contagious. If you see somebody yawning, there's a good chance you'll yawn yourself. If you know that, you can make others yawn or even become tired. You can even do this to infants to suggest they go to sleep.

Artist Sebastian Errazuriz is trying to make this happen in New York City. Every night in January, at three to midnight, on several major digital signs, a video of a person yawning will run continuously for three minutes.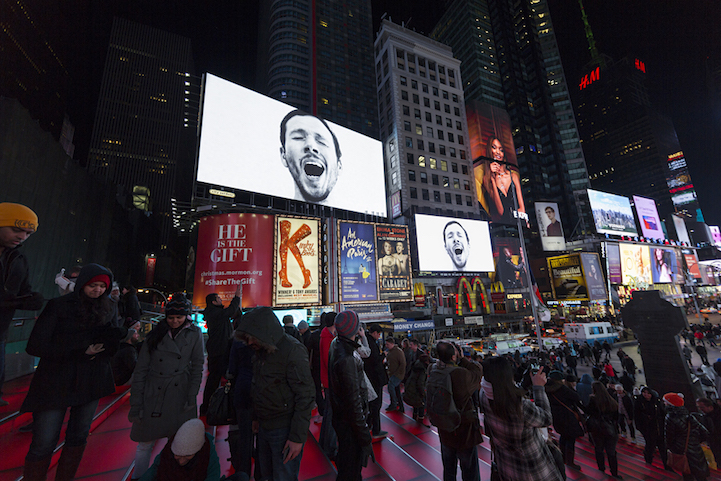 Quote:

Tim Tompkins, President of the Times Square Alliance, said, "The beauty of Sebastian Errazuriz's piece is its attempt to induce a contagious moment of calm and pause at the otherwise bustling crossroads of Times Square. That juxtaposition is sure to be powerful for all who have the chance to see it. We will see how the largest digital display of yawns in history will affect the city that never sleeps."

There's a pretty good chance you yawned while reading this IotD entry. Did you?

via My Modern Met

---

glatt Tuesday Jan 13 08:20 AM

I love jedi mind tricks like this.

There's the yawning for an infant, which can work fairly well.

Another thing you can do is when a crying kid is all hysterical and sobbing, you can hug them and do exaggerated deep exhales with a sighing noise. It calms them right the fuck down. Releases all the tension from them.

---

lumberjim Tuesday Jan 13 09:31 AM

I was hoping that this was going to be one of those flash mob things like the freeze frame in that train station.

---

Clodfobble Tuesday Jan 13 09:48 AM

I am more susceptible than most people. I yawned three times while reading the OP, and another four times writing this reply.

Mr. Clod and the kids will sometimes gang up on me and all fake-yawn in series until I'm completely incapacitated. The kids think it is the funniest thing they have ever seen.

---

footfootfoot Tuesday Jan 13 02:24 PM

When I was but a tad there was a billboard in Times square of a guy smoking Luckies or something, and his moth was an opening in the billboard that smoke would intermittently pour out of. I remember asking my dad how the smoke came out and weren't they afraid of something catching fire. (Obviously too young to know about steam)

In any case, I didn't feel like smoking a cigarette then or now.

Bourbon and a pipe, sure. But not cigs.

---

xoxoxoBruce Tuesday Jan 13 03:15 PM

So all the pedestrians seeing this video clip start yawning and dawdling, while the cab drivers who didn't see it, run over them.*





* Yeah, I know there's no traffic in Times Square.

---

lumberjim Tuesday Jan 13 03:15 PM

well, if bruce didn't post a yawn smiley, I guess we don't have one.

---

xoxoxoBruce Tuesday Jan 13 03:22 PM

We used to have a yawn smiley, but every time she opened her mouth some guy would take advantage of her.

---

Sundae Wednesday Jan 14 08:42 AM

I always thought I was suggestible. Go on then, I am.
But this IoTD didn't make me yawn.

I'm a sympathetic sneezer though. I sneeze copiously anyway, thanks to my inherited photic response. But I also sneeze when reading/ writing/ thinking about sneezing, and sometimes other people's sneezing will trigger mine.

Not usually a problem. Given the quantity of my sneezes, I am able to keep the quality down to "fairly tame". Except. Except. The Doctor I saw at the Dental Institute last week told me I shouldn't blow my nose or jump about too much (has she been spying on me dancing to Shake It Off?) as it will prevent the three broken/ cracked bones in my face from healing cleanly. I asked whether sneezing may also be a factor and she looked at me as if I was mad. Well, she had a point there as I am still living in the nuthouse.

"I don't think you have to worry about that" she said. Patronisingly.
Sorry love, I don't care how long you went to school, it was a valid question. But as you asked whether my facial injuries were caused in my flat, when I'd already said I face-planted in a FOREST, I guess you're not really bothering to listen. It did give me the opportunity to say "No it was a forest. It was outside."

Given she was wearing a hijab, am I allowed to call her cloth-ears?

---

Clodfobble Wednesday Jan 14 11:12 AM

If she's telling you that blowing your nose is a factor, sneezing is definitely a factor. I don't know what kind of timid little snitzes that doctor must make when she sneezes, but she was full of shit.

---

xoxoxoBruce Wednesday Jan 14 12:42 PM

Agreed, definitely a valid question. Next time snort some pepper and blast her.

---

footfootfoot Wednesday Jan 14 02:44 PM

Maybe she was thinking what the fuck do you think? How could anyone ask that question?

---

xoxoxoBruce Wednesday Jan 14 08:09 PM

You mean mental health worker sarcasm... ala Wolf?

Hey Jim.

---

lumberjim Thursday Jan 15 12:26 AM

And now the world is in harmony once again

---

Sundae Thursday Jan 15 05:50 AM

I think it was partly my fault for not giving her a context to the question.
Most people only sneeze what? twice a day? I sneeze in bursts of five about ten times a day. So her reaction was probably based on "You won't sneeze enough for it to be significant."

I just didn't like her attitude. She could have asked more and assumed less.
And no, she wasn't a nuthouse doc. She was a maxillofacial specialist in a place accessed by the general public. I've got to go back on the 20th, so we'll see whether I get the same Doc, and whether things are healing.

---
Your reply here?

The Cellar Image of the Day is just a section of a larger web community: a bunch of interesting folks talking about everything. Add your two cents to IotD by joining the Cellar.