Undertoad Monday Jan 5 11:42 PM

January 6, 2015: Moose rescued from avalanche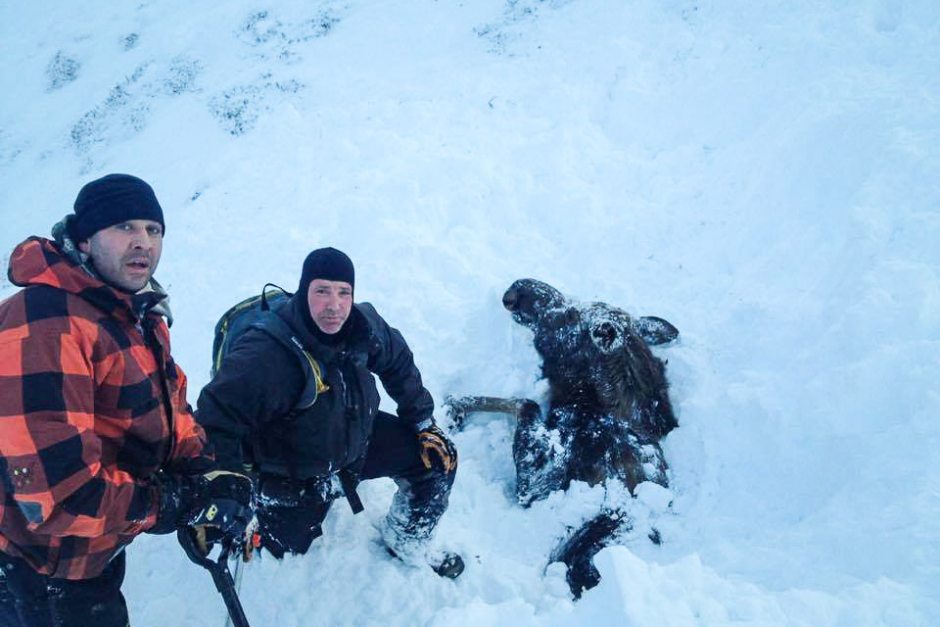 In a story noticed by our old friends at Neatorama, first found at Alaska Dispatch News...

So there they are, three guys snowmachining in Hatcher Pass, Alaska, when they come across tracks in the snow: a bunch of moose, and to their interest, a skier, which is more rare. Come back through an hour later, and they didn't see the tracks, because there had been an avalanche.

They were concerned about the skier, and saw something moving in the snow, so they made their way over to dig out what they thought was his arm, and...



Quote:

"It was moaning and groaning and moving and we realized it was a moose, even though only his ears and some of its snout was sticking out of the snow."

Mobley said the men grabbed their shovels and began to dig the moose out of the snow. Mobley said it didn't move as they worked and even seemed to get calmer as they cleared snow away. Mobley said two men dug while the other served as an avalanche lookout.

"It didn't even fight us," Mobley said. "It was like, 'Help me. Help me.' It was totally docile and let us touch it. It just (lay) there," Mobley said.

After about 10 minutes of digging, Mobley said, the men were able to free about three-quarters of the animal and weren't sure if it was injured. So one of the men gently poked the moose's backside with a shovel.

"It stood right up and towered over us, because we were in kind of a hole from the digging," Mobley said. "It looked like the abominable snowman because its fur was so packed with snow and it looked at us, shook the snow off it, and off it went."

Mobley said the moose was "at full steam" when it ran down the mountain and appeared to be completely uninjured, something that surprised the men.

Well done Rob Uphus, Marty Mobley (in the pic above) and Avery Vuchinch (who took the picture).

---

xoxoxoBruce Tuesday Jan 6 12:46 AM

They let all that meat get away? Don't they know children are starving in Africa?

---

Sheldonrs Tuesday Jan 6 08:39 AM

Did they even TRY to find squirrel?!!!

---

Gravdigr Tuesday Jan 6 10:41 AM

Do they even KNOW about jellied moose nose?

JELLIED MOOSE NOSE

1 upper jawbone of a moose
1 onion sliced
1 clove of garlic, chopped
1 Tbs. pickling spice
1 tsp. salt
½ tsp. black pepper
¼ cup vinegar

Cut the upper jawbone just below the eyes. Place in a large kettle of scalding water and boil for 45 minutes.

Remove and chill in cold water. Pull out all hairs, they should have loosened and pull out easily. Wash thoroughly until no hair remains.

Place in a kettle with fresh water; add onion, garlic, spices, and vinegar.

Bring to a boil and cook until tender. Let cool overnight in the liquid.

When cool, take the meat out of the broth, remove and discard bones and cartilage. You will have two kinds of meat, white meat from the bulb of the nose and thin strips of dark meat from along the bones and jowls.

Slice the meat thinly and alternate layers of white and dark meat in a loaf pan.

Reheat the broth to boiling, then pour broth over the meat in the loaf pan.

Let cool until jelly is set. Slice and serve cold.

(Recipe via huntingnet.com)

---

lumberjim Saturday Jan 10 10:26 AM

Hey Rocky! Watch me pull a moose out of this snow bank!

---

footfootfoot Saturday Jan 10 10:59 AM

Quote:

Originally Posted by Mobley

...the men were able to free about three-quarters of the animal...

A moose that special you don't want to free all at once.

---
Your reply here?

The Cellar Image of the Day is just a section of a larger web community: a bunch of interesting folks talking about everything. Add your two cents to IotD by joining the Cellar.