xoxoxoBruce Tuesday Nov 4 02:06 AM

Nov 4, 2014: Shrapnel

Brit Ronald Brown stepped on a mine (or booby trap) in 1944 war time France. When he died a couple years ago at age 94, his family had him cremated which produced six ounces(170 grams) of metal shrapnel mixed in with his ashes.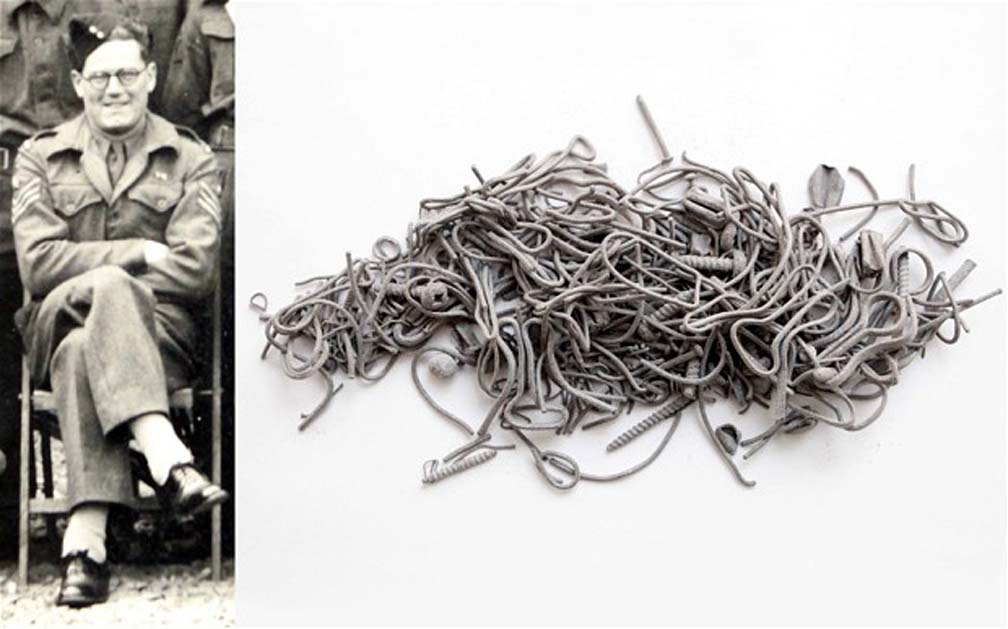 The Telegraph reported...

Quote:

Ronald Brown stepped on a land mine while on a mission in France in August 1944. The blast peppered his left leg with red-hot fragments and he was forced to crawl two miles to safety. But because of medical conditions of the day it was thought safer to leave shrapnel in his body. He survived the war but only ever told his family the basic story and said the accident had left him with a 'bad knee'. Mr Brown told loved ones he still had a 'bullet' in his leg and asked his grandchildren not to sit on his knee because of the pain it caused.

The NY Daily news said....

Quote:

Brown joined the British Army at the age of 21 and stepped on the land mine in August, two months after D-Day. He had to crawl two miles to safety. ~snip~ He spoke little of the war after he came home except to say that of 900 men in his regiment, only 29 survived, his family said. He lived a long and healthy life, dying of a chest infection last week.

Seems I remember when this happened but not if it got posted here. Either way... Ouch!

---

glatt Tuesday Nov 4 08:14 AM

Wow!

Thanks for posting this, Bruce. That's an impressive amount of shrapnel to be carrying around in your leg.

---

Sheldonrs Tuesday Nov 4 09:20 AM

Maybe he was just a really lousy carpenter.

---

Carruthers Tuesday Nov 4 09:26 AM

Thanks for posting, Bruce.

When I've read of similar accounts in the past, it is often noted how pieces of shrapnel or glass would work their way to the surface for years thereafter.

He must have been a tough old boy.

---

monster Tuesday Nov 4 10:16 AM

That is impressive.

Makes one worry a little less about making sure you get all of the splinter out

---

blueboy56 Tuesday Nov 4 12:02 PM

Technically, those are "metal fragments". Shrapnel (from the French), are pieces of the actual metal casing of the bomb or artillery round. In either case, they would cause major owiees in the wound site.

---

xoxoxoBruce Tuesday Nov 4 04:43 PM

True, but as with everything else from the French, we made it more gooder.

---

Diaphone Jim Wednesday Nov 5 01:10 PM

I have a little trouble figuring out how all those pieces are only 6 ounces. In any case an awful lot of material to carry around for all those years.
In Vietnam, among the most devastating mines were Claymores, which put out a horizontal spray of fragments and were fired by command or trip wire.
American Claymores were rectanglar, 4 or 5 inches by 12+, with a curved face and loaded with ball bearings.
Chinese or Vietnamese or ? were usually round, dinner plate or pizza size and loaded with just the kind of junk in the photo, with the addition of pieces of cut up re-bar.
When American soldiers were treated for little uniform round wounds, medics knew they were the victims of captured US mines.

---

xoxoxoBruce Wednesday Nov 5 01:43 PM

The newspapers said it was a mine, I added "booby trap". Looking at that pile of hardware, it looked to me more like a homemade device, than factory made ordinance. But I guess by mid-'44 their normal manufacturing capacity was greatly diminished, thanks to the RAF* and 8th Air Force.
Of course it could have been a French underground device, also.



*Check out this diagram of one RAF raid on Dresden.

---

Gravdigr Wednesday Nov 5 01:58 PM

756/762 is a pretty damn good survival rate, even for a night mission.

---

SPUCK Thursday Nov 13 02:50 AM

I really don't see how you could have all the crap in you and still function. How do your muscles slide by that stuff??! Hard to believe for me.

---

Carruthers Thursday Nov 13 10:34 AM

One of the comments in the NY Daily News article suggests the following:



Quote:

This makes much more sense. The shrapnel is probably the small chunks scattered here and there. The rest is from the casket.
I suppose that stuff is routinely removed by the cremation service before ashes are returned. In this case, since the family was requesting the shrapnel, the crematory simply sent along the whole pile, rather than sift through it for the relevant bits.

I have no wish to lessen what Mr Brown manifestly endured over the decades, but I suspect that there is a kernel of truth in the above comment.

---

xoxoxoBruce Thursday Nov 13 12:13 PM

Quote:

"He'd said there was a bullet in his leg but I was imagining one romantic piece of metal," daughter Jane Madden, 55, told the Telegraph.

That does NOT mean he and his Army doctors didn't know the real story, it means he chose not to tell people.

TIM FARRELL said...

Quote:

The average knee-cap is about 1/3 of the size of 2 handfuls of debris. I think that with that amount, someone would have noticed.

1- Nobody said it was in his knee. 2- Somebody noticed. Duh.



Bigjake (BigEgo) questions Browns honesty...

Quote:

He may not have been truthful, either. According to the UK Ministry of Defense, "More than 11 million troops served in the British Commonwealth during the Second World War with 580,000 killed or missing and 475,000 wounded, giving a casualty rate of almost 11 per cent", which is actually just under 10%). Blah blah blah

WTF, he wasn't testifying or writing a report. The paper quotes somebody who claims they heard Brown say... C'mon, war stories, folks, war stories.

BUFFMUFFIN says...

Quote:

Germans *never* used material like this in their weapons, they were extremely meticulous with their weapons right up to the end of the war.

Like I said in the original post, it might have been a booby-trap, not a mine.

Since the Brits are not ecologically diligent like us

, and insist of burning the coffins, it's possible some of the hardware might have been inadvertently from the coffin. Also, since British crematoriums have a magnet to remove ferrous metal from the ashes before they are returned to next of kin. Since the family specifically requested the metal be returned, it could be an accumulation of more than one cremation. The screws and tacks especially might be coffin hardware, although the odd bits of wire are curious. One piece of wire looks like a binder clip. Maybe it's stuff the army docs used to put him back together.

---

Gravdigr Thursday Nov 13 06:16 PM

---
Your reply here?

The Cellar Image of the Day is just a section of a larger web community: a bunch of interesting folks talking about everything. Add your two cents to IotD by joining the Cellar.