Carruthers Monday Aug 18 10:59 AM

August 18th 2014: London's Big Ben gets a polish from abseiling cleaners

BBC Video

Daily Telegraph

---

glatt Monday Aug 18 11:31 AM

Such intricate detail on that tower.

---

Sheldonrs Monday Aug 18 11:38 AM

Sort of a hand job on Big Ben's face.

---

Clodfobble Monday Aug 18 05:05 PM

There's a part of my brain that knows that abseiling = rappelling, but somehow every time I see the word I imagine something closer to paragliding. Then I see a picture or some kind of context and remember what it really means. But for a moment I was imagining men in squirrel flight suits swooping around the clock tower with a cloth in their hand, one wipe per pass.

---

Gravdigr Monday Aug 18 05:25 PM

♪ ♫Ab-seiling, takes me away♪ ♫
♪ ♫to where I've always heard it...♪ ♫

---

xoxoxoBruce Tuesday Aug 19 01:20 AMbanana men for scale, it's hard to realize how big that delicate looking filigree is.
Somebody took a bunch of brass bars/tubes, stroking, beating and sweet talking them into a sculpture. One which when hoisted way the hell up in the air, won't disappear, or look too clunky. Scaling with drawings and models makes it possible, but the vision and skill of the era's mostly uncredited craftsmen is astounding. We're talking 1858, the year Minnesota became a state, the Lincoln-Douglas debates, the Apparitions at Lourdes, and the first recorded game of Australian rules Football, for reference.

I guess the Brits weren't impressed, at least not as sure, because it was just referred to as the clock tower. After 150 years of pondering they must have decided it was acceptable, because instead of selling it to some rich guy in Arizona, they named it the Elizabeth Tower, for the Queen. Or maybe because they're both attractive, old and doddering.

---

Carruthers Tuesday Aug 19 05:12 AM

Even with all the safety equipment the contractors are using, the sight of them up there makes the hairs on the back of my neck stand on end.

Compare and contrast the same operation being undertaken in the 1980s.

Attachment 48889


Incidentally, the Palace of Westminster is in urgent need of restoration and refurbishment work. It's not the sort of project you can do with steel girders and pre-cast concrete sections.

Restoration and Renewal of the Palace of Westminster

---

Diaphone Jim Tuesday Aug 19 12:44 PM

The contrast between the cleaner of the past and those of the present puts this on my list of the top Cellar Images of the Day.

I'd guess the earlier pic was taken by the washer's partner, who brought his camera as well as his bucket and his big brass ones.

---

xoxoxoBruce Tuesday Aug 19 12:46 PM

Or a news photographer as crazy as the cleaners.

---

Carruthers Tuesday Aug 19 01:03 PM

http://www.bbc.co.uk/news/uk-28838218

---

Diaphone Jim Tuesday Aug 19 07:15 PM

Due to my slow dial-up modem connection, I very seldom attempt to watch video suggestions.
I was interested enough in this thread to give that BBC link a try but did not find one that seemed to fit. There were 7 choices at that address. Is the one referenced one of them?
Thanks.

---

xoxoxoBruce Tuesday Aug 19 07:46 PM

Jim, the 1953 film doesn't show much. They go over the side, being careful not to bump their very large balls.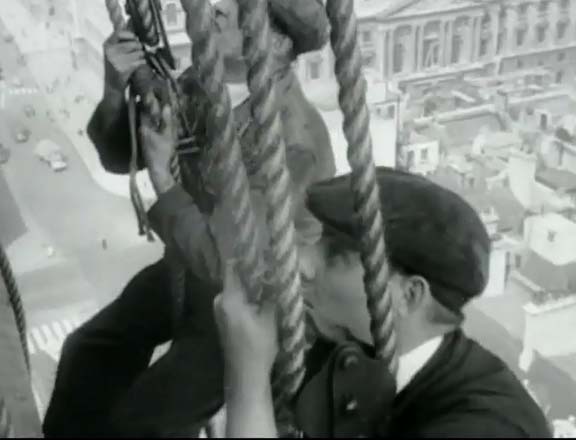 Then the mandatory, pucker inducing, shot down at them and the ground.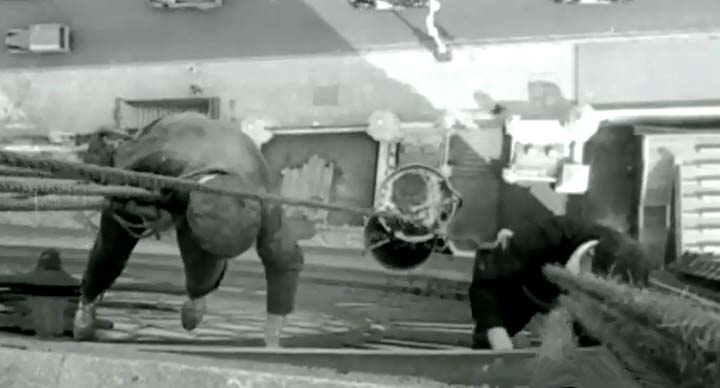 The Pathe film (newsreel), just let people know it was being done, but not how.

---

Carruthers Tuesday Aug 19 11:42 PM

It's the main video above the title 'The Big Ben Clock...'

The start button in the bottom LH corner is sometimes slow to appear.

Bruce, being the all round splendid chap that he is, has provided a couple of screen grabs that will give you a flavour of it.

---

xoxoxoBruce Wednesday Aug 20 12:25 AM

Hey, wait a minute. How did you know I'm chapped?

---

Gravdigr Wednesday Aug 20 03:33 PM

"What did you do yesterday?"

"Oh, hung around, and polished Big Ben."

"Heh-heh, is that what ya call it?"

---

Sheldonrs Wednesday Aug 20 05:29 PM




---

SPUCK Friday Aug 22 08:39 PM

You guys crack me up. It's why I come here. Really the only good raw humor I can find.

---

Gravdigr Sunday Aug 24 04:24 PMhandjobs only.

---

Sheldonrs Monday Aug 25 09:34 AM

---
Your reply here?

The Cellar Image of the Day is just a section of a larger web community: a bunch of interesting folks talking about everything. Add your two cents to IotD by joining the Cellar.