xoxoxoBruce Saturday Aug 9 11:40 PM

8-10-14: Mina ~ Tent City

Mina, Saudi Arabia, lies 8 km east of Mecca, and empty most of the year so it's been designated to handle some of the three million pilgrims during the 5 days of Hajj. The Saudis erect 100,000 tents to house the crowd, but not just any tents, air conditioned, 8 meters square, and of Teflon coated fiberglass for fire resistance.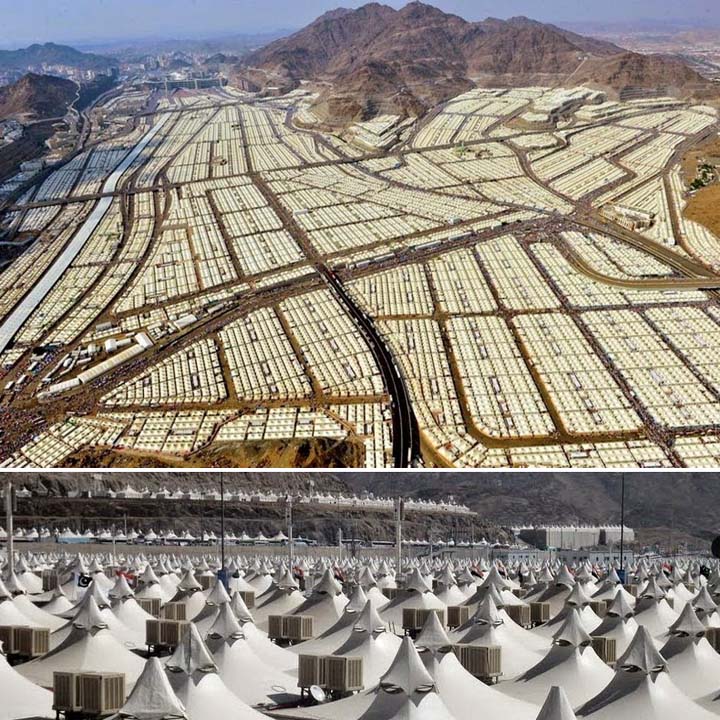 More pictures.
---

sexobon Sunday Aug 10 01:31 AM

They get air conditioned tents but they don't have to work as firefighters for it?!!! They're setting a bad example for our convicts.

---

Gravdigr Sunday Aug 10 02:52 PM

Vurry nize.

I went to a Civil War re-enactment south of Nashville a number of years ago. There were over 20,000 re-enactors, and they were all camped on site, in small, canvas tents. It was very impressive, the campground, but, it weren't nothing like this.

---

gozar Sunday Aug 10 04:34 PM

Those look like evaporative coolers, not air conditioners.

---

xoxoxoBruce Sunday Aug 10 08:44 PM

The article says air conditioned. Links from the link, to Arab News and Sunni Forum appear to agree. That said, I think many people would use the term Air Conditioning if the tents got cool, regardless of how it came about, so you could be right.

---

Diaphone Jim Monday Aug 11 04:23 PM

Mecca is actually an ideal location to use evaporative ("swamp") cooling due to its high temperatures and low humidity.
It is often nearly as hot as Death Valley, 109 F yesterday.
The vents at the tent peaks would be a part of such a system.
The use of water is a problem, but not mine.

---

gozar Monday Aug 11 10:47 PM

I wondered about the water use too.

They sure do look like evaporative coolers! (source: I live in Phoenix, AZ therefore authoritative.)

---

xoxoxoBruce Tuesday Aug 12 01:53 AM

Don't they need a fairly big air flow to work properly?

---

SPUCK Friday Aug 15 06:13 AM

No not really. A little breeze in the tent but that's it.
If they were really mechanical air conditioning the required power grid/distribution would eclipse the tent metropolis in wow factor.

Still amazingly impressive even with swamp coolers.

---

xoxoxoBruce Friday Aug 15 12:04 PM

OK, thanks for clearing that up. I thought swamp coolers needed a substantial air flow to operate properly. Being from the northeast I'm stuck with hearsay.

---

glatt Friday Aug 15 12:41 PM

There's a basic swamp cooler in the visitor center at Zion national park.

Basically just a big chimney with water dripping down from the top. You can sit on a bench at the "hearth" and a nice cool air falls from the chimney. It's very comfortable and the only cooling for the entire building, iirc.

---

glatt Friday Aug 15 12:44 PM

http://bordelinecolonias.blogspot.co...r-station.html

http://1.bp.blogspot.com/-VS-d15vNqL...ors-center.jpg

---

Sheldonrs Friday Aug 15 12:57 PM

Is there a game of Quidditch being held there?

---

xoxoxoBruce Friday Aug 15 03:57 PM

Did you see a golden snitch?

---

Sheldonrs Monday Aug 18 08:44 AM

---

xoxoxoBruce Monday Aug 18 01:22 PM

Turner Brown?

---
Your reply here?

The Cellar Image of the Day is just a section of a larger web community: a bunch of interesting folks talking about everything. Add your two cents to IotD by joining the Cellar.