What's IotD?

The interesting, amazing, or mind-boggling images of our days.
xoxoxoBruce Wednesday Aug 6 11:47 PM

8-6-14: Gyroscope Train

Louis Brennan must of had a one track mind, for he spent years and a fortune developing a single track railroad.


Quote:

Early in his life, Brennan thought about the ordinary spinning top, and noted that so long as it spins it has the very balancing power that he was seeking. He saw that if you kept a top spinning indefinitely (say by electricity) it would balance itself indefinitely on a point, and that this would be true even if you made the top large and heavy. Brennan bought various kinds of tops, and made new kinds, and experimented with them and puzzled over them for hours and weeks and years. One result of his puzzling was the steerable torpedo, the invention of which he sold some years ago to the British government for $550,000—the largest sum of money ever paid by a government for any invention; for the steering-gear of this is based upon the principle of the revolving wheel.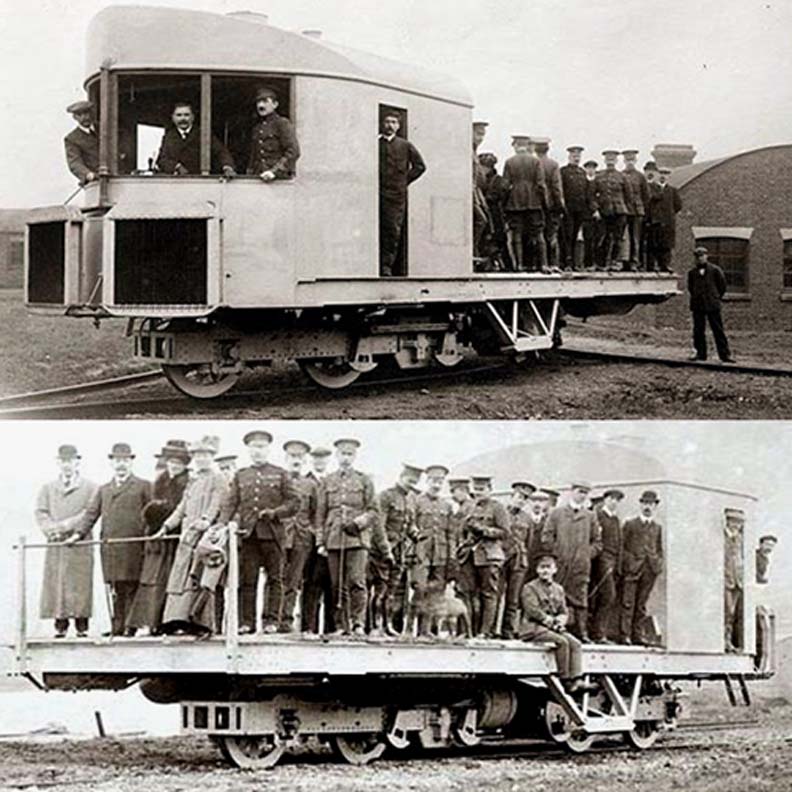 Brennan's vision was a train of several cars, each weighing 100 tons empty, traveling at 200 miles per hour, from NYC to San Francisco in a day. His working models were impressive.


Quote:

The impression made by these demonstrations on the scientific and mechanical world has been marked. The foremost engineering authorities of England—such men as Sir John Wolfe Wolfe-Barry, builder of the famous Tower Bridge, and Professor John Perry of the Royal College of Science, South Kensington—have made a careful study of this invention and have reported favorably on it; the British War Office—a cold-blooded body not at all inclined to give up money easily—has recently, on the, advice of its experts, appropriated for Mr. Brennan the sum of six thousand pounds to enable him to build a large mono-rail car on the plan of his present small model, and has offered him the use of the government torpedo factory at Chatham for the pursuit of his mono-rail experiments, in which he will have imported military assistance.

Another proposal came from South Africa.


Quote:

I suggested an overland (mono-rail) route from the Rand, starting from Johannesburg and running in a northwest direction to Victoria Falls through the Kongo Free State, skirting Lake Chad, then traversing Morocco to Tangiers. The journey from the Rand to London could thus be easily made in six days instead of twenty-one, as now in force."

Ah, the good old days, when science and the power of Old Blighty could do anything imagined.

More pictures
---

BigV Thursday Aug 7 01:23 PM

Carefully studied by John John Wolfe Wolfe Barry Perry?

Really??

Lol, come on.... ;-)

---

Diaphone Jim Thursday Aug 7 01:30 PM

Next Louis could invent a guardrail, then maybe even seats.

---

xoxoxoBruce Thursday Aug 7 09:07 PM

No Perry

Quote:

After receiving a knighthood in 1897, he added "Wolfe" to his inherited name in 1898 to become Sir John Wolfe Wolfe-Barry.



---

SPUCK Friday Aug 15 06:07 AM

Love to see what happens when the bearings on the gyro suddenly seize up.

Wow what an incredibly dumb idea. Wow wow.

---

glatt Friday Aug 15 09:24 AM

Reminds me of a helicopter, in that is has to remain in perfect mechanical condition in order not to crash.

---

xoxoxoBruce Friday Aug 15 11:38 AM

Quote:

Originally Posted by

SPUCK

Love to see what happens when the bearings on the gyro suddenly seize up.

Wow what an incredibly dumb idea. Wow wow.

From the first link...

Quote:

...all of which was readily granted by the railway experts, who also agreed that a train would run securely on a single rail so long as the gyroscope-wheels kept turning. But suppose something happened to these? Suppose one of them stopped or both of them stopped?

"Suppose the electric power that drives these wheels were suddenly cut off. Do you know what would happen? Nothing. Because the wheels revolve in a vacuum, and on such perfectly poised bearings, with such ideal lubrication, that—even with the driving power cut off—they would continue to turn, by their own momentum, for two or three days, and for two or three hours they would turn with sufficient energy to hold the car safely balanced. That is, they would turn long enough of themselves to provide for any reasonable emergency."

"Then each car in a train would be balanced by its own balance-wheels?" asked some one.

"Of course."

"Suppose something went wrong with your lubricating-device?" suggested an engineer.

"I have provided an automatic signal to warn the engineer of such danger, at notice of which he would at once run the train into a safety siding. There would be many of such sidings with dwarf walls to support the cars, or the sides of the cars might slightly overlap the walls."

"That is all very well," persisted the South African, "but suppose one of the gyro-scope-wheels did absolutely stop—broke loose from its bearings, or anything you like; suppose it stopped instantly before the train could possibly reach a siding. 'Then what?"

"Unless the car chanced to be on a curve at that precise moment, the other wheel would hold it steady."

"But suppose the car was on a curve? Or suppose both wheels stopped suddenly?"

Mr. Brennan smiled. "Then there would certainly be an accident, just as there is when a boiler bursts or an elevator falls or an automobile gets in a smash-up.



---

SPUCK Friday Aug 22 08:19 PM

Ah thanks for the that added my good man.

---
Your reply here?

The Cellar Image of the Day is just a section of a larger web community: a bunch of interesting folks talking about everything. Add your two cents to IotD by joining the Cellar.