Carruthers Tuesday Jun 24 05:05 PM

June 24th 2014. Clifton Suspension Bridge - Midsummer Day

Quote:

Midsummer Sun

Early risers on Saturday,the summer solstice, enjoyed the rare sight of the sun aligned perfectly along the Clifton Suspension Bridge in Bristol. (UK)

Quote:

This stunning picture shows the sunrise perfectly aligned along the historic Clifton Suspension Bridge on the longest day of the year.

It has long been speculated that Isambard Kingdom Brunel built many of his landmarks to align with the sun on significant dates.

And this impressive picture, taken on Saturday, captures sunlight shining precisely through a gap in the bridge, on the morning of the Summer Solstice.

Historians have argued that Brunel liked to secretly show off his engineering skills by incorporating the sun into his designs, such as the railway Box Tunnel in Wiltshire.

The sun is said to shine exactly through the 1.83 mile Great Western main line between Bath and Chippenham on or around April 9 each year - the date of Brunel's birthday.

Bristol Post

---

xoxoxoBruce Tuesday Jun 24 05:46 PM

We were so jealous we laid out the principle street grid of Manhattan to match you.
They call it Manhattanhenge or Manhattan Solstice.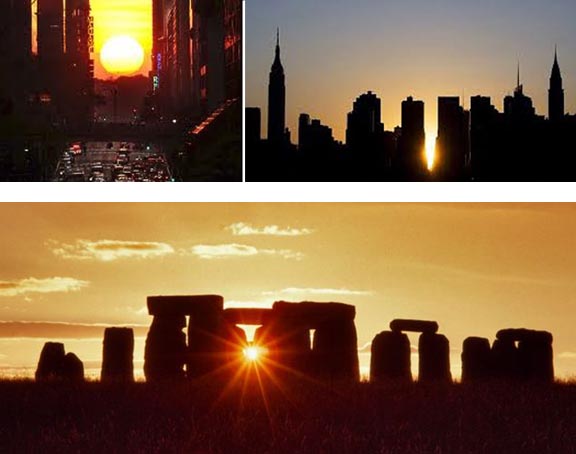 ---

Carruthers Tuesday Jun 24 05:53 PM

Thanks for that, Bruce. That's a real eye opener in every sense of the expression.
I'll explore in greater depth tomorrow. Nearly 11pm so off to bed!
One has to get one's beauty sleep.

---

xoxoxoBruce Tuesday Jun 24 05:55 PM

Goodnight dear.

---

BigV Tuesday Jun 24 07:23 PM

very nice, all of them!

---

Diaphone Jim Wednesday Jun 25 12:21 PM

There are places all over the world that rightfully celebrate significant natural events in human designs.
I've been interested over the years by the variance in calling the Summer Solstice either "the first day of Summer" or "Midsummer Day."
Can't be both, can it?

---

glatt Wednesday Jun 25 12:33 PM

When most people think of summer, they think first of the warm weather, not the number of hours of daylight in a day. The solstice is the exact middle in terms of daylight, but is only the beginning of the warm weather.

---

Clodfobble Wednesday Jun 25 02:17 PM

Heh. Says you who lives above the 33rd parallel. I had to explain the opposite to my kids, how it could only just now be considered the "first" day of summer on the calendar when it's been hot for months.

---

Carruthers Thursday Jun 26 01:17 PM

Probably a better idea to pay the toll than to swim across.


'Bristol Crocodile' spotted in the River Avon

A jogger has captured the clearest picture yet of what is believed to be a crocodile last sighted in River Avon near Bristol five months ago

Attachment 48287



Quote:

When strolling along the picturesque River Avon, nature lovers are used to seeing all manner of traditional English flora and fauna.

But they may wish to keep a careful eye out this week, as the elusive "Bristol crocodile" was said to have been spotted swimming in the shallows.

The reptile, which prompted a police search in February but was never found, has been reported lurking beneath the surface of the muddy waters.

An eagle-eyed jogger said her hair "stood on end" when she saw a creature stirring, before taking a photograph of what she believes is the beast.

The picture, showing water under the Clifton Suspension Bridge in the River Avon, is the latest in a run of apparent crocodile sightings in the area, which the local Wildlife Trust calls the river "one of the most biodiverse chalk streams in the UK".

Avon and Somerset Police have previously investigated the existence of the so-called "Bristol crocodile", after a bus driver reported a sighting in February.

Then, Chief Constable Nick Gargan tweeted about the mystery beast, but later confirmed his officers had found no trace.

It was reported by a second member of the public, a 41-year-old mother-of-three, who claimed to have seen it in the road.

A local councillor, Tom Aditya, even provided video of an apparent sighting, which showed a six-foot-long object moving slowly along the river and birds taking off "in fear" as it approached.

At the time, the footage was met with a healthy degree of scepticism, with local paper the Bristol Post writing the reptile appeared "not dissimilar to a log".

The latest sighting, by 29-year-old Tamara Blanco, will only serve to deepen the mystery, and is believed to be the clearest photograph yet of the mystery creature,

Ms Blanco, from Southville, Bristol, said she had been running close to the Suspension Bridge when she saw something lurking in the water.

"I felt scared at the time because the thing - whatever it was - was moving in the water," she said.

"I wanted to stay to see it properly but there was no one around and I just didn't feel comfortable."

Ms Blanco, who works in clothes shop Zara, added: "I could feel my hair start to stand on end and I thought 'Oh my God, is it a crocodile?' and I just left the place."

Dr Ian Stephen, curator of reptiles and amphibians at Bristol Zoo, said crocodiles could survive in British waters, pointing out they can live through cold US winters.

If real, he added, a crocodile would likely have been released recently to have survived.

Benjamin Tapley, team leader of herpetology at ZSL London Zoo, said alligators were more likely to survive British waters than crocodiles.

Mr Tapley said that although the crocodiles could survive, "they can't flourish" in the cold waters of the UK.

It is not yet known where the alleged reptile has come from, with no reported runaways from local zoos. In similar sightings worldwide, crocodiles and alligators have been kept as pets when they were small, only to be released into the wild when they grew unexpectedly.

A spokesman for Avon and Somerset Police said the force was aware of the sighting but would not be investigating the incident because it had not been reported.

The "Bristol Crocodile" is not the only unusual animal sighting in recent times. In Auguest 2012, a police helicopter was deployed to search for the "Essex lion", a roving beast which struck fear into the heart of locals after being caught on camera.

It later turned out to be a large domestic cat.

Daily Telegraph

---

BigV Thursday Jun 26 01:35 PM

equally dangerous, pound for pound, when wet.

---

glatt Friday Sep 4 10:17 AM

This bridge appears at the 15 second mark of this cool time lapse aerial drone video.



---

xoxoxoBruce Friday Sep 4 12:54 PM

Guess people don't trust that bridge the way they're zipping over it.

---
Your reply here?

The Cellar Image of the Day is just a section of a larger web community: a bunch of interesting folks talking about everything. Add your two cents to IotD by joining the Cellar.