xoxoxoBruce Sunday Jun 15 11:34 AM

June 15th: Salt of the Earth

There seems to be a lot of salt mines in Eastern Europe with special attractions. Whether it's breathing salty air, or working where the Sun don't shine, salt miners seem to have a particular reverence for their workplace. I suppose the mines are refuge from winter cold and summer heat, so they build chapels... indeed churches, and museums, classrooms, you-name-it, down below. This mine in Yekaterinburg, Russia, could be a Disco... I guess Rave is the now hip term, it's the first psychedelic mine I've seen.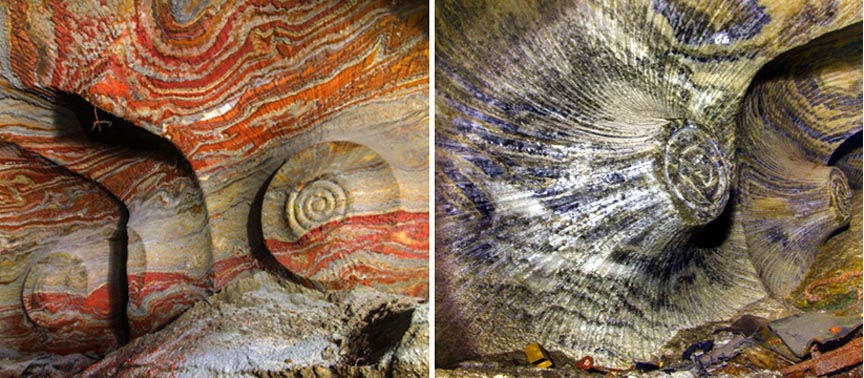 The round shapes are caused by the end of the boring machine, but the colors come from the Earth.

The Russian photographer, Mikhail Mishainik, says;

Quote:
Many people know about the mines but it is very difficult to access them if you don't have an official permit.
The air is filled with small particles of salt and if we didn't have our torches switched on it would be pitch black. It is easy to get lost as many of the passageways look the same, we navigate our way around very carefully. We take our safety very seriously but of course there are always dangers. There is the possibility of a gas leak from chemicals such as methane, hydrogen sulphide carbon dioxide as well the risk of a landslide. The danger element is part of the fun and it's a special feeling being somewhere very few people have seen.
LINK
---

Sundae Sunday Jun 15 01:10 PM

Glorious!

---

fargon Sunday Jun 15 03:17 PM

Bootiful

---

Gravdigr Sunday Jun 15 05:27 PM

A mine, and "where the Sun don't shine", reminded me of "Windmills of Your Mind":

♪ ♫Like a tunnel that you follow♪ ♫
♪ ♫To a tunnel of its own♪ ♫
♪ ♫Down a hollow to a cavern♪ ♫
♪ ♫Where the sun has never shone♪ ♫

---

SPUCK Monday Jun 16 05:59 AM

As a kid I went to one of those European(Salzburg?) salt mines with my parents. We all had to dress in uniforms. Women in white and men in black. Then to get down into the mine we had to slide down looooOOOOOOOOng wooden slides that were spectacular looking and rather fun. it was pretty dang cool and memorable for a little kid.

---

glatt Monday Jun 16 06:34 AM

Yeah. That was Salzburg. I did the same as a kid. Great fun.

---

Nirvana Monday Jun 16 12:15 PM

My new tattoo!

---

Gravdigr Monday Jun 16 01:34 PM

The pic on the right (the bluer one) does look sort of nipply.



---

xoxoxoBruce Monday Jun 16 02:16 PM

Quote:

The walls are covered with psychedelic patterns, caused by the natural layers of mineral carnallite creating swirls throughout the coloured rock. Carnallite is used in the process of plant fertilisation, and is most often yellow to white or reddish, but can sometimes be blue or even completely colourless. The mineral carnallite, a hydrated potassium magnesium chloride, decorates the empty tunnels under Yekaterinburg.

And Wiki says;


Quote:

Carnallite occurs with a sequence of potassium and magnesium evaporite minerals: sylvite, kainite, picromerite, polyhalite, and kieserite. Carnallite is an uncommon double chloride mineral that only forms under specific environmental conditions in an evaporating sea or sedimentary basin. It is mined for both potassium and magnesium and occurs in the evaporite deposits of Carlsbad, New Mexico; the Paradox Basin in Colorado and Utah; Stassfurt, Germany; the Perm Basin, Russia; and the Williston Basin in Saskatchewan, Canada.

Remember, the more you know, the less your sure of.

---

BigV Monday Jun 16 11:38 PM

---

busterb Tuesday Jun 17 09:54 PM

Bruce internet down on computer. Hold mail. Trying to use tab.upper GI in am. Bb

Sent from my Nexus 7 using Tapatalk

---

xoxoxoBruce Wednesday Jun 18 01:30 AM

Sure thing, buster.

---
Your reply here?

The Cellar Image of the Day is just a section of a larger web community: a bunch of interesting folks talking about everything. Add your two cents to IotD by joining the Cellar.