xoxoxoBruce Thursday Jun 5 10:46 PM

June 5th, 2014: All Hail, the Weather Overlord

Every once in awhile we hear news and weather reports about hail the size of baseballs. Fortunately, few of us get to see that actually come to pass, and soon forget it until we hear it the next time.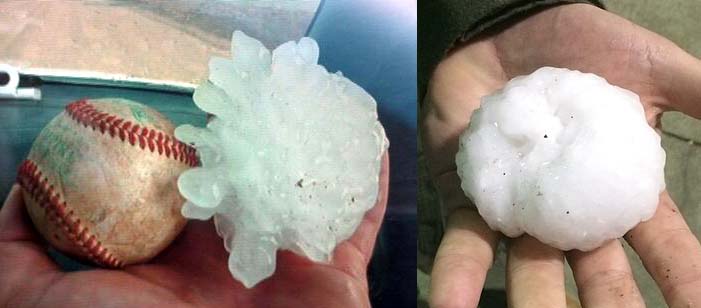 But there are people out there who actually do experience the devastation it can cause. Destroyed crops and property, plus I would imagine hail that large could severely injure livestock and people.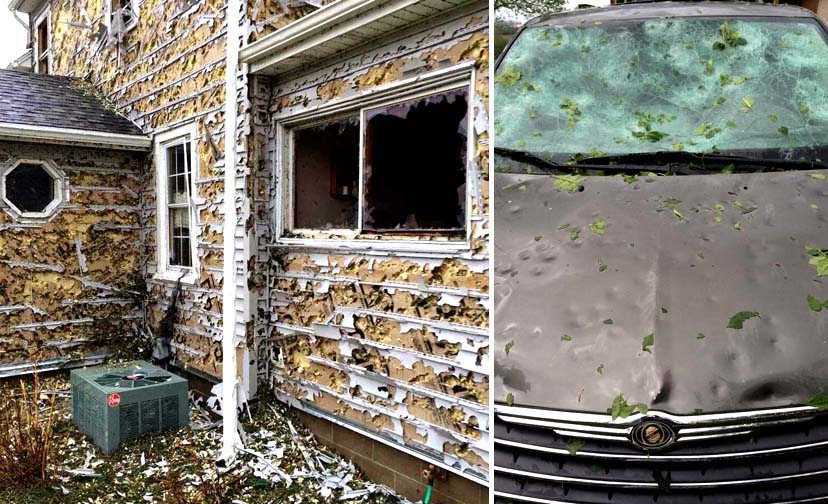 Around here we get itty bitty hail rather than that huge stuff, and I'm very happy to live where it ain't.

link

---

BigV Thursday Jun 5 11:59 PM

Imagine the force of the wind it takes to blow a particle of ice the size of those monsters upward accumulating layer after layer of ice until they're too heavy to remain aloft. Then they come down with devastating results. *That* is some heavy weather.

I have family that until recently lived in Moore, Oklahoma, otherwise known as the center of the bullseye in Tornado Alley (it's just south of Oklahoma City). They've had tornadoes pass within half a mile (!!!) of their house; they've had hailstorms where I've seen pictures of holes in the yard that could hide a grapefruit. The weather was Just. Too. Much. so, now they're in Florida.

---

BigV Friday Jun 6 12:06 AM

Here's a picture I took while on a trip there in 2013. I saw several cars in the neighborhood that had a peculiar look to them, and when I found this one in the parking lot at the grocery store, I could finally understand what I was seeing. This one's not ruined like the one in xoB's OP, but I reckon each one of these dents came from a hailstone the size of a golfball, give or take. It's probably a new windshield.

Attachment 47981

---

Gravdigr Friday Jun 6 11:31 AM

Some new car dealership in Nebraska is claiming $150,000,000 in hail damage to ~4500 cars. Happened last week, maybe early this week.

ETA: Calculator reveals an average of around $3333 in damage, per car.

---

glatt Friday Jun 6 11:40 AM

You could get rich developing a resilient body panel that has memory and pops itself back out.

---

Diaphone Jim Friday Jun 6 12:39 PM

I kind of wonder about the siding-less house.
What kind of siding completely fails but doesn't cover the roof or the ground.
Can hail come from such a low angle that it can damage walls under eaves?
Can it come from two directions at once, battering adjacent walls?
Is that a tough AC unit or what?

---

xoxoxoBruce Friday Jun 6 01:15 PM

Hail up to 4.5", in a 70+ mph wind, makes brittle plastic siding shatter, and smashes windows. But just as most of us will never see hail that size, of course the pictures in the media will be worst case.

There has to be a unique set of circumstances to create that much damage, but it's scary just knowing it can happen and not much you can do about it.

---

Griff Saturday Jun 7 10:06 AM

People who try to tell you "vinyl is final" are full of shit.

---

Spexxvet Saturday Jun 7 10:54 AM

Quote:

Originally Posted by

glatt

You could get rich developing a resilient body panel that has memory and pops itself back out.

Never happen There are too many people getting rich making panels and replacing damaged panels. It's the same reason there will never be a cure or vaccine for cancer.

---

Spexxvet Saturday Jun 7 10:55 AM

BTW, this is why I worship Thor. When there's a nasty storm, I pray to Thor, and it only takes about a half an hour for him to stop it.

---

xoxoxoBruce Saturday Jun 7 05:42 PM

Here is some fantastic pictures of that storm.

And more.

---

Diaphone Jim Saturday Jun 7 06:39 PM

Hmm. 4 1/2 inch hail? Pretty rare, but OK.
I still wonder where all that vinyl went. It is not on the roof, but 70 mph wind could account for that.
The remains on the lawn, where it could be expected to be less blown, is a small fraction of what was there on the house just a while ago.
I guess I like IOTD's to "match up."
It looks more like what Tommy and Norm do on the second week of a "This Old House" project.
Can anyone tell what the black waterfall from the unbroken window is.

---

xoxoxoBruce Saturday Jun 7 08:58 PM

Black waterfall? Where?

---

sexobon Saturday Jun 7 09:37 PM

On magnification, it looks like a piece of tattered debris hanging off the windowsill.

---

glatt Sunday Jun 8 09:41 AM

They are pretty ugly, but a concrete dome house seems appealing when you see pictures like these.

---

xoxoxoBruce Sunday Jun 8 10:49 AM

Or a missile silo.

---

BigV Tuesday Jun 10 01:32 PM

guy is a serious weather geek.

I learned what a shelter belt is (that band of tall trees that surround the buildings, house, barn, outbuildings, etc). I've seen them countless times, and now I know they name and purpose. I can see how they function, but it's important to consider that they're only strong in quantity. Singles are vulnerable. Twil had some big trees (a couple feet in diameter at the stump) come down in storms over the past couple years. The damage caused by a tree landing on your house can be just as devastating as the hail damage seen here.

Those pictures are dramatic evidence of some epic severe weather. I'm glad I experienced it via the internet only. Daaaaamn.

---
Your reply here?

The Cellar Image of the Day is just a section of a larger web community: a bunch of interesting folks talking about everything. Add your two cents to IotD by joining the Cellar.