xoxoxoBruce Tuesday Apr 29 04:10 PM

April 29, 2014: Sunken Ships

From the Cape Cod Times...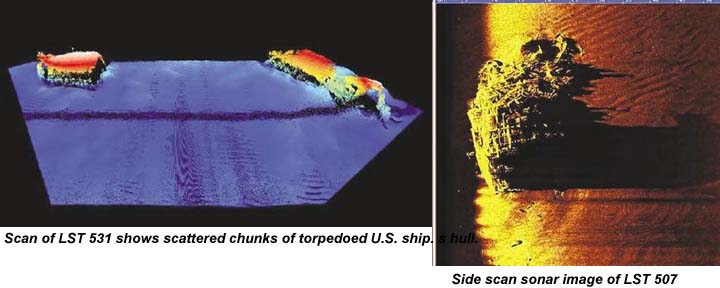 Quote:

On April 28, 1944, eight American landing ships were conducting a D-Day rehearsal off the coast of southwest England.

By days end, hundreds of Americans died when German boats discovered the ships and attacked.

Two vessels were sunk. Another was badly damaged, but made it back to port. The torpedo attack off Slapton Sands, England, killed 749 soldiers and sailors that were conducting the training session Exercise Tiger.

Last month, the Pocasset-based Hydroid used one of its underwater vehicles recently to capture high-definition images of the two sunken ships — LST-507 and LST-531 — in honor of those who died, said Rick Morton, a company spokesman.

Honoring the dead? Hmm... Selling a product, methinks.
But it's another reminder of war's carnage... boom, another 750 dead just practicing.

---

glatt Tuesday Apr 29 04:25 PM

Impressive technology. Although they knew exactly where the ships were, so it's not like they found a needle in a haystack. And they are only 150 feet deep.

I'm thinking, of course, of the missing jetliner in the Indian Ocean that's around 5 miles deep, or over 150 times deeper than these ships.

---

richlevy Tuesday Apr 29 08:52 PM

I seem to remember something about that. Among the dead were one or more 'overlords', men who knew the plans for D-day. So the government had to recover the bodies to insure that they were not captured.

found it...


Quote:

As a result of official embarrassment and concerns over possible leaks just prior to the real invasion, all survivors were sworn to secrecy by their superiors. Ten missing officers involved in the exercise had BIGOT-level clearance for D-Day, meaning that they knew the invasion plans and could have compromised the invasion should they have been captured alive. As a result, the invasion was nearly called off until the bodies of all ten victims were found.[1]



---

Griff Tuesday Apr 29 09:02 PM

Quote:

Originally Posted by

xoxoxoBruce

But it's another reminder of war's carnage... boom, another 750 dead just practicing.

My Dad told me they had Marines killed in his outfit in peace-time climbing the cargo nets practicing beach landings back in the day.

---

Carruthers Friday May 2 01:36 PM

There's some more info here which might be of interest:

http://www.exercisetigerslapton.org/

... and here:

http://www.submerged.co.uk/slapton.php

To let the thread drift a bit, the wreck of the SS Richard Montgomery lies in shallow water in the Thames Estuary. It was carrying approximately 1,500 tons of explosive when it ran aground on a sandbank and the hull cracked open. Opinion seems to be divided on the likely effects of the cargo exploding, but the authorities are erring on the side of caution.

http://en.wikipedia.org/wiki/SS_Richard_Montgomery

---

BigV Friday May 2 02:55 PM

1500 tons? That's a good side to be on.

---

xoxoxoBruce Friday May 2 04:14 PM

Yeah but they were just short tons.



Good find Carruthers, 10 points for Britain.

---

xoxoxoBruce Saturday May 3 10:33 AM

Speaking of sunken ships, they've located two in San Francisco harbor.



Quote:

The wreck of the City of Chester, a steamship that sank with much loss of life in August 22, 1888, has been rediscovered by the National Oceanic and Atmospheric Administration. The ship was found in May of last year during a sonar survey of another shipwreck. The Office of Coast Survey Navigational Response Team 6 was scanning the wreck of the Fernstream, a freighter that went down in 1952. While they were in the neighborhood, NOAA director of maritime heritage James Delgado asked the team to look for the City of Chester.

The wreck won't be salvaged or interfered with in any way –it's a protected grave site owned by the state of California

Quote:

A GALLANT CHINAMAN.
How a Mongolian Sailor Rescued a Baby from a Watery Grave
The conduct of Ah Lun, the Chinese sailor spoken of by Captain Metcalf as the rescuer of a little baby, is described by those who saw the incident as courageous in the extreme.

However Chinese were persona non grata in CA at the time.


Quote:

"If ever a Mongolian deserved to be habeased corpused," said Mr. Forgarty to a Call reporter, "I think Ah Lun is the man."

Ah Lun not being a "certificated man" who nonetheless deserves to be "habeased corpused" is a reference the legal chaos that followed the United States' first law blocking one particular ethnic group from immigration: the Chinese Exclusion Act of 1882. The act prohibited Chinese laborers, skilled and unskilled, and miners from entering the country for 10 years. Only a few categories of professionals like merchants were allowed entry, and they had to secure a "section 6 certificate" from the Chinese government attesting to their occupation. Chinese immigrants who already lived in the United States were prohibited entry to the US without an identity document known as a return certificate. It also excluded Chinese immigrants from applying for US citizenship.



---

Carruthers Sunday May 4 06:32 AM

Royal Mint takes delivery of 48 tonnes of silver salvaged from site of WWII shipwreck.



free photo hosting



Quote:

The Royal Mint has received an overseas delivery of 48 tonnes of silver – 70 years later than expected.

Depleted of enough stock during World War Two to make coins, Britain was reliant on silver from the war ship SS Gairsoppa but hit by a U-boat torpedo, she never docked in port to make her precious delivery.

Now, however, the silver is finally in the hands of the Llantrisant-based Royal Mint and will be turned into limited edition coins after deep-sea explorers discovered SS Gairsoppa three miles beneath the surface.

Through sonar imaging, American-based company, Odyssey Marine Exploration, discovered the 412ft vessel 300 miles off the coast of western Ireland and began their 15,420ft descent to retrieve the treasure.

Operating in such deep water made raising the forgotten ingots to the surface a time-consuming process. By the time the first batch totalling 1,200 bars had been retrieved there was an estimated £23m worth of silver on board.

There's more in the orginal article including a video.

Dad and I both bought one of the coins which arrived about ten days ago, but we haven't yet watched the accompanying Discovery Channel DVD.

I had to search around for an article that wasn't a barely disguised sales spiel!

---

SPUCK Sunday May 4 06:40 AM

I love how the article idiotically states:

Quote:

Britain was reliant on silver from the war ship SS Gairsoppa

As if the war ship somehow was out conjuring up silver. Mayhaps some Alchemy?

---

xoxoxoBruce Sunday May 4 10:22 AM

Quote:

The steam-powered merchant ship sank within 20 minutes of being hit – taking her valuable cargo and crew with her.

All but one member of crew survived. Second Officer Richard Ayres, along with 30 other men avoided being hit by the firing German U-boat and made their way to a lifeboat.

I guess she didn't take her crew with her after all.

---

Carruthers Sunday May 4 11:18 AM

As mentioned, other articles seemed to be no more than 'puff pieces' and the Royal Mint's own offering wasn't anything to write home about either.

Unfortunately, local or regional newspapers in the UK are rarely journals of record as our own dear Bucks Herald unfailingly reminds us.
However, it's worth buying for the damned good laugh it gives us.

Try the Daily Telegraph article. It's behind a paywall, but you should get a few articles free, gratis and for nothing.
A friend tells me that clearing cookies, browser cache etc can be helpful should the need arise. Never tried it meself, you understand...

http://en.wikipedia.org/wiki/SS_Gairsoppa

---

xoxoxoBruce Sunday May 4 11:50 AM

Since you were hiding this from us, so you and Dad could corner the market on the coins, the legitimate news articles get buried in the archives. That said, we've gotten the basic plot of how India was looted of 7 million oz of silver, and the Germans playing Zorro stopped the completion of the crime.



Seriously though, I got a kick out of the reader's comments with that Telegraph article, how the Royal Navy should have recovered this hoard in their spare time.

By the way, I've read you can skirt the paywall by using private browsing.

---

Carruthers Sunday May 4 01:45 PM

Quote:

Originally Posted by

xoxoxoBruce

...we've gotten the basic plot of how India was
looted
of 7 million oz of silver, and the Germans playing Zorro stopped the completion of the crime.

Looted? Looted, sir?

I'll have you know that the hallmarks of the British Empire were benevolence and fair play. After all, we invented cricket.

---

footfootfoot Sunday May 4 07:04 PM

And all this time I thought it was scurvy, seasickness, and sodomy.

---
Your reply here?

The Cellar Image of the Day is just a section of a larger web community: a bunch of interesting folks talking about everything. Add your two cents to IotD by joining the Cellar.