Undertoad Monday Apr 14 01:57 PM

April 14, 2014: Glow-in-the-dark highway lines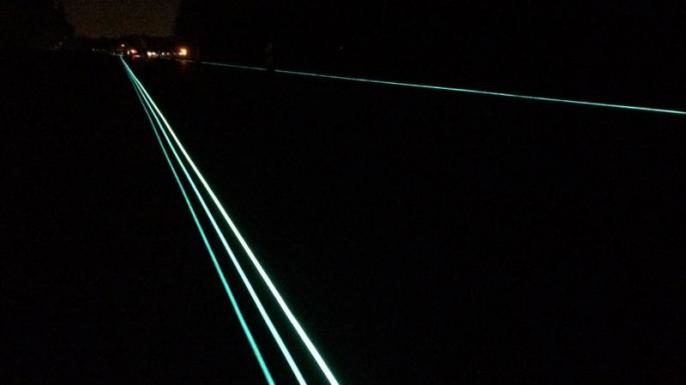 So this is next: glow-in-the-dark highway markers were "lit up" yesterday, as a first test, on a stretch of road in the Netherlands.

But there weren't a lot of photos available to make it an IotD! I guess three lines, merging into one for the human eyes, is just not that photographically interesting, or something. I mean, look at it up there. Doesn't look like much.

But it is. The photo above comes from Dutch Public Broadcasting, and their story includes a video which tells you a lot more than the picture does. The lines are very bright and clear. I want this on my nearby pikes.

The main article on it in the English-reading Internet came from Ars Technica. Their article features a lot of mock-ups of what could be done with luminescence and highways. It's all awesome, and I'm glad this is all coming about as my own aging eyes start to make night driving a chore.

Of course, if when the cars learn to drive themselves, none of this will be necessary.

---

glatt Monday Apr 14 02:17 PM

I'm torn on this. It's clearly a benefit on dark lonely highways, but I find that driving at night around the city can be even more of a chore because there are so many things competing for attention, and all are lit up or reflective. They are even making the posts of signs highly reflective now too.

---

Griff Monday Apr 14 04:26 PM

First I'd like a reasonable road surface, then a berm, and then we can talk about lines.

---

xoxoxoBruce Monday Apr 14 10:49 PM
I wonder if they're visible in the fog that seaside countries seem to suffer.
The grinding of little mini-rumble strips along the edge and centerline has worked well around here. You can not ignore it... can not.

The advantage of these lines is you can plan your path at higher speed than just being warned you're close to blowing it.

---

smillie Tuesday Apr 15 01:03 PM

I wonder how much good they will do when it snows.

---

footfootfoot Tuesday Apr 15 01:18 PM

Well, they've finally found a use for all that Tritium they stockpiled during WWII (the big one)

(obviously kidding, its half life is 12 years)

---

Sheldonrs Wednesday Apr 16 04:47 PM

---

footfootfoot Wednesday Apr 16 07:34 PM

---

busterb Wednesday Apr 16 08:27 PM

---

xoxoxoBruce Wednesday Apr 16 09:43 PM

Yes, I've seen the machine work, it's amazing how fast it moves along the road. Um, not fast like doesn't fuck up traffic, it does, but fast like miles of road per day.

---

Clodfobble Thursday Apr 17 09:59 AM

We have them on the sides, but not down the middle. Seems to me it would be just as necessary there, if not more so.

---

SPUCK Friday Apr 18 07:13 AM

Someone figured out how to place rumble grooves so they make music.
http://youtu.be/V_0aAIwcE7A

---

Gravdigr Friday Apr 18 12:04 PM

The grooves they use around here on the newer strips are, umm, aggressive. They will not be ignored. They'll vibrate the fillings outta your teeth.

---
Your reply here?

The Cellar Image of the Day is just a section of a larger web community: a bunch of interesting folks talking about everything. Add your two cents to IotD by joining the Cellar.