Carruthers Wednesday Mar 19 12:02 PM

March 19th 2014: Dogs & Horses.

I know that this is rather self-indulgent, but I've always been fond of horses and I hope that these two images are worth a couple of minutes of your time.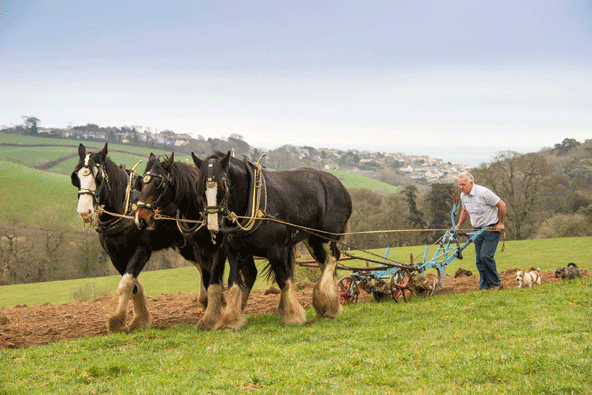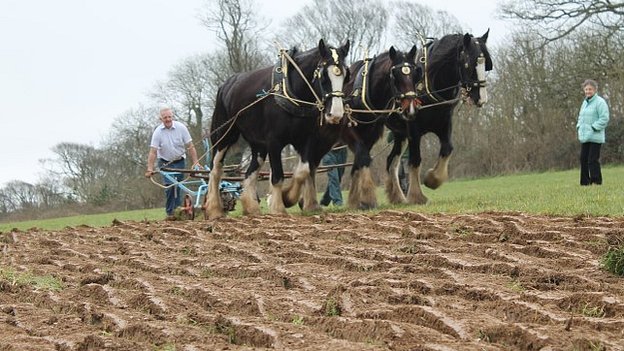 The native heavy horses, the Shire, Clydesdale and Suffolk Punch are magnificent creatures but they are rather scarce these days.
A number of breweries kept them going for deliveries in city centres, especially London, until fairly recently, and although they said it made economic sense, it was really part of the firms' PR effort.

The Heavy Horse Musical Drive at the Horse of the Year Show would bring a lump to the throat of even the most jaded soul.

Anyway, there's more here:

Heligan heavy horse power used for poppy field planting

Heavy Horse ploughing at The Lost Gardens

---

Carruthers Wednesday Mar 19 12:08 PM

Not forgetting the dog.

A Labrador doing what Labradors do best...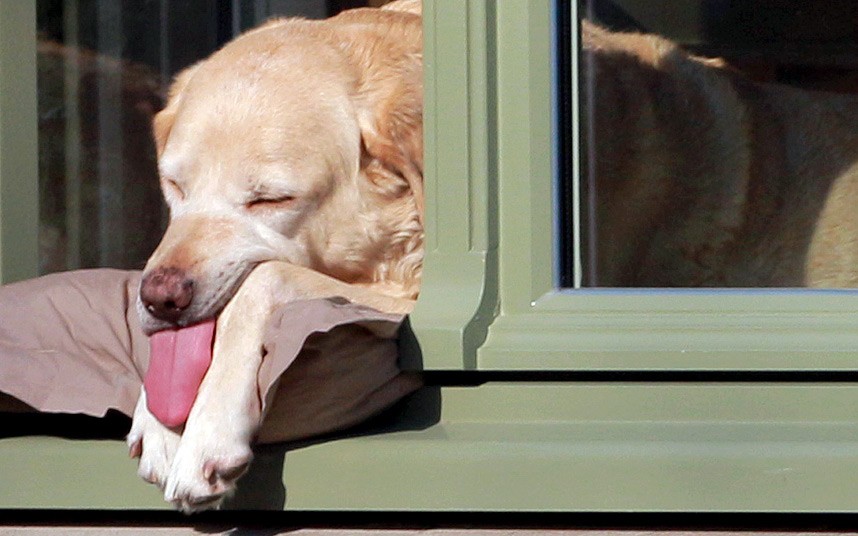 A labrador lazes in the afternoon sun in Bruges, west Belgium. The dozy dog lives in a house along the city's famous medieval canals and is a well-known tourist attraction in the area.

And there's a bit more about him here:

Bruges' Most Famous Son is a Bit Furrier Than You'd Expect

---

glatt Wednesday Mar 19 12:23 PM

I'd love to see a graph of the world population of horses and also horse varieties.

---

Carruthers Wednesday Mar 19 12:39 PMThe Rare Breeds Survival Trust categorises the Shire as 'at risk'.
I'm not sure how the Clydesdale is doing, but I recall that the Suffolk Punch was in real danger a few years ago.

I know that there is a chap by the name of Smrt in Illinois who has a successful Shire breeding programme and of course Budweiser do their bit for the Clydesdale.
Spent a very enjoyable afternoon at the Budweiser stables near Ft Collins a few years ago. Happy days.

---

Gravdigr Wednesday Mar 19 01:05 PM

The Amish community(ies) here use Percherons for heavy work, hauling grain wagons, plowing and such.

I love watching them work.

---

xoxoxoBruce Wednesday Mar 19 03:31 PM

Farming has always looked for ways to make it easier, more efficient, and less of a gamble on what they'll eat next winter. Rare breeds are rare because some people decided they were not as favorable as some other breed, or they were cross bred shooting for the best of both.

There used to be dozens of breeds of dairy cattle, but today serious dairy farms herds are almost entirely Holsteins(black&white) because they made more milk for the feed eaten. The same for beef cattle, chickens, sheep, hogs and anything else that's raised commercially. More efficiency, more return on investment, no room for sentimental traditions, mo money!

The farmers around here who use horses, rather than keeping them for sport or hobby, usually have mixed teams. Pulling equipment that requires a 3 to 7 horse hitch, they'll often throw a mule or two in the mix. Not much interest in keeping the blood line pure, just looking at, and breeding for, performance. Only the guys raising teams for sport, for competitions, for show, are concerned about bloodlines and breed characteristics.

---

Sundae Wednesday Mar 19 03:48 PM

Sometimes the rarer breeds (more rare?) of animals which are eaten have been left by the wayside in the drive for bigger, faster, more. As in Ortho's Poultry Plant post.

Some rare pigs are now being bred again simply because when slower and more natural breeding and feeding patterns are used, people appreciate the quality of meat.
I know you're not criticising farmers for not breeding horses for which they have no need, but I think there is definitely a trend away from over-produced livestock.

Of course it could be that people are just splitting along the lines of what is important and/ or accessible to them to them - the masses will have their antibiotic-laced, fast-grown, concrete-enclosed animal paste, and those with money, the gourmands and the epicureans will be tended to by specialist retailers.

I can't count myself in the former or the latter camps, so I guess it would be leeks & lentils for me in the new world order.
Although a girl can hope for a side order of cock occasionally, right?

---

orthodoc Wednesday Mar 19 06:01 PM

I was all ready to write a serious post and then, as usual, you completely disarmed me, Sundae! I do hope we girls can anticipate a side order of cock occasionally.

With the takeover of food production by Big Ag, animals have become mere 'units of production', and sheer quantity/volume elevated above every other asset (taste, for instance). Modern Holsteins are udders on legs. Their milk isn't particularly good nutritionally or in terms of taste, compared to that of other breeds, but they produce: wow, do they produce. So they are THE dairy breed now. Similarly, one breed has become the accepted standard for chickens, turkeys, pork, etc. Never mind that the turkeys, for example, are so bizarrely genetically manipulated that they cannot breed. Their giant breasts (these are the Toms; can you imagine the hens?) get in the way. Turkey semen is collected in a hysterically hilarious manner (check it out on youtube) and the hens are artificially inseminated.

A big problem is that, in demanding one inbred breed to the exclusion of all others, we've lost genetic diversity. One good bug could wipe out our entire (fill in your favorite meat here) supply.

Some of the less-popular breeds became so simply because it was no longer financially feasible to continue breeding them, not because they were inferior. The Shire and Suffolk Punch horses were magnificent. Luckily there are still plenty of Clydesdales around.

Some people purposely keep small flocks/herds of older 'heritage' breeds of different animals specifically in order to conserve genetic diversity. This is what I hope to do once I get back to my property.

Chickens, turkeys, maybe ducks or geese (with donkeys to guard them), a few goats and/or sheep. I'd keep heritage pigs but I couldn't bear to butcher them, they're too intelligent. It'd be almost as bad as butchering a dolphin. And cows ... bleh. I like the shaggy Highland breed but don't have the room ... I'd keep a few ponies or small horses instead.

---
Your reply here?

The Cellar Image of the Day is just a section of a larger web community: a bunch of interesting folks talking about everything. Add your two cents to IotD by joining the Cellar.