Undertoad Thursday Mar 13 11:07 AM

March 13, 2014: Hovenring

You're a major, progressive, car-hating European nation, with all the bike lanes you can muster. But while converting a roundabout to a standard four-way intersection, the roads suddenly get in the way of the bike lanes! What do you do?

If you're the Netherlands, you construct a highly-engineered, very beautiful and innovative RING that sits above the intersection, allowing bikers to enter and leave from any direction.

And then you make a major error and call it "Hovenring". Oh well;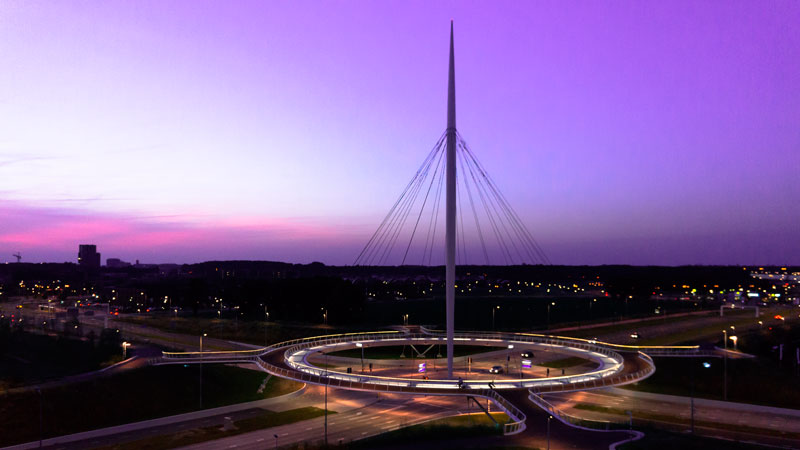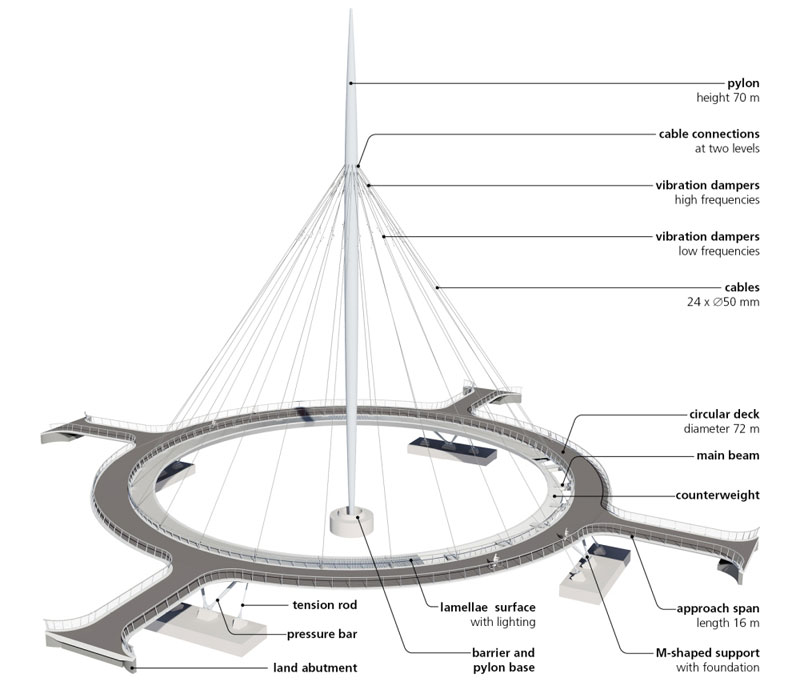 Unfortunately after they built it, they found that it was affected by tremendous vibrations, so they had to close it for six months and add dampers.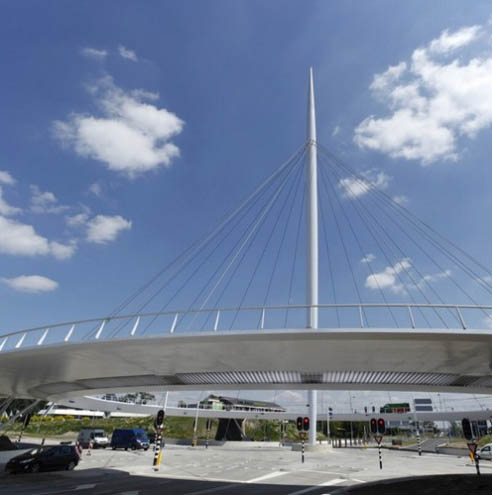 Still, what they wound up with is very beautiful and functional. And a lot better than tunnels, which would have been cheap and invisible and not an attraction at all.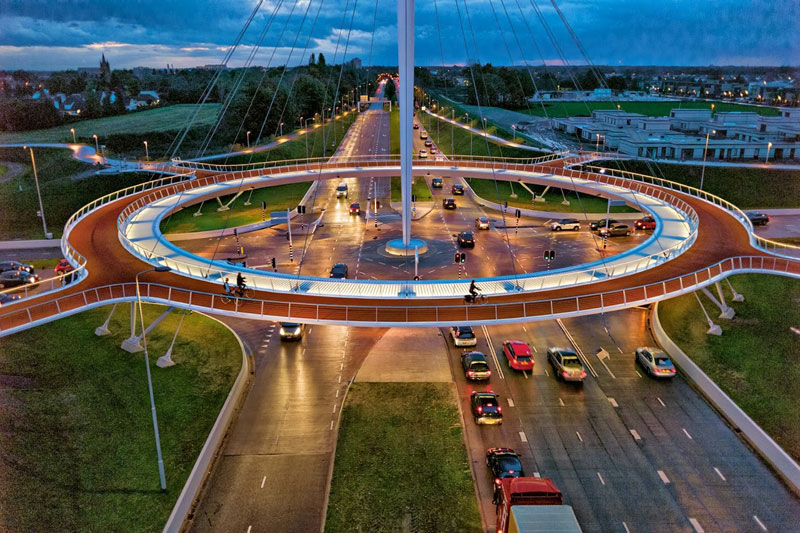 writeup at Medium

---

glatt Thursday Mar 13 11:18 AM

---

Sheldonrs Thursday Mar 13 01:16 PM

They should make the ring spin, just to make it more of a challenge for the bikers. :-)

---

Gravdigr Thursday Mar 13 04:13 PMwas not the comment I was expecting from you.

---

Sheldonrs Thursday Mar 13 04:57 PM

---

xoxoxoBruce Thursday Mar 13 05:02 PM

Must be away from the more densely populated areas, because the pictures I've seen of their bike traffic would overwhelm that ring at rush hours.

Looking at the location, yes it's a little away from the crush. But that makes me wonder about the trouble and expense, away from where it will impress rich people. Oh, that's it. The rich people in their limos can buzz right through there without bikes in the way.

---

SPUCK Friday Mar 14 06:44 AM

If they couldn't model it well enough to know it would vibrate I'd be concerned they've modeled it well enough to know what will happen when some event, (car wreck?), causes people to pack it on one side...

---

Griff Friday Mar 14 06:50 AM

Very cool engineering though. In NEPA we don't even have a shoulder on our pot-holed roads let alone a bike lane or a fancy ring. Nowhere to hide from the gas trucks unless you go cross country.

---

xoxoxoBruce Friday Mar 14 11:50 AM

---

Sundae Friday Mar 14 12:35 PM

- made the structure wobble alarmingly. It was known as the Wobbly Bridge for ages after they got it sorted.

---

Diaphone Jim Friday Mar 14 12:47 PM

Just a couple of questions if you don't mind.
I wonder if it is OK to take a shortcut on the bike ring, i.e. going clockwise. When I am riding a bike, I like to save my energy and take the shortest route.
For the amount of traffic in the pictures, does it seem an expensive project?
How does a car make turns? The lanes are marked in a seriously strange way.

---

xoxoxoBruce Friday Mar 14 02:28 PM

Good question, is it a circle/roundabout for the bikes?
For cars it's not a circle/roundabout, it's an intersection. It appears the left turn lanes are marked so drivers will turn before the center pole rather than trying to go around it and scaring the squirrel.

---

glatt Friday Mar 14 02:48 PM

A couple things from this picture I found in panaramio:

1. Is that primer on rust spots already?

2. I didn't realize the road was sunken and the ring was pretty much level. I though you had to go up and over the road, but it's the road that goes down and under.

3. The cyclists don't seem to use it.

Attachment 47016

---

Bloke Friday Mar 14 08:03 PM

If they are anything like the cyclists in the UK, they won't use it. Over here, the ignorant bastards think you should be responsible for their safety and don't see why they should use cycle lanes because they are entitled to use the whole road like anyone else.

---

xoxoxoBruce Friday Mar 14 08:59 PMSection.

---

Sundae Saturday Mar 15 04:43 AM

I should think cyclists use it at rush hour.
The photo of the lone cyclist on the car intersection is just that; alone with no other cyclist in sight and two? three? vehicles. It's probably 05.00 on a Summer morning.

Bloke, our cycle lanes, traffic and typical cyclist just don't match those in The Netherlands.
It's nothing to see bikes with their large carriers in front toting school aged children, dogs, pieces of furniture. And In the cities the bikes swarm the cars like ants on a dead bird. The Hovenring is possibly a step towards protecting cars as much as cyclists; working out ways for them to co-exist in the 21st century.

Oh and I used to fulminate over the few cyclists that came down Limes Walk in Leicester, because it was steep enough for them to be moving at a pretty good clip, and it was ILLEGAL. They'd appear silently in the space you were about to step into to walk around the teenagers dragging their feet on the way to school. I learned to check twice before changing course.

But when I changed jobs and got the bus more I could easily see why they wanted to avoid the closest road alternative. Think of a wall of death crossed with the Monaco Grand Prix but with buses and pedestrians and people pulling in to be dropped off outside cafes and the railway station without using indicators... And you're halfway there.

After that I reserved my vitriol for those who had an attitude with me for "getting in their way" when I did walk. Cheeky sods.

---
Your reply here?

The Cellar Image of the Day is just a section of a larger web community: a bunch of interesting folks talking about everything. Add your two cents to IotD by joining the Cellar.