Carruthers Saturday Mar 8 02:08 AM

March 8th. Anyone seen my ship?

Captain Kevin Oprey stands beneath the hull of Cunard's flagship Queen Mary 2, a mile off the coast of Bali.

He is standing on the ship's bulbous bow, an underwater projection that minimises the creation of bow waves around the waterline when the ship is under way.

More here.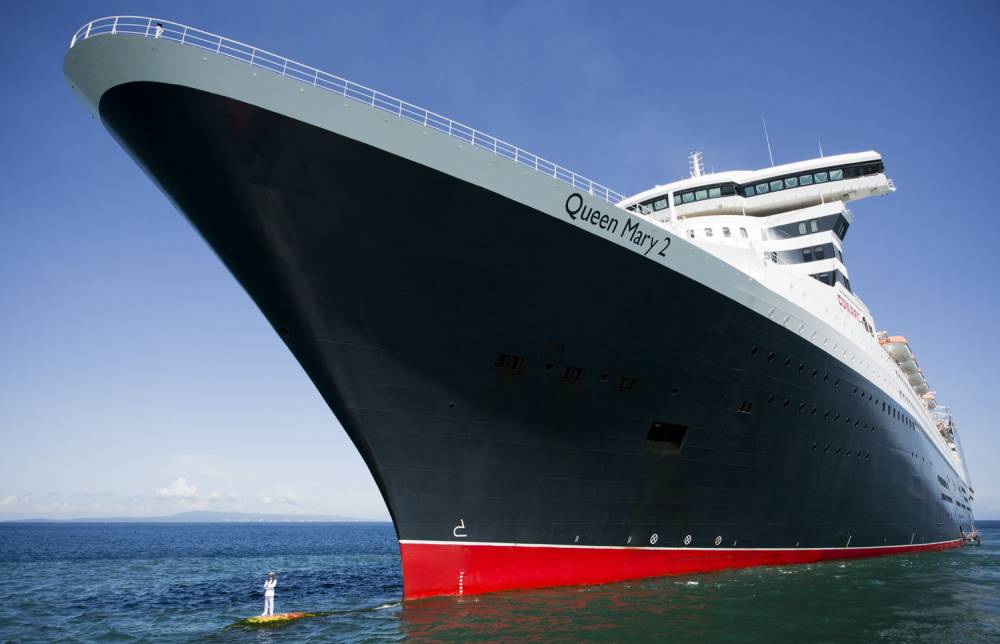 ---

xoxoxoBruce Saturday Mar 8 03:46 AM

I hope those aren't his good shoes.

---

SPUCK Saturday Mar 8 07:05 AM

That bulb increases the ship's mileage dramatically. Often 10% or more.

---

Clodfobble Saturday Mar 8 08:10 AM

Well if that isn't phallic, I don't know what is...

---

orthodoc Saturday Mar 8 08:16 AM

All I can think of is the Titanic.

---

Diaphone Jim Saturday Mar 8 03:44 PM

That bulbous bow is called a forefoot.

---

Gravdigr Saturday Mar 8 04:29 PM

Footfootfootfoot?

Do we need to be jealous?

We only have a footfootfoot, here in the Cellar.

---

Gravdigr Saturday Mar 8 04:30 PM

Very cool pix, Bruce, and Carruthers.

---

Carruthers Sunday Mar 9 04:26 AM

In the still watches of the night I was, yet again, wide awake and remembered that I had read recently that bulbous prows were falling out of favour with Maersk Line. I found this...



Quote:

Denmark's Maersk Line, the world's largest container carrier, is removing the bulbous bows from a number of its container ships in a bid to cut fuel costs. Steffen Hartvig Nielsen, head of vessel optimisation at Maersk Maritime Technology, noted that the bows can weigh up to 140 tonnes and were originally fitted to 'even out' wave patterns created by a vessel's hull to reduce propulsion requirements.

'Large container vessels are typically designed for speeds of 25 knots, but with today's slow steaming the bulbous bows are often out of shape and thus generate high levels of resistance,' he observed. He added that 'individual business cases' are being developed for each Maersk vessel class by monitoring historic sailing pattern data to examine whether a replacement makes economic sense.

In some cases it does. China's Qingdao Beihai Shipbuilding Heavy Industries has already started removing the bows on several Maersk vessels, with the process taking about 12 days and expected to create fuel savings of between one and two per cent. 'With overall fuel consumption costing more than $7 billion across the shipping businesses, even a one per cent reduction makes a huge contribution,' Nielsen noted. Maersk also plans a number of other cost-cutting measures, including the cutting out of turbochargers when they are not needed.

Ships Monthly.

---

SPUCK Sunday Mar 9 06:59 AM

Why are "today's" ships "steaming" (with their diesel engines) slower?? Sounds like a good way to get caught in bad seas.

---

xoxoxoBruce Sunday Mar 9 12:08 PM

Steaming is nautical for cruising, steady as she goes, cruise control, planned speed.
Today, it's not about speed, it's efficiency. They don't care how long it takes to get your crap to walmart, they'll plan shipping on the time it takes. They do, however, care what it costs... a lot.

---

footfootfoot Monday Mar 10 12:19 PM

Forefoot? HA! Easily divisible by two.

I am PRIME. Footimus Prime. Or as my friends know me, Faptimus Prime!

---

lumberjim Monday Mar 10 01:17 PM

Yeah, but that's just because your cock transforms into a Mack truck during the dark of the moon

---

xoxoxoBruce Monday Mar 10 01:44 PM

---
Your reply here?

The Cellar Image of the Day is just a section of a larger web community: a bunch of interesting folks talking about everything. Add your two cents to IotD by joining the Cellar.