sandypossum Thursday Oct 3 10:08 AM

October 3, 2013 - wild traditional costumes of Europe

Charles Fréger is a French photographer who has done some interesting photo series. I recently bought his photo book "Wilder Mann - The Image of the Savage" and cannot believe that I have been unaware that there are so many cultural traditions of this kind still going on all over Europe. Some of the costumes are funny, some are creepy, some nightmarish, but all are fascinating. The book includes further information on the costumes and rituals, including where they take place and when.

This outfit here is my favourite. It looks like the outcome of a romance between a Yeti and Marge Simpson.

link to a lot of the photos from the book

Charles Fréger's website

---

sandypossum Thursday Oct 3 10:09 AM

can someone please, you know, make the photo show?

---

jimhelm Thursday Oct 3 10:12 AM

they are awesome.

---

Sundae Thursday Oct 3 10:16 AM

Thanks Sandy, although I'd hazard most of those are from the colder parts of Europe. Long Winter nights and all that.

Although I though I think I spotted a Green Man. Where's the Hobby Horse and the Salmon of Knowledge though?

Anyway, I particularly likes the one from the link of two people dressed as dolphins

---

glatt Thursday Oct 3 10:17 AM

They look great!

from a practical point of view, they are only good for outdoor festivals and parties. You wouldn't be able to go to an indoor party wearing one of those.

---

Gravdigr Thursday Oct 3 03:02 PM

Pythonesque, methinks.

---

CaliforniaMama Thursday Oct 3 11:19 PM

As I was scrolling down, I thought I was looking at big hairy wankers!

Or fur cozies?

Then came the bodies and spoiled the fun . . .

---

Nirvana Thursday Oct 3 11:30 PM

I am sensing a IOD theme for Oct. Creepy and costumes! YAY!

---

CaliforniaMama Thursday Oct 3 11:34 PM

My favorite: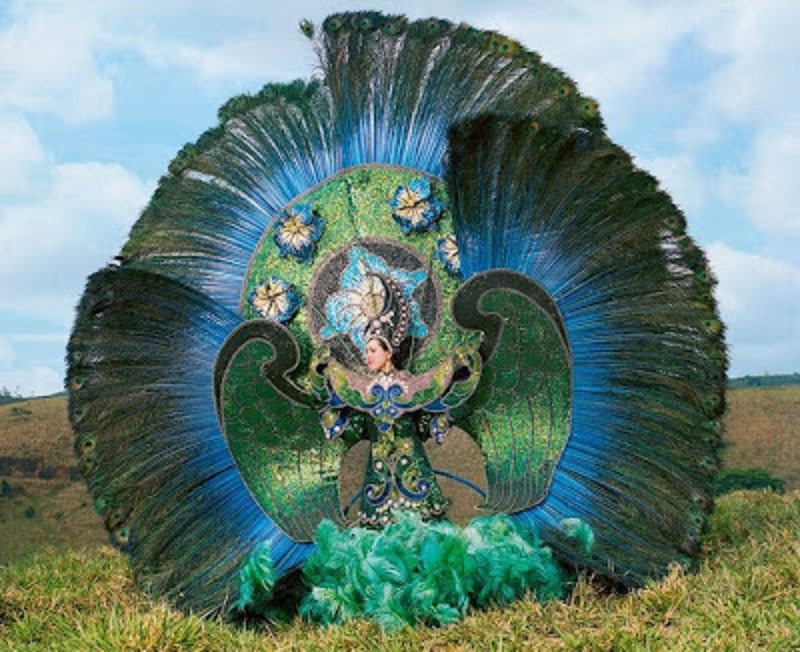 Quote:

French photographer Charles Freger is not a fashion photographer. However he likes to take pictures of fantastic costumes, from folk traditions to those of the Queen of Samba parade at Posusje de Caldas a town near Sao Paulo.
These garments weigh up to 80 pounds and reach up to three and a half meters in height and are quite impossible to wear.
Charles Freger always likes to take his subjects away from the context of the human event they are involved with and place them instead in isolation in the landscape. Last year I had the opportunity to watch this artist at work photographing The Burry Man of South Queensferry for his book Wilder Mann about folk traditions of Europe. It has some incredible costumes and certainly is food for the imagination of anyone involved in fashion.

Fashion Link

That is a LOT of peacock feathers! I cannot begin to imagine how long it must take to make something like this without our handy dandy stitching machines and what not.

---

CaliforniaMama Thursday Oct 3 11:40 PM

The peacock is not a folk costume after all. It is a fantasia from Brazil. One of the many extravagant costumes designed for Carnival.

(ref the website noted in orig post)

---

Lamplighter Friday Oct 4 12:04 AM

How many peacocks gave their all...
or, do peacocks shed their brilliant plumage ?

---

sandypossum Friday Oct 4 12:23 AM

Peacocks shed their tail feathers every year. But there are more than peacock feathers in that dress.

---

Sundae Friday Oct 4 02:40 AM

But do they bend over and let us see them shake their tail feathers?

---

Gravdigr Friday Oct 4 04:28 PM

Quote:

Originally Posted by

Sundae

But do they bend over and let us see them shake their tail feathers?

Disco Duck!!!!!


Rick Dees thanks you for this reference.

---

Griff Friday Oct 4 06:03 PM

Cools!

---

BigV Wednesday Oct 9 01:59 PM

Cocks!

---
Your reply here?

The Cellar Image of the Day is just a section of a larger web community: a bunch of interesting folks talking about everything. Add your two cents to IotD by joining the Cellar.