Nirvana Wednesday Oct 2 10:08 AM

October 2, 2013: Vespa Mandarinia

This Hornet Will Be the Last Thing You See Before You Die

It's no secret that Earth has got a lot of problems and, if you live here, you already know that I am talking about wasps. There are so many wasps here. Each one is a problem. According to recent reports out of China, 21 people have died as a result of wasp stings over the past three months in the province of Shaanxi alone. It might be time to just pack up our bags and return to the moons we came from. Might be time to turn Earth over to the wasps.

The wasps that have been killing people aren't just any old wasps. They're thought to be Vespa mandarinia, or, "Asian giant hornets." Asian giant hornets are the largest hornets in the world. They're the Asia of hornets, in fact. The average one grows to 2.2 inches in length, which is small compared to a car but TERRIFYINGLY HUGE when you consider it is a wasp the size of a meatball. If you never want to feel peace again, you can check out an image of four (dead) queen hornets—which are even bigger than workers and males—, with a hand to give them scale.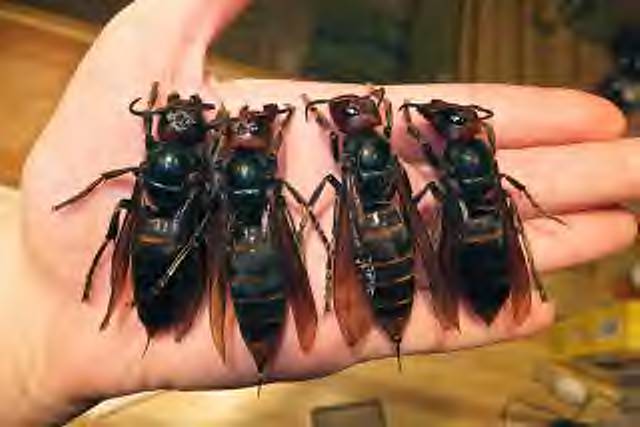 This year, the hornet attacks in China have been more frequent than usual; one health official suggested to the AP that warmer temperatures have led to increased breeding among the insects. The mayor of one affected city in Shaanxi announced last week plans to establish a 24-hour emergency response team to combat hornets in light of the recent fatalities. (Wasp season in China runs from May to November.)

Even if you are lucky enough not to die of acute renal failure as a result of Vespa mandarinia's sting, the experience of being being attacked by a swarm of meatball-sized insects (which can travel about 60 miles per day at speeds of nearly 25 mph), sounds, somehow, even more hellish than you would expect. This CNN write-up of survivors' testimonials reads like a catalogue of nightmares:

The more you run, the more they want to chase you," said another victim, whose kidneys were ravaged by the venom.

LINK

---

glatt Wednesday Oct 2 10:16 AM

Those are big suckers.

---

CaliforniaMama Wednesday Oct 2 02:55 PM

I think I'll stay indoors.

---

xoxoxoBruce Wednesday Oct 2 08:12 PM

I'm more concerned about tigers, which I have a better chance of seeing.

---

SPUCK Wednesday Oct 2 11:01 PM

You'd need a steel flyswatter!

---

BigV Wednesday Oct 2 11:10 PM

An excellent guide for civilians like us for learning how to live with these creatures.

Homeowner Guide to Yellowjackets, Bald-Faced Hornets, and Paper Wasps

eta:

Two weeks ago I was working in Twil's yard and stirred up some yellow jackets. I looked down at the back of my left hand where I felt one stinging me through my glove, swatted it and then noticed that I had several buzzing around me. I ran like hell away from that spot waaaay in the back, swatting and swearing and yelling for help. I looked like those cartoons where the arms and legs are a whirling blur! I was stripping off my clothes as I ran toward the house, went straight into the shower when I was down to my underwear. I had a dozen stings I could count, on my arms, torso, hands by the time I got out of the shower, including one on the back of my head where it climbed into my hair. Very fucking painful.

I've since learned that I likely disturbed and underground nest and running like hell was my best defense. It's a banner year here in the Pacific Northwest for these creatures. The mild conditions helped them thrive, and they're likely to continue to thrive until the first frost, since that's what kills them. Kind of made me want to pour a thousand gallons of liquid nitrogen on the area. Fuuuuuuck that hurt.

---

jimhelm Wednesday Oct 2 11:58 PM

To me, the larger the insect, the less frightening it is. If it's big enough that I can get hold of it by the non venomous end, that's even better.

Still, hornets are assholes.

---

JuancoRocks Thursday Oct 3 04:28 AM

May have been done before.......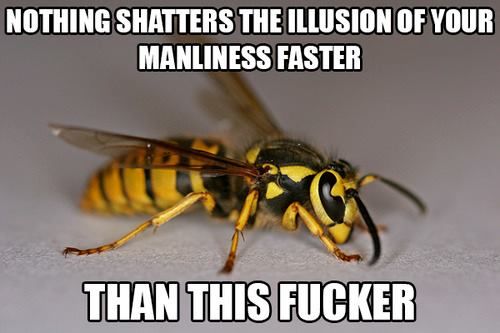 JR

---

SPUCK Thursday Oct 3 07:42 AM

Maybe you should head back with a case of wasp spray. The stuff that shoots 20 feet. I'd also hang up a six pack of those yellow jacket traps. They work astoundingly well. I've seen them fill up full in a week. The traps would certainly carve off some of the population.

---

chrisinhouston Thursday Oct 3 08:18 AM

My brother who lives in Taiwan told me last summer he was having some work done on his roof and the workers found a nest of very large wasps. They carefully removed it and captures most of the wasps. The workers told him their wives would cook the wasps up for dinner.

---

Gravdigr Thursday Oct 3 03:10 PM

The pic of the hornets in-hand, does not in any way strike me as genuine.

Not knocking Nirvana, just suspicious of the pic.

---

Gravdigr Thursday Oct 3 03:13 PM

---

CaliforniaMama Thursday Oct 3 11:15 PM

---

Gravdigr Friday Oct 4 04:44 PMBUGS!!!



---

xoxoxoBruce Friday Oct 4 10:15 PM

Because I can, because I don't have to, because you can't make me.

---

orthodoc Friday Oct 4 10:31 PM



(I know that people in many parts of the world eat bugs. That doesn't change my mind.)

---

Nirvana Saturday Oct 5 12:01 AM

5 more terrifying insects here:

http://www.cracked.com/article_15816...-in-world.html

the gratuitous use of expletives is completely warranted.

---

xoxoxoBruce Saturday Oct 5 12:53 AM

Monsanto will save us.

---
Your reply here?

The Cellar Image of the Day is just a section of a larger web community: a bunch of interesting folks talking about everything. Add your two cents to IotD by joining the Cellar.