sandypossum Saturday Sep 21 06:37 AM

September 21, 2013 - Siege of Paris menus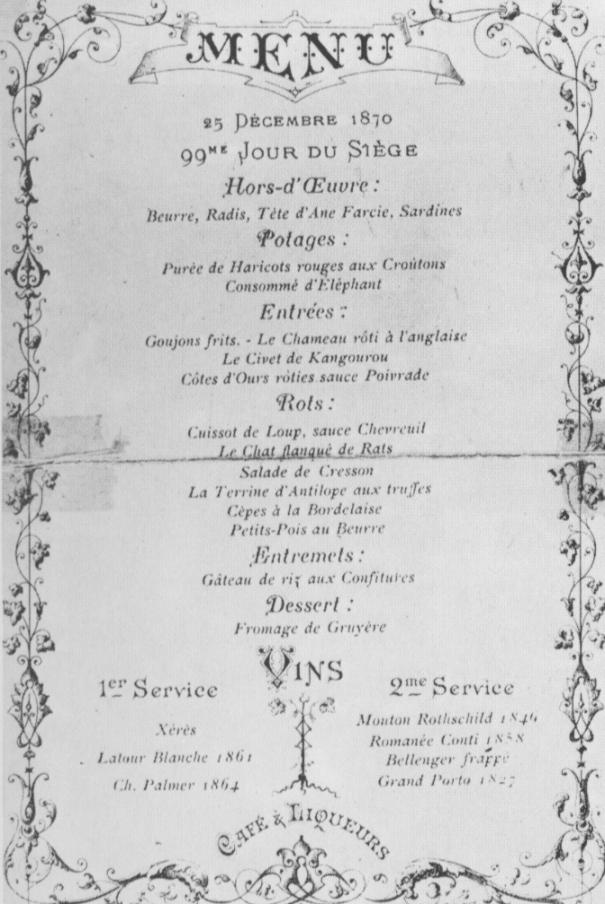 The "Siege of Paris" lasted from September 19, 1870 to January 28, 1871. No supplies of any kind were allowed to enter the city, and eventually there was no more meat or fresh vegetables in the city. Due to this shortage of food, Parisians were forced to slaughter whatever animals were at hand. Rats, dogs, cats, and horses were regular fare on restaurant menus. An example of a Latin Quarter menu from the time of the siege reads in part:

* Consommé de cheval au millet. (horse)
* Brochettes de foie de chien à la maître d'hôtel. (dog)
* Emincé de rable de chat. Sauce mayonnaise. (cat)
* Epaules et filets de chien braisés. Sauce aux tomates. (dog)
* Civet de chat aux champignons. (cat)
* Côtelettes de chien aux petits pois. (dog)
* Salamis de rats. Sauce Robert. (rats)
* Gigots de chien flanqués de ratons. Sauce poivrade. (dog, rats)
* Begonias au jus. (flowers)
* Plum-pudding au rhum et à la Moelle de Cheval. (horse)

And then Alexandre Étienne Choron, the celebrated chef de cuisine of the restaurant Voisin on the rue Saint Honoré, created his legendary midnight Christmas dinner (1870), principally composed of the best parts of zoo animals:

stuffed head of donkey
elephant consommé
roasted camel
kangaroo stew
bear shanks roasted in pepper sauce
wolf in deer sauce
cat with rat
antelope in truffle sauce

The menu's wines were Mouton-Rothschild 1846, Romanée-Conti 1858 and Château Palmer 1864.

There was no longer any food to give to the animals, so they were going to have to be killed anyway (if that makes you feel any better about this!)

The siege was lifted two weeks later.

---

lumberjim Saturday Sep 21 09:43 AM

Still... maybe dont have a menu. ... maybe close the restaurant. Or go vegetarian. Blergh, that's grim. [/Sundae]

---

Sundae Saturday Sep 21 09:58 AM

Camel roasted in the English style?

Then again, the upper class Edwardians would eat anything if it stood still long enough.
And probably shot it if it didn't.

Including the servants.

---

sandypossum Saturday Sep 21 10:18 AM

(Oh and hey, I did attach a pic of the menu, but... still dunno how to make it show)

---

Clodfobble Saturday Sep 21 11:18 AM

It's showing for me, sandy.

---

sandypossum Saturday Sep 21 11:23 AM

Showing in thread, but not on iotd page

---

Undertoad Saturday Sep 21 11:25 AM

This is fixed... attachments don't show on the IotD page until I move them around.

---

Gravdigr Tuesday Sep 24 03:27 PM

Where the fuck did France get enough kangaroos in 1870 to serve in restaurants?

Same place they got the elephants, antelopes, and bears, I guess.

---

BigV Tuesday Oct 1 05:58 PM

right, the zoo.

very limited menu.

---

CaliforniaMama Wednesday Oct 2 03:02 PM

Where's the monkey?

And the snakes?

---

Sundae Wednesday Oct 2 03:44 PM

They wouldn't have lasted long enough to make it to the menu.

---

SPUCK Wednesday Oct 2 10:58 PM

Reminds me of today's Pearls Before Swine comic.

Goat to Pig: I'm off to see the Paris
sights.

Pig: That sounds horrid.

Goat: Why?!

Pig: Who wants to see parasites?

---

chrisinhouston Thursday Oct 3 08:22 AM

Well, there sure wasn't a shortage of good wine on the menu!

---

Gravdigr Thursday Oct 3 03:07 PM

I guess the grapes survived the siege?

---
Your reply here?

The Cellar Image of the Day is just a section of a larger web community: a bunch of interesting folks talking about everything. Add your two cents to IotD by joining the Cellar.