CaliforniaMama Monday Sep 2 05:51 PM

September 2, 2013 - Monument to Labor

In honor of Labor Day, USA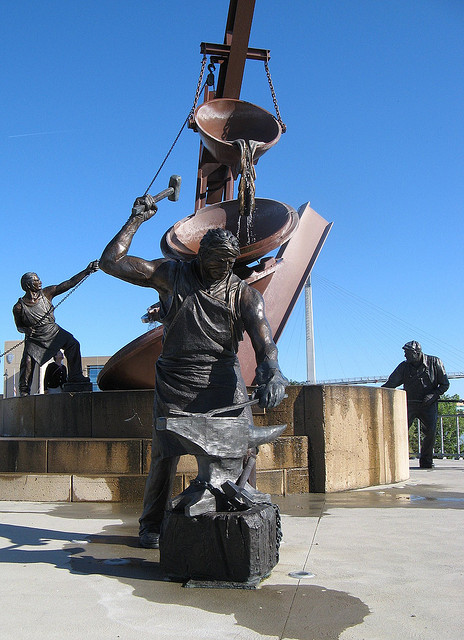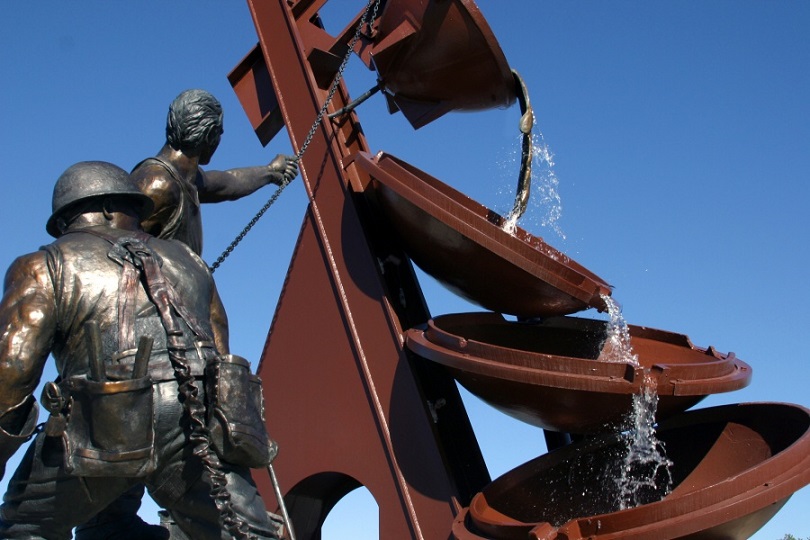 This monument is a salute to the dedication and hard work of all those who built the city of Omaha. It is the second largest labor monument in the United States.

Artist, Matthew J. Placzek, was commissioned by the City of Omaha (Nebraska) to build this massive steel sculpture. It is downtown, near the river and the Omaha-Council Bluffs Bridge, 601 Riverfront Drive.

It was completed in 2003.

This page of the History.com has an informative article about Labor Day, when it was started and how it came about, etc.

Photo Credits: Roger Barnes and Cleo McCall © 2010, respectively

---

DanaC Tuesday Sep 3 04:59 PM

Beautiful. Really stirring.

But would it have killed them to have a woman in there somewhere?

---

Lamplighter Tuesday Sep 3 07:27 PM

---

xoxoxoBruce Tuesday Sep 3 09:40 PM

I don't think Sally Field had anything to do with the building of Omaha.

---

Lamplighter Wednesday Sep 4 12:17 AM

Sally Field, maybe a little ... Omaha, maybe some ... Norma Rae, ginormous

Look closer

Unions gave us:
abolishing child labor
8-hour day,
5-day week
overtime premiums
paid vacation
sick pay
pensions
maternity leave
mandatory safety programs
company-paid health insurance
equal pay for women

Right to Work gave us:
"Be glad you've got your job"

---

xoxoxoBruce Wednesday Sep 4 03:33 AM

Quote:

This monument is a salute to the dedication and hard work of all those who built the city of Omaha.

Nothing to do with Norma Rae. As a matter of fact, only vaguely related to Labor Day.

---

Lamplighter Wednesday Sep 4 10:32 AM

Yes, all those insurance agents wearing their tool belts and hard hats !

Look closer...Here is the vaguely related paragraph from the OP link:



Quote:

Observed on the first Monday in September,
Labor Day pays tribute to the contributions and achievements of American workers.
It was created by the labor movement in the late 19th century and
became a federal holiday in 1894.
Labor Day also symbolizes the end of summer for many Americans,
and is celebrated with parties, parades and athletic events.

Regardless, it's a great piece of city art.

---

xoxoxoBruce Wednesday Sep 4 12:11 PM

That's because you white collar types only see insurance agents. Real labor is completely invisible to you. Fortunately Placzek and the Omaha Art Commission are better educated.

The op has TWO links, one to the statue and the other to Labor Day History. They are related only in the post.

---

Lamplighter Wednesday Sep 4 12:33 PM

Quote:

That's because you white collar types only see insurance agents.
Real labor is completely invisible to you.<snip>



xoB, this song came to my mind.



Quote:

You give your hand to me
Then you say hello
I can hardly speak
My heart is beating so
And anyone can tell
You think you know me well
But you don't know me



---

glatt Wednesday Sep 4 12:40 PM

I wonder how historically accurate the fall arrest harness on the one guy is?
I though back in the day when they would have been building Omaha, a harness was simply a thick belt around the waist attached to a rope.

The fall arrest harnesses of today have the attachment point between the shoulder blades and have a bungie like on this statue, or else they have a strap that's sewn in such a way that the stitching will tear out and gradually slow the falling person instead of having them come to a jerking stop.

I tried looking up the history of fall arrest harnesses, and only came up with this short blurb.

---

Lamplighter Wednesday Sep 4 02:31 PM

Some time back I saw an story (Frontline ?) about the risks for men
who install the ubiquitous cell phone towers around the country.
As reported in the article below, the gist of the article was that
the contract time-lines were so unreal that the workers were
resorting to "free climbing" rather than tying off as they should.

Daily Kos
6/4/12

The Killing Towers of the US Telecom Industry
[quote]A total of 100 people died falling from communication towers between 2003-2011.
Of these, 50 fell from cell phone towers

The worst carnage was between 2006-2008 when the iPhone rollout
caused a spike in phone traffic that ATT had not anticipated and a
major overhaul of the system was required.
The death rate for tower climbers is about 10 times that of construction workers.

Tower climbing in the telecom industry is non-union.
<snip>
A driver yakking carelessly on a cell phone can be a death foretold;
so can a corporation demanding that workers climb towers
hundreds of feet high on impossible deadlines without proper safety enforcement and training.
<snip>
The tower climbers do not work directly for the big telecoms like ATT or Verizon.
They are enmeshed in a complex system of labor contractors and subcontractors
and can make as little $10-$11 an hour for very hazardous work.

The telecom giants make no serious effort to oversee their contractors
and subcontractors and OSHA does not have the resources to keep tabs on all of them.

---

glatt Wednesday Sep 4 02:40 PM

I'm surprised a lawyer hasn't gotten involved and slapped the subcontractors and tower owners with a suit so painful they have to comply with minimum OSHA regs.

---
Your reply here?

The Cellar Image of the Day is just a section of a larger web community: a bunch of interesting folks talking about everything. Add your two cents to IotD by joining the Cellar.