Undertoad Saturday Aug 17 08:45 AM

August 17, 2013: 15185 sky lanterns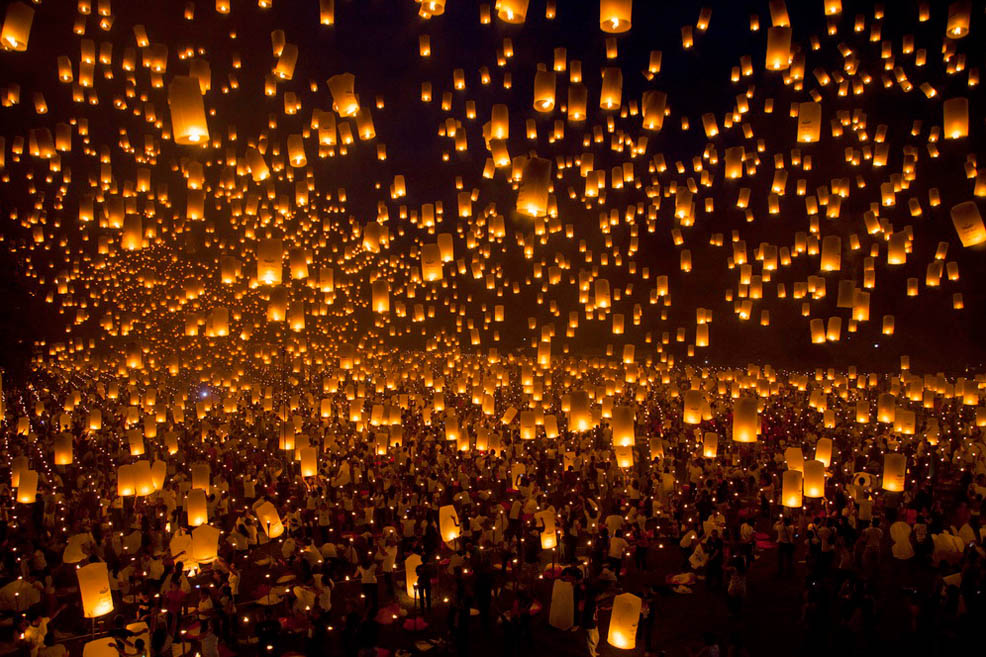 From Boston.com's gallery of record-setters,


Quote:
Thousands of youths release into the sky paper lanterns to celebrate "World Peace Through Meditation" in an attempt to break a Guinness World Record Friday on May 24 at the University of the Philippines campus at Miagao, Iloilo city in central Philippines. The organizers claimed to have released 15,185 sky lanterns breaking the current Guinness World Record of 12,740 sky lanterns released in a single event.
---

Clodfobble Saturday Aug 17 08:50 AM

What an incredibly beautiful fire hazard.

---

glatt Saturday Aug 17 08:53 AM

Those are so cool! I got a pack of those for Christmas last year, but am afraid to try them out. From here, the winds would carry them towards downtown and into DCA flight paths.

---

Griff Saturday Aug 17 12:00 PM

er the Philippines.

---

glatt Saturday Aug 17 01:24 PM

In theory, they float through the sky until the flame burns out, and then they cool off and drop to the ground.

---

Sundae Saturday Aug 17 02:56 PM

In reality they are released irresponsibly and cause huge fires.
BBC website

---

Lamplighter Saturday Aug 17 03:07 PM

It's a trick they learned from the Japanese years ago.

---

SPUCK Sunday Aug 18 07:36 AM

As a kid I filled up about 50 balloons with He, tied them to a road flare and..... it dropped like a rock at my feet. (This is where I learned how little lift Helium actually provides.) Back to the story: So I cut off an inch of the flare. Still dropped like a rock.. I continued until the flare was only about an inch long... At an inch it floated very gradually upward.

So I lit it and let it go. Now that's when I learned that burning road flares that aren't laying..on a ROAD, actually drip long streamers of burning sulfur. This I discovered as the whole contraption floated out of all reach and out across blocks of homes. I've never felt such helplessness and despair as I watched the drooling purple fire raining down across the houses and yards and I could do nothing about it.

I still remember some guy who loomed up out of the dark just as I launched it. He said. "Brilliant, just f***king brilliant."

Luckily no houses burned and no one died. Needless to say a bunch of idiot house burning candles in paper sacks just about make me ill at the thought.

---

Griff Sunday Aug 18 08:01 AM

That was a brilliant post Spuck. I read it out loud to Pete.

---

xoxoxoBruce Sunday Aug 18 09:29 AM

Quote:

The campus was chosen as the venue because of its extensive open space bounded by trees and mountains on one side and the sea on the other.
~snip~
The Thai-manufactured sky lanterns were made of rice paper with bamboo frames. They had a diameter of 50 cm and a height of 150 cm, according to Dr. Emiliano Bernardo III, the event organizer.
The participants were instructed to light the lanterns for two minutes and 45 seconds to allow the air inside to heat up before releasing them.
The lanterns were released in three waves within 10 minutes starting at 6:45 p.m. by 5,000 pairs of participants.
~snip~
Around 15,687 lanterns were prepared and displayed but some were flown outside the 10-minute limit. Others burned up before they could be released.
Organizers said the environmental impact of the event was "much less than that of fireworks and rubber balloons."
Bernardo said the lanterns did not use fuel oil but tissue paper dipped in wax. The only metal material was the 1-mm wire used to secure the heat source.

link

---

SPUCK Monday Aug 19 07:00 AM

Who's Pete?

---

SPUCK Monday Aug 19 07:03 AMLOL!!!

A US fire marshall would probably feel justified in going to that 'event' with a an Uzi.

---

Sundae Monday Aug 19 07:06 AM

Pete is Griff's lovely lady.
Despite the name, they are an officially sanctioned union.

---

Gravdigr Tuesday Aug 20 05:22 PM

---
Your reply here?

The Cellar Image of the Day is just a section of a larger web community: a bunch of interesting folks talking about everything. Add your two cents to IotD by joining the Cellar.