CaliforniaMama Monday Jun 24 01:19 AM

June 23, 2013 - A Harp of a Bridge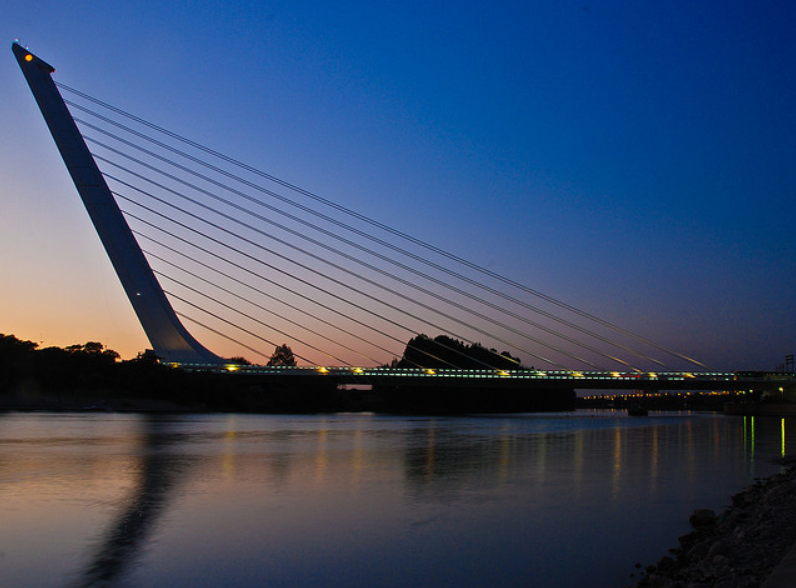 Puente del Alamillo (Alamillo Bridge)
Designed by Santiago Calatrava
Seville, Andalusia, Spain

Señor Calatrava designed and built this bridge, and one other, for the 1992 Expo (World's Fair) on La Cartuja Island in Seville, Spain.

The bridge crosses the Guadalquivir River, connecting the old quarter of Seville with the island. Construction on the bridge began in 1989 and was completed in 1992.

Type: Cantilever spar cable-stayed.
The deck is secured by a single, cabled pylon angled at 58 degrees.
Span: 200 meters

Details, and another good images, via About.com Architecture

Image via PatsSoxfan

More great images at Amazing Wallpapers

---

Griff Monday Jun 24 07:27 AM

Beautiful!

---

Lamplighter Monday Jun 24 09:21 AM

The roadway in Seville is running almost due east/west,
so there wasn't much of an opportunity to make it into a sundial.

But a near-copy design was built a few years later outside
Redding, California where the walkway does run due north/south.
Some nice photos of this "Sundial Bridge" over the Sacramento River are here ...
.

---

CaliforniaMama Monday Jun 24 02:26 PM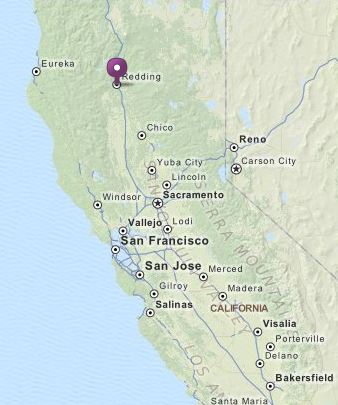 We live across the bay from San Francisco and are anxiously awaiting the opening of our own new bridge.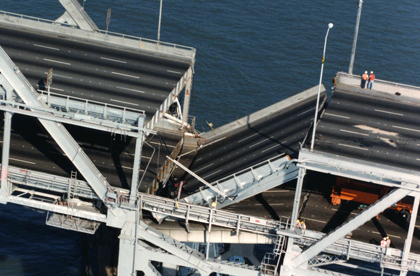 This is what happened during an earthquake, which is why we are getting this: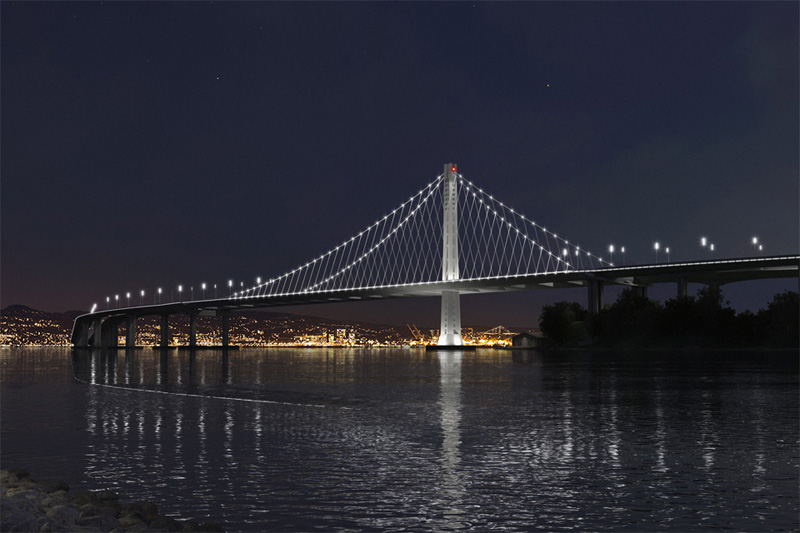 ---

Happy Monkey Monday Jun 24 07:27 PM

While 95% of a bridge is still zero bridges, that does look like a remarkably contained bit of damage.

---

SPUCK Tuesday Jun 25 06:20 AM

If I recall correctly someone actually ate it on that failure. That was the work of the Loma Prieta earthquake

Of course the new lovely bridge above is the one where 30 of the foot-in-diameter, 20 foot long bolts have snapped while they were torquing them down. DOH!

---

Lamplighter Tuesday Jun 25 08:35 AM

If you are into unique bridges, there are 25 images of "Amazing Bridges" here.

The "humble" Sundial is #16, and Seville's Alamillo is #23.
IMO, the one with the highest "cute" factor is # 5,
...London's "Rolling Bridge, but these 25 are quite amazing.

---

glatt Tuesday Jun 25 09:52 AM

There's a cool pedestrian bridge in Freiburg Germany. It's a suspension bridge that's got a concrete walkway that follows the supporting cables instead of hanging from them.

I've got a picture around here somewhere...

Here it is. See those curves? Definite suspension bridge.

Attachment 44436

---

CaliforniaMama Wednesday Jun 26 12:56 PM

Doesn't "to suspend" mean "to hang?"

Okay, dictionary.com says: "a bridge that has a deck suspended by cables or rods from other cables or chains that hang between two towers and are anchored at both ends"

So, how can it be suspended by cables underneath? Sounds like a "tension" bridge. ?

---

CaliforniaMama Wednesday Jun 26 01:00 PM

They are still talking about getting it done early so the contractor can get a huge bonus.

In any event, they are sure it will be finished by the grand opening on Labor Day weekend.

I think I'll give it a few months before I trust driving across.

---

CaliforniaMama Wednesday Jun 26 01:06 PM

---

NorCal Friday Jul 5 06:32 PM

I live in Redding..moved here from SF. Not really the middle of nowhere but then again not close to much either..lol.. The bridge is nice but not worth the drive from the Bay Area...if you make the drive enjoy our lakes and mountains..that is where the real beauty is in my backyard.

NorCal

---

BigV Monday Jul 8 09:55 PM

Name that curve.

---

Lamplighter Monday Jul 8 10:51 PM

Just because I think it's a neat word... conchoid

---

BigV Tuesday Jul 9 12:04 AM

good news, it's a neat word

bad news, it has nothing to do with that curve.

---

Lamplighter Tuesday Jul 9 09:23 AM

Aw, think of all the disappointment out there in all those conch communities

---

SPUCK Wednesday Jul 10 06:32 AM

It's a catenary.

---

Lamplighter Wednesday Jul 10 09:11 AM

So named for the cat-that-ate-the-canary

---

BigV Wednesday Jul 10 06:13 PM

but, it's not. at one time, that would also have been my first guess. As it stands, the curve is a parabola, not a catenary curve. Here's the explanation.

---

SPUCK Thursday Jul 11 06:50 AM

Interesting. I really didn't think it was a catenary since it had the concrete loading it.

---
Your reply here?

The Cellar Image of the Day is just a section of a larger web community: a bunch of interesting folks talking about everything. Add your two cents to IotD by joining the Cellar.