CaliforniaMama Sunday Apr 7 04:07 PM

April 6, 2013 - Black is the new White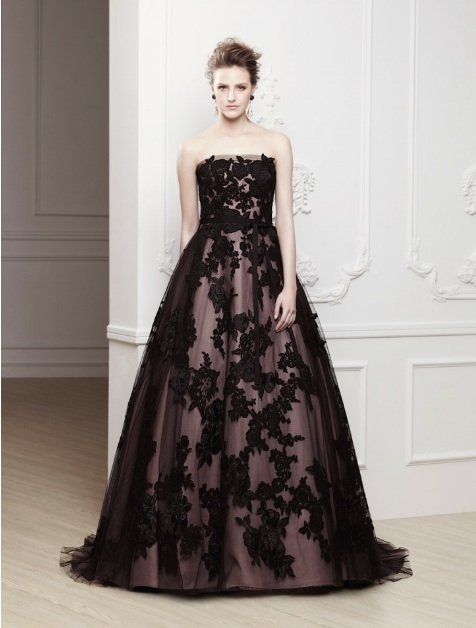 When I got married, I wore white. So did my mom. My best friend wore a beautiful light rose vintage dress.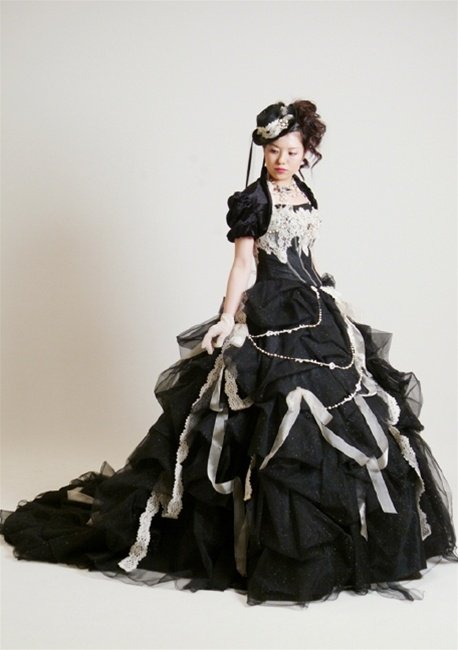 Queen Victoria is credited with making white the signature color for the wedding dress in the west.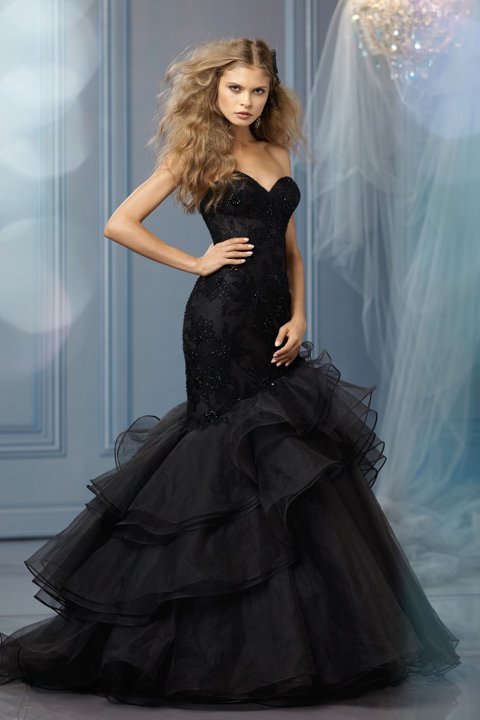 In the east, red has been the traditional color of choice.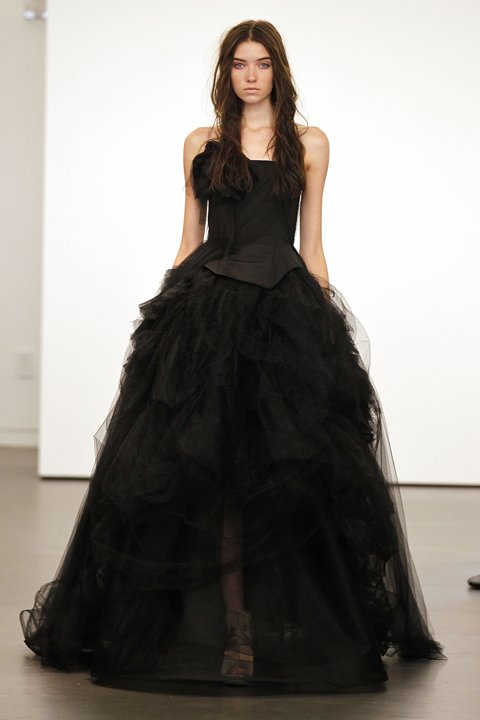 Now, it appears, black is making an entrance as an haute color for a wedding dress.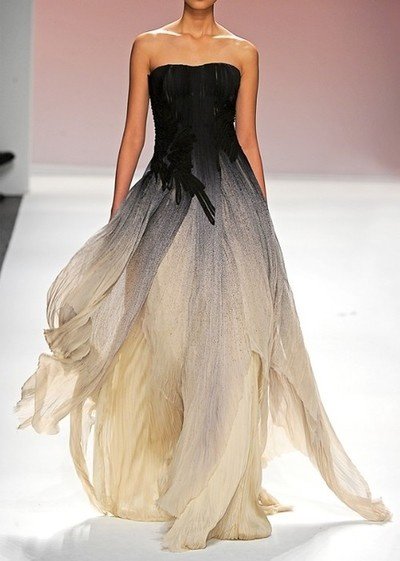 Source: Yahoo Shine

---

sexobon Sunday Apr 7 06:10 PM

If pink is the new black and black is the new white, then pink is the new white. Yet, you say your best friend wore light rose previously. Concrete evidence that something is messing with our time line.

Either that; or, the nation is getting so fat that people are wearing dark colors for everything.

---

DanaC Monday Apr 8 10:04 AM

Back when me and J were courting and considering a potential future marriage (though also considering not subscribing to a bourgeois patriarchal institution) I was going to wear black.

That last one is stunningly beautiful.

---

Aliantha Monday Apr 8 07:42 PM

Yeah, I like the last one the best.

I wore magenta when I got married. I didn't really think white or any of those off white colours would be right. I've always preferred wedding dresses with a bit of colour in them.

eta: the second one looks like someone went to town with a roll of toilet paper.

---

BigV Monday Apr 8 10:21 PM

My Mom wore a magenta dress when she married my stepdad. She was definitely the focus of attention!

Attachment 43596

---

Alluvial Monday Apr 8 10:33 PM

And crushed velvet to boot!

---

SPUCK Tuesday Apr 9 06:39 AM

Your stepdad looks like he's fully capable of coping with a red velvet wearer.

---

infinite monkey Tuesday Apr 9 08:16 AM

I like the last one best too. First one is second on my list. The fourth one would do in a pinch. The other two: no.

---

monster Tuesday Apr 9 10:13 AM

I wore a black dress. Yes, a ballgown/wedding dress type dress. 19 years ago. Jus' sayin'.

---

BigV Tuesday Apr 9 10:54 AM

---

BigV Tuesday Apr 9 10:58 AM

Yeah, crushed velvet. They were very hip considering this was central Ohio in 1973. My Dad was the most capable man I've ever known.

---

Gravdigr Tuesday Apr 9 02:51 PM

Woman in the first photo looks like Kristen Stewart.

And I mean that in the most disparaging way possible.

---

Elspode Thursday Apr 11 12:22 AM

The model in the third picture from the top is the Direct TV Genie.

---

sandypossum Thursday Apr 11 05:32 AM

I made myself a dress of scarlet silk and lace for our wedding, and bought a kid leather custom made corset to wear over it (to reduce my size by 15cm). Aside from the fact that I am no longer as svelte as I was in my 20s and 30s, I am also incredibly unphotogenic, and that's not just my opinion - photographers often comment on it, sometimes with astonishment as they look at the photo they've just taken. So... I looked like a tomato with heels. My sweetie husband photoshopped our wedding photos to make me look slightly less pudgy. That's one more reason why I love him!

---

Sundae Thursday Apr 11 10:22 AM

V has a black step-dad?
I have no idea why that should surprise me. In fact I am slightly disappointed in myself that it does. But it's cool and unusual in my world.

Sandy, you are not unphotogenic.
You just haven't found the right photographer.
Well, except that it sounds like you found the right photoshopper.

I will never get married again.
In fact I doubt I'll ever have sex again TBH.
But if I did I'd probably wear silver or lavender.
Although like many people I like the last dress best. It reminds me of onions. Yumyum.

---

infinite monkey Thursday Apr 11 11:04 AM

sundae, your posts today are making me smile. no small feat today. this week. oh hell this year.

---

infinite monkey Thursday Apr 11 11:05 AM

and where have you been sandypossum? hello!

---

CaliforniaMama Saturday Apr 13 12:41 AM

---

CaliforniaMama Saturday Apr 13 12:51 AM

Interesting that so many are taken by the last dress . . . is it because it is so destructured . . . or because of the color blend.
Or because she is headless and so we are free from the comparison of having to look like this lady to wear this dress?


Maybe it's because it would work for every shape of bride?


Or because it could be worn elsewhere afterward?

---
Your reply here?

The Cellar Image of the Day is just a section of a larger web community: a bunch of interesting folks talking about everything. Add your two cents to IotD by joining the Cellar.