CaliforniaMama Wednesday Mar 27 12:39 PM

March 27, 2013 - Balloons over Burma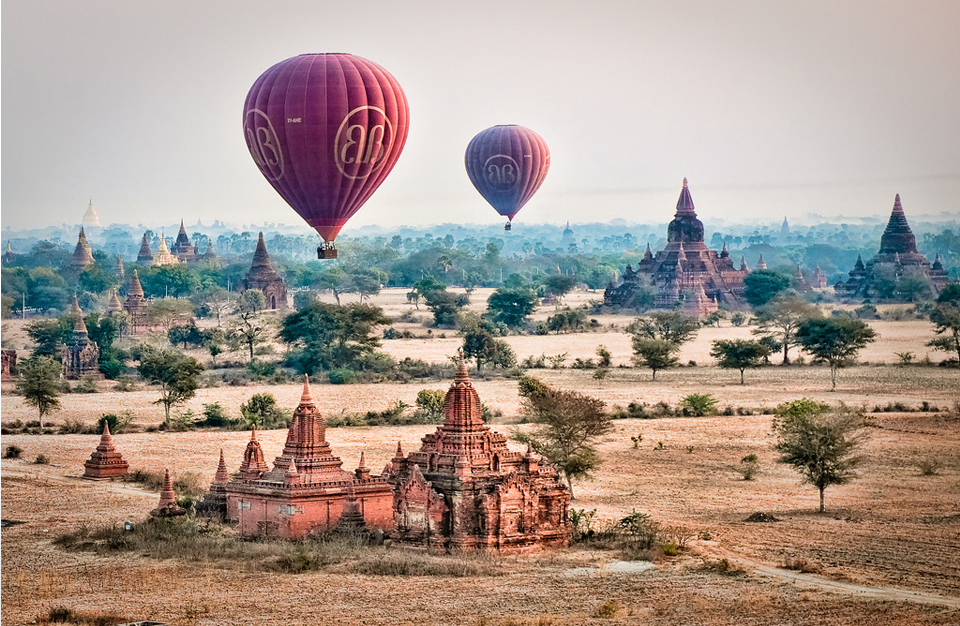 Photographer: Sam Gellman

---

orthodoc Wednesday Mar 27 02:33 PM

What a fabulous pic! It looks like something out of a fairy tale.

---

glatt Wednesday Mar 27 02:41 PM

Very cool.

Burma is interesting. You can't talk about the place without choosing sides. Is it Burma and do you support the previous government from before the military coup, or is it Myanmar and you recognize the new government?

The one good thing about the horrible military government there is that tourists have abandoned the place, and historic sites like this are basically empty. Makes taking a nice picture easier when you don't have throngs of tourists to deal with.

---

footfootfoot Wednesday Mar 27 03:16 PM

Now there's a bright side...

---

Griff Wednesday Mar 27 05:02 PM

Burma is easier to say, so there's my political stance.

---

CaliforniaMama Thursday Mar 28 01:36 PM

Unless, of course, it is pulling down Sadam Hussein.

---

infinite monkey Thursday Mar 28 01:41 PM

---

infinite monkey Thursday Mar 28 01:42 PM

---

Sundae Thursday Mar 28 02:05 PM
'Cepting the old chap lifting up his sarong to have a shit by the side of the road as we were driving past. Saw his old chap alright.

Years later I had to wash my poor Grandad down after an accident. More than once TBH.

Seeing the last turkey in the shop is never acceptable if you don't know the owner though.

---

infinite monkey Thursday Mar 28 02:50 PM

*snicker*

So I went to HS with a girl whose last name was M*A*H*I*L*R*A*J*A*H (without the astericks...don't want to be a privacy ruiner) whose family's license plate read "CEYLON" and they say she was a princess in Ceylon (that was already Sri Lanka by then). Does that sound true? I don't know the history.

---

footfootfoot Thursday Mar 28 09:43 PM


---

Sundae Friday Mar 29 05:16 AM

.. and the Queens in San Francisco!

---

footfootfoot Friday Mar 29 11:55 AM

snicker

---

infinite monkey Friday Mar 29 12:25 PM

She wasn't 'princessy' she was very down to earth and kind. Married a guy a grade ahead of us, still going strong.

But supposedly they were some kind of royalty.

*shrugs*

---

CaliforniaMama Friday Mar 29 12:28 PM

---

Sundae Friday Mar 29 12:43 PM

From what I remember, Sri Lanka is like India. It was divided into reasonably small Kingdoms. They had their own Kings/ Maharahajas/ supreme leaders..
Obviously in each Kingdom the important thing was to have sons to secure the lineage. So many girls were born too.
Princesses, if you will.

Lots of Princesses also therefore in Pre-Norman times in England. Ditto Sri Lanka, Burma, Pakistan, Bangladesh.

There's a good chance the girl you knew did have a heriditary title. Also a reasonable chance it now means nothing. But it sounds like what she has as a person is worth far more than that anyway.
Coming from a country replete with titles they make little impression on me unless they're earned. Anyone can squirt something out and make a baby after all.

ETA - I am not implying you were immpressed by the title either. I just feel it's a common misconception about the English. We threw burgers at David Blaine, we birthed the Sex Pistols* (yeah, sorry for Johnny Rotten) and Screaming Lord Sutch. I bet Barbara Windsor's titties are pixellated in many countries - here they're teatime good fun.

Gosh I'm on a right rant today, aren't I?
I'll shut up now I think.

* Not personally, though.

---

infinite monkey Friday Mar 29 12:47 PM

I always just wondered. I think the subject came up in passing once and I thought it was really cool and interesting. Like I said, she never really said anything about it. I just remember the one conversation, and that I remember very little of. The last name was supposed to be because of that.

Anyway, like I said...nice girl, we all had a good time.

---

Sundae Friday Mar 29 01:00 PM

I knew a Prince.
Via his mother's line.
He acted like one too - in a nice way. Paid lip service to being Muslim but broke all the rules when he was in England. Smoked, drank, ate prawns (wouldn't touch pork though, it was Haram.) And had exy-sexy with my closest friend. But it was okay because she was white. Or not-Muslim. Or both - I admit I can't remember, but she was "dirty" anyway and it was okay to practice on her. Men and their excuses.

His Mum had no money or power, but was one of four wives of the Prime Minister of an African country, which is where his money came from.

Anyway he had a car with bulletproof glass, a HUGE allowance and living expenses, security service if he required it and paid for absolutely everything when we went out.
He liked me best out of all her friends because although I was a boozer I never looked at any other men in his presence and he considered me respectful because I always thanked him when he paid for anything or got me a lift home. Just manners in my mind - no matter if someone is loaded you can;t expect anything for free.

Oh and I know this now looks bad on my friend but she met him as a student before he came into his inheritance. She genuinely loved him as a man, not an ATM. But in the end he was just too controlling. And she was beautiful, so without wanting to sound like Radar, it's usually a trade-off.

Wait, didn't I say I was shutting up?
Look, I'm waiting for Mum to come home. It's the anniversary of Breda's death (her friend, died from cancer, I did mention it here.)
I'm a bit nervous.
Mum can go two ways when she's upset, and one is... tricky.

---

Gravdigr Monday Apr 1 10:08 AM

There's even a few in KY. My locked up buddy said one of the first inmates he encountered in the state pin* was a black guy 6 feet 6 inches tall with, and I'm quoting here, "the purtiest set of double d's you ever saw".

* = for Footfootfoot

---

Sundae Monday Apr 1 10:34 AM

---

footfootfoot Tuesday Apr 2 10:33 PM

*thanks. I did like that.

---

Flint Wednesday Apr 3 12:43 AM

Mountains of Burma, the road to Mandalay,
In the mountains of Burma, light years away...



I am inexorably infatuated with Midnight Oil at the moment.

---

wolf Wednesday Apr 3 01:30 PM

I did not know that Buckaroo Banzai had a balloon fleet.

---

Gravdigr Thursday Apr 4 06:48 PM

---

infinite monkey Thursday Apr 4 06:54 PM

moon over parma
blah blah blah blah tonight
blah blah blah blah blah
blah blah blah blah blah blah
we're goin' bowlin'
so don't lose her in solon
moon over parma tonight

---

Gravdigr Friday Apr 5 03:34 PM

.......
send your love to me tonight
.... ..... beneath your silvery light

I thought I'd watched enough of that show to remember...guess not.

---

xoxoxoBruce Saturday Aug 31 05:58 PM

Someone on Reddit saw some pictures of Myamar (Burma), and decided to draw one of them.

---

SPUCK Monday Sep 2 06:43 AM

Nice.

---
Your reply here?

The Cellar Image of the Day is just a section of a larger web community: a bunch of interesting folks talking about everything. Add your two cents to IotD by joining the Cellar.