SPUCK Sunday Mar 17 01:52 AM

March 16, 2013 - Give her some wood!

Wet firewood can cause heavy creosote build-up in chimneys that can eventually ignite with disastrous results. To get the moisture out of firewood people typically just stack firewood up in rectangular stacks.

But some people - add some extra class.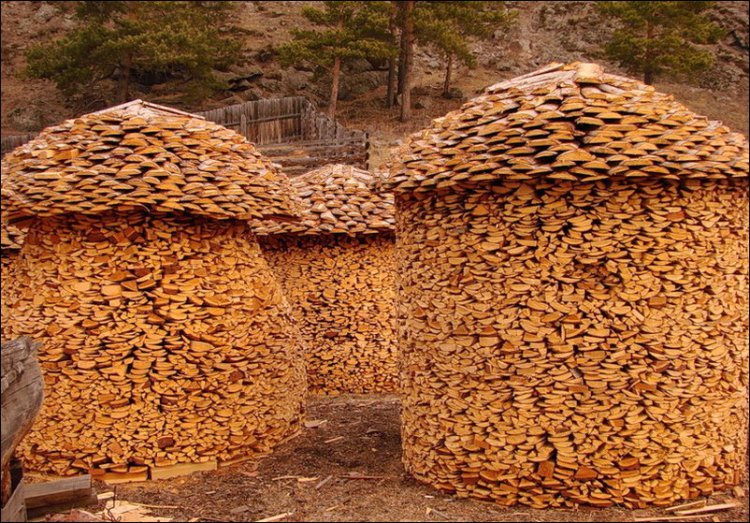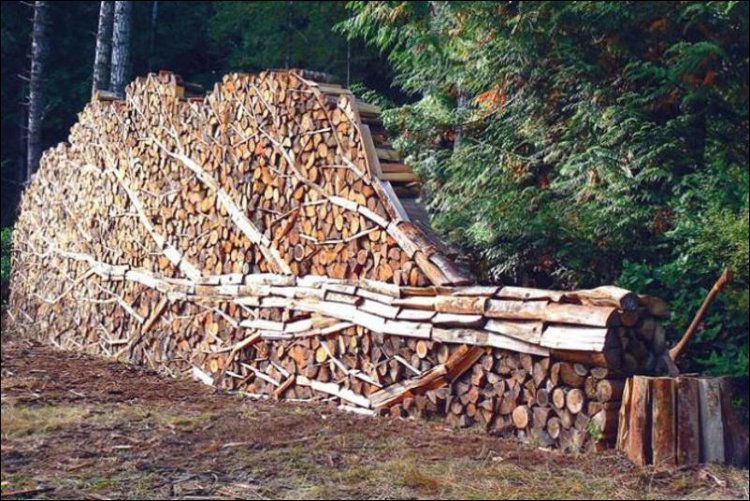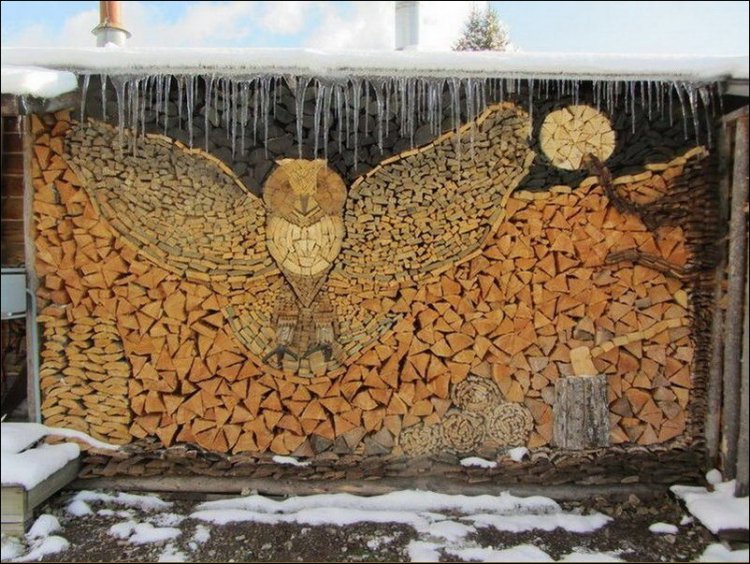 ---

Clodfobble Sunday Mar 17 08:05 AM

So how come the wood doesn't stay wet, being stored outside in the snow? Even if it's on a covered porch or in a shed or whatever, it seems like the air is still pretty damp.

---

orthodoc Sunday Mar 17 08:14 AM

As long as air can get around all of it, it'll dry. You also orient the pieces on the top with the bark side up, to shed water.

Those are amazing! Okay, I may be ortho the easily amazed but those woodpiles are art. It wouldn't even have occurred to me to create images like that. It would make me sad to take them apart to use the wood ...

---

Griff Sunday Mar 17 08:47 AM

Cold air holds less moisture. So what you want is airflow through your wood pile, any organized stack that minimizes constant exposure to water will do okay. I have a slat sided woodshed with a roof to maximize air flow and minimize the precipitation exposure. Everybody has a preferred method. This guy has a good one, but I've done this done on pallets with a perforated pipe up the middle to increase air flow.

---

footfootfoot Sunday Mar 17 01:54 PM

Without getting into an extensively technical treatise on wood and moisture content (remember the cucumbers? It's more complicated than that) Freshly cut wood has a lot of water, some of it is bound up int the cells and some is "free" i.e. between the cells.

The Moisture content of the wood is significantly greater than that of the air and the moisture of the wood eventually reaches equilibrium with the air (or very close)

Once the bound water leaves the cell, it doesn't really enter the cell again, it mostly will saturate the wood fibers between the cells. It doesn't take a whole lot of air circulation to dry out wood. Wood loses most if its moisture through the end grain, not through the side grain. Stacking the wood on its side with the ends exposed to air will bring the wood to equilibrium MC pretty quickly. Especially in winter.

---

Gravdigr Sunday Mar 17 04:06 PM

I give Baby wood.

But she gives it to me first.



---

ZenGum Sunday Mar 17 07:09 PM

I would feel ashamed to pull those wood stacks apart.

Also, those first ones look kind of dangerous, as in wood-slipping-off-the-top and whacking-you-on-the-head dangerous.

---

Aliantha Sunday Mar 17 07:30 PM

It's been a long time since I've seen that much wood in one place.

---

footfootfoot Sunday Mar 17 09:15 PM

You Australians have been profligate with your forests lately, haven't you? Or is that conflagrate?

---

Aliantha Sunday Mar 17 09:38 PM

Well, there really wasn't that much wood here when us white fellas arrived in the first place, but we've done our best to get rid of what we found.

Luckily for our gum trees, they're not much good for anything except feeding koalas and providing shade and keeping soil together, so they get left in peace mostly. The wood is not even that great to burn because of the eucalyptus causing it to explode more than other wood.

---

ZenGum Sunday Mar 17 11:45 PM

I disagree on both counts.



We've cleared something like 85% of the native forests/vegetation since settlement. That includes things like mulga and mallee scrub which are tree-ish but rarely more than 4 to 6 metres high.

Also, well dried eucalyptus is my firewood of choice when I go camping, especially redgum. Dense wood, long burn time. Maybe it's different for fireplaces in houses though.

---

Aliantha Monday Mar 18 12:35 AM

We've been a pretty treeless place in comparison to most other continents for a very long time Zen. That's what I was referring to. By very long, I mean tens of thousands of years. And I did say that we've done our best to get rid of most of what we found, and yes, I was referring to indoor fireplaces. I don't know anyone who would choose to burn gum tree timber indoors.

eta: Reasons people choose not to burn gum indoors is partly due to the potential for explosion, and largely because gum is notoriously difficult to mill, and tends to wreck blades, so can't be cut to size very easily.

This was a large part of the reason for the settlement on Norfolk Is when Australia was first settled by the Brits. They thought there was plenty of timber for dwellings but when they tried to cut the mostly gum tree forests, all they did was destroy their blades. Norfolk Pines were found to be much more suitable so they decided to go chop all of them down instead.

---

JuancoRocks Monday Mar 18 12:37 AM

Although some think of the widowmaker reputation of Eucalyptus (dropping branches) I prefer to think of it as free firewood.



JR

---

footfootfoot Monday Mar 18 01:16 AMof its off the maps?

---

ZenGum Monday Mar 18 02:09 AM

The clear felling of the Map of Tasmania is a different issue altogether, and one in which I have had no hand.

---

xoxoxoBruce Monday Mar 18 03:15 AM

---

SPUCK Monday Mar 18 03:29 AM



---

xoxoxoBruce Monday Mar 18 03:31 AM

Oh shit, that's right.

---

Aliantha Monday Mar 18 07:16 AM

They do explode. lol In bushfires a whole tree can be blown to smithereens if there's a large build up of oil. Not sure why some trees explode and others don't, but I assume they must sometimes get pockets in the wood and then blow up in extreme heat. Not an expert. I just know it happens.

---

sandypossum Monday Mar 18 12:09 PM

Also, there are loads of eucalyptus plantations in Victoria.

---

xoxoxoBruce Monday Mar 18 02:00 PM

Probably depends on how dry it is, and how small it's split. I've seen other types of wood explode, especially conifers.

---

Nirvana Monday Mar 18 02:09 PM

Thank goodness the gumtrees are safe! Where would Kookaburra sit?

---

footfootfoot Monday Mar 18 06:09 PM

cigarette loads?

---

ZenGum Monday Mar 18 07:39 PM

In bushfire conditions, trees can explode, I think from the liquids inside boiling catastrophically. The volatiles then get released as a flammable gas, which as soon as it gets enough oxygen, will also explode.

These trees explode twice.

Last winter I went to a camping mini-festival (about 40 people) in a state forest in Victoria. About the third thing we did was to get two tonnes of Redgum and Yellow box firewood delivered. We were only there three nights! Three toasty warm, well lit nights!

---
Your reply here?

The Cellar Image of the Day is just a section of a larger web community: a bunch of interesting folks talking about everything. Add your two cents to IotD by joining the Cellar.