Undertoad Wednesday Feb 6 06:47 AM

February 6, 2013: Disney wedding

Okay, so this happened: a Disney-themed wedding, where all the bridesmaids were various Disney princesses and the bride was Ariel.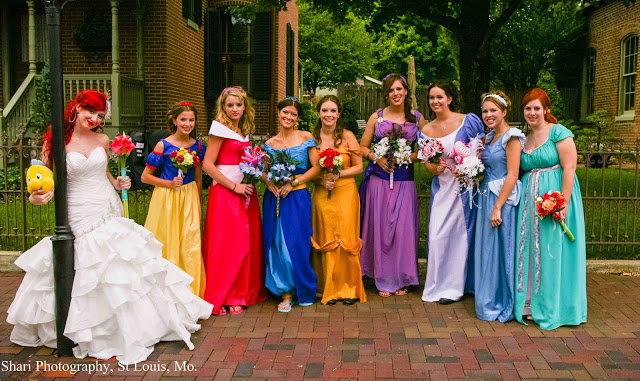 The photographer, Shari Photography, blogged the event three days ago. The wedding actually happened in 2011.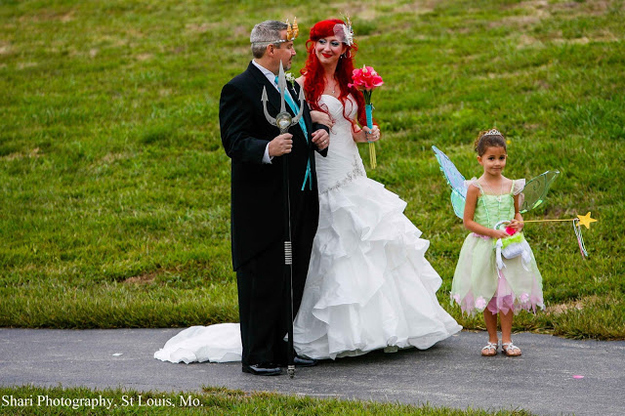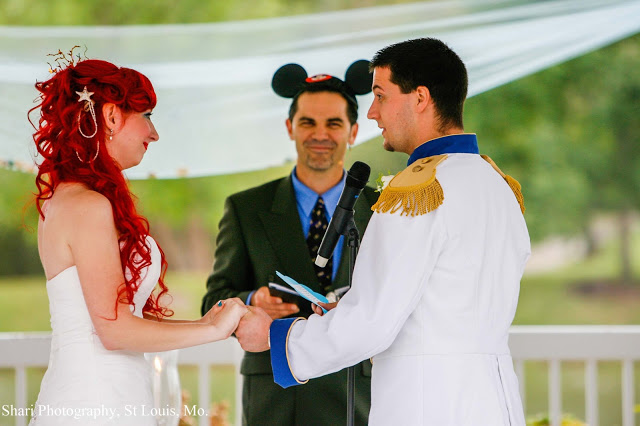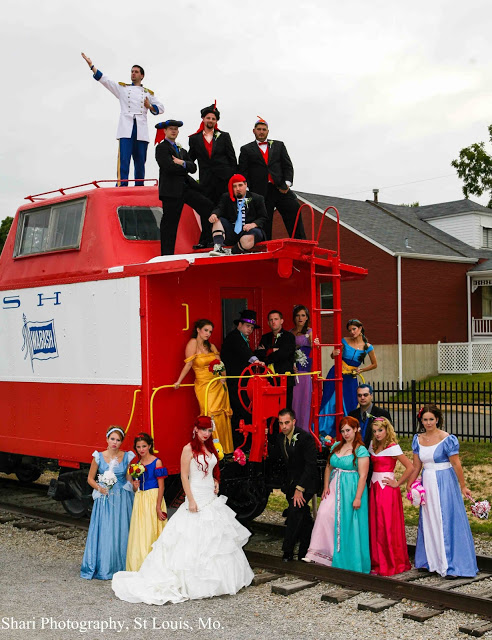 I -- I guess I'm okay with all this, and can post it without snark, but,... but was this an officially licensed use of these trademarked characters and likenesses?

---

infinite monkey Wednesday Feb 6 08:49 AM

That joke never gets old. I'll be here all week. Try the pretend crabmeat, if you can wrestle it out of Ariel's hands.

Or take some home with you. "Do you want a box for that?" "No, but I'll wrestle you for it."

I won't snark. I promise. I won't.

---

infinite monkey Wednesday Feb 6 08:53 AM

So I break a promise.

Do you think they're divorced yet? And didn't they miss the flip flops for weddings fad by a few years?

---

glatt Wednesday Feb 6 09:10 AM

you crack me up, infi


---

Wombat Wednesday Feb 6 06:13 PM

The first picture actually looks pretty good (except for the plastic yellow fish). After that it just gets weird.

---

Clodfobble Wednesday Feb 6 06:26 PM

I think the pink princess is definitely not into it.

---

DanaC Friday Feb 8 03:08 PM

The thing is...if you're a bridesmaid, chances are you don't actually have much of a choice about doing it... Not unless you feel ok telling your brother/sister/Bff that you don't want to be there for them on their wedding day.

I remember the feeling of trepidation and dismay when I realised (yeah, I know it's obvious, but 'what will I wear?' wasn't the first thing on my mind at the time) I was going to have to wear full on girl clothes. Not black lipstick siouxie sue girl clothes, proper off the shoulder emerald green bridesmaid dress girl clothes...

I think I might have physically harmed Martin had he dropped Disney onto me at that point.

---

xoxoxoBruce Saturday Feb 9 01:40 AM

Which one is the pink princess?

---

SPUCK Saturday Feb 9 06:03 AM

---

DanaC Saturday Feb 9 06:22 AM

---

CaliforniaMama Saturday Feb 9 05:50 PM



Meet Aurora AKA Sleeping Beauty: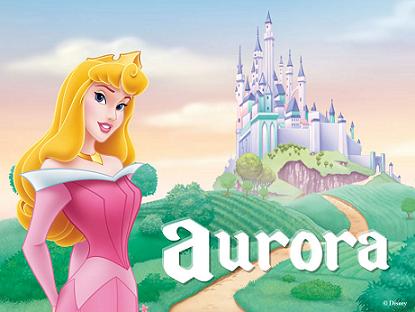 ---

Chocolatl Saturday Feb 9 07:05 PM

I just can't figure out who the one in blue and white is supposed to be.

From left to right:
Ariel
Snow
Aurora
Jasmine
Belle
Megara
???
Cinderella
Giselle

---

Clodfobble Sunday Feb 10 02:10 PM

Maybe Alice in Wonderland? She sometimes shows up in some of the more comprehensive "Disney Princesses" group pictures when you image search it...

---

Sundae Sunday Feb 10 02:17 PM

Alice Liddell had dark hair.
Bloody facial-hair hating, sexist, blonde-obsessed oligarch.

---

BigV Sunday Feb 10 02:50 PM

go on, go on, you're amongst friends. tell us what you really think.

---

orthodoc Sunday Feb 10 03:07 PM

No Fa Mulan. I am disappoint.

eta - there should've been a Merida, too. Although she would've outshone the bride so that was always a no-go.

---

Sundae Sunday Feb 10 03:47 PM
He was originally Dizney.
NO.

Oddly enough, Dylan was officially Dylan, but the breeder said I could change the name if I wanted as she always called him Twinkle.
Being a fan of Mr Thomas, that was the name I was least likely to change.

Gone and mourned forever.

---
Your reply here?

The Cellar Image of the Day is just a section of a larger web community: a bunch of interesting folks talking about everything. Add your two cents to IotD by joining the Cellar.